Canal+ Myanmar FG selected Profuz LAPIS to manage localization of thousands of hours of content, ensuring quality subtitling & file-format compliance for playout
System integration specialist PBT EU is delighted to announce the adoption of the Profuz LAPIS system at CANAL+ Myanmar FG, marking the first deployment of the technology in the Asia-Pacific region.
CANAL+ Myanmar FG is now currently implementing Profuz LAPIS to process, manage and control the localization of thousands of hours of legacy and newly produced content, ensuring quality of subtitling and file-format compliance towards playout and broadcast.
CANAL+ Group is the leading Pay-TV group in French-speaking countries, with a high international profile, boasting an ever-growing presence in fast-developing markets, such as Poland, Vietnam and recently Myanmar.
The CANAL+ Group launched activities in Myanmar in partnership with the leading private Burmese media group Forever Group, enabling subscribers to watch local and international content localized into Burmese, on DTT, DTH and mobile devices.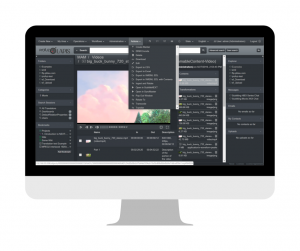 Profuz LAPIS is a global business process and information management platform designed to create scalable customised modules that adapt to every type of complex business structure. It effectively connects all the dots that a business interacts with including multiple-companies, outsourcing, partners, suppliers and customers, while constantly adapting to the needs of the organisation.
"Canal+ Myanmar FG is managing internally 9 in-house channels, implying a massive amount of media assets to secure, localize, index and control. Profuz LAPIS was the perfect match for us to combine a Media Asset Management with our specific internal workflows. PBT EU's team has provided a strong support all along the project in order to customize the product according to our specifications and to make it a powerful solution, yet very user-friendly for our collaborators and partners." states Maxime Woimant, Chief Technology and Information Officer at CANAL+ Myanmar FG.
"After productive and successful trials of the system at CANAL+ Myanmar FG, the team confirmed it was convinced that Profuz LAPIS was the right fit for them. The system delivered on user-access power, control and workflow definition possibilities, along with its scalability and flexibility required for the mammoth scope of vast deliverables. We very much look forward to working with Canal+ Myanmar FG as it continues to extend its global presence." States PBT EU's Sales Director & Partner Alexander Stoyanov.
Profuz Digital's CTO, Kamen Ferdinandov notes, "Canal+ Group provides an extremely valuable service across the globe, and we are proud that Profuz LAPIS can play an important role with them in the ASEAN region. As a team that places our customers as first priority, we deeply value the relationship we have with Canal+ Myanmar FG and are well positioned to support their Pay-TV development in the region."
To find out more about Profuz LAPIS visit https://profuzdigital.com
About CANAL+ Group
CANAL+ Group is the leading Pay-TV group in France, ranking first both for its premium-content networks with the generalist channel CANAL+ and associated channels, and its themed networks. It is also the top multi-channel platform and pay-tv distributor in France. CANAL+ Group has a high international profile, with a presence in fast-developing markets. It is the leading pay-tv operator in French-speaking countries, particularly in Africa where it has nearly 3.5 million subscribers. It is also present in Poland, Vietnam and recently Myanmar. Overall, CANAL+ Group has over 15.5 million subscribers worldwide, including 8 million in mainland France. A free-to-air TV operator with three national channels, including France fifth highest rating channel, C8, and in-house advertising sales division CANAL+ REGIE, the Group is also a benchmark player in commercial TV. Through its subsidiary STUDIOCANAL, CANAL+ Group is the European leader in production, distribution and international sales of feature films and TV series. Group CANAL+ is fully owned by Vivendi, a global media and content production and distribution group.
About Profuz Digital – Visit www.profuzdigital.com
About PBT EU – Visit www.pbteu.com