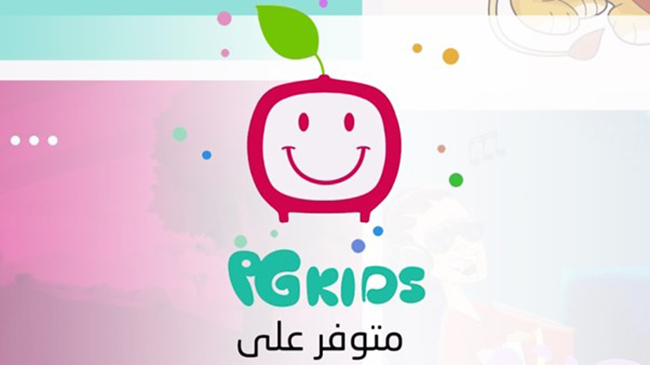 PG Kids is the new subscription based streaming service for children's content in the Middle East and North Africa, launched by Jordan based Progressive Generation Studios through Red Bee Media's Managed OTT Services. The new venture aims to become a unique destination for educational and entertaining content for children in the region, and one of the biggest of its kind in the world. PG Kids launches on January 1st, 2022, with over 100,000 minutes of original content in Arabic and English, developed to educate and entertain children of all ages.
After having distributed original content through linear broadcasters and other third parties since 2006, Progressive Generation Studios decided to gather all its original content in one place and offer it directly to audiences across the MENA region.
"We want to create one of the world's biggest streaming services for children's content in both Arabic and English, providing a safe online space for edutainment. Working together with Red Bee, this is now becoming a reality," says Ahmad Al Masri, CEO, Progressive Generations Studios. "With more than 15 years of experience, and over 100,000 minutes of original content in our portfolio, we are ready to introduce PG Kids to the world. Thanks to Red Bee we quickly have setup a subscription-based service, with broadcast-quality streams and precise personalization and recommendation functionality, allowing us to offer an excellent user experience for both parents and kids."
PG Kids is available from January 1st, 2022, at less than 5$ per subscription. All original content has been developed based on a scientific approach and contemporary children's psychology. Progressive Generation Studios categorizes it as "edutainment" aimed at stimulating creative thinking and the development of young minds. All content is protected through Red Bee's advanced geo blocking and digital rights management (DRM) functionality. As an add-on, Progressive Generation Studios also offers merchandise related to their original content through PG-merch.com.
"We're happy that Progressive Generation Studios chose Red Bee as its OTT partner for PG Kids and we look forward to seeing the service grow and evolve," says Houssam al Khaled, Head of Sales and Operations, Market Area Middle East, Red Bee. "Direct-to-consumer streaming is absolutely booming at the moment and with support from our OTT Services content owners and creators all over the world are transforming their business model, reaching larger audiences and monetizing their assets in new ways."
Red Bee's comprehensive Managed OTT Services enables brands and content owners to launch a fully-fledged streaming offering, rapidly and easily, no matter the audience or business idea. It supports all content formats, including live, linear, catch-up and on-demand, low latency streaming, as well as a full range of monetization options (such as ad-funded, subscription, pay-per-view, and vouchers). Audience segmentation, personalization and security is done easily through advanced geo blocking functionality and DRM options, as well as Red Bee's powerful recommendation engine. Many of Red Bee's other services integrate easily with the platform, including content aggregation, metadata, and automatic captioning.
 About Red Bee Media
Red Bee Media is a leading global media services company headquartered in London, with 2300 media experts spread across Europe, the Middle East, Asia Pacific, and North America. Every day, millions of people across the globe discover, enjoy, and engage with content prepared, managed, broadcast, and streamed through Red Bee's services. The company empowers some of the world's strongest media brands, broadcasters, and content owners to instantly connect with audiences anyhow, anywhere, anytime. Through an end-to-end, managed services offering, Red Bee provides innovative solutions across the entire content delivery chain – covering Live & Remote production, Managed OTT, Distribution, Media Management, Access Services, Content Discovery, Playout and Postproduction.
Search For More Content