Radio Aalsmeer (radioaalsmeer.nl), the community radio station for the town of Aalsmeer, The Netherlands, has taken their on-air studio digital with a new mixing console and "virtual radio" software solutions from Lawo. The main studio installation consists of a 16-fader Crystal surface powered by a Lawo Compact Engine.
Value played a big part in the selection of Crystal, according to Lennart Bader and Niels Tenhagen, self-employed broadcast professionals who began their respective careers volunteering at Radio Aalsmeer. Funds for the renovation came from generous donations by Rabobank and Schiphol Airport, so a keen eye was kept on costs.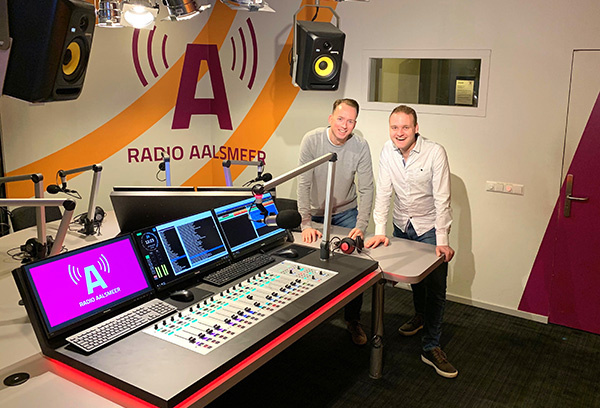 Tenhagen says that at the start of their project, they "visited trade shows like IBC, and the Lawo Crystal quickly became our favourite. We love the clear design and quality engineering.
Literally every knob and button can be programmed."
"We felt the Lawo Crystal offered the best value for money," Bader adds.
Radio Aalsmeer's playout system and studio computers make use of Lawo RƎLAY VSC Virtual Sound Card software, which provides 8 "virtual sound card" instances for each Windows® computer to allow direct exchange of audio between PC workstations and the RAVENNA / AES67 studio network.
Another Lawo software product, RƎLAY VPB Virtual Patch Bay, provides the station's main switching matrix. "VPB has turned out to be super versatile and even allowed us to add additional analog in- and outputs," says Bader. "Via the Ember+ protocol, we programmed a custom GPIO solution for tally lights and a multi-function color strip. Even our doorbell is Ember+ powered!"
The team are very happy with their new studios and Lawo equipment. Says Tenhagen, "We are extremely proud of what we've achieved. It is both very functional, and beautiful!"
To learn more about the entire family of Lawo mixing surfaces, AES67 AoIP networking solutions and RƎLAY Virtual Radio software, visit www.lawo.com .
About Lawo
Lawo designs and manufactures pioneering network, control, audio and video technology for broadcast and post production, as well as live performance and theatrical applications, developed in Germany and manufactured according to highest quality standards at the company's headquarters in the Rhine valley town of Rastatt, Germany. Lawo's line of physical and virtual radio solutions include ruby, sapphire, sapphire compact and crystal mixing surfaces, the Power Core mixing engine, crystal CLEAR and RƎLAY Virtual Radio Mixers, and advanced VisTool GUI-builder software, all designed to provide more capability for less cost. For details, visit www.lawo.com.
Search For More Content