London, UK, 26 February 2021 – Rise, the award-winning advocacy group for women in the broadcast media technology sector, is delighted to announce the launch of Rise Up UTC Mentoring Programme, its first mentoring programme for young women aged 16 to 18 years in partnership with University Technical Colleges (UTCs).
With a focus on STEM subjects and funded by Government, Rise is partnering with five UTCs supporting a total of 23 young women across England. The Rise Up UTC Mentoring Programme will run from February 2021 until November 2021, providing a range of technical and support-orientated initiatives, including training programmes and industry networking with virtual and face-to-face mentoring.
Kate Ambrosi, Assistant Director of Education, Baker Dearing Educational Trust, said: "Baker Dearing and the UTCs are really excited to be working with Rise to offer mentoring to our aspirational young women who are preparing for a career in the broadcast media industry. Mentoring from these amazing industry professionals will give them the insight and support that they need to achieve their goals and make their mark across the sector."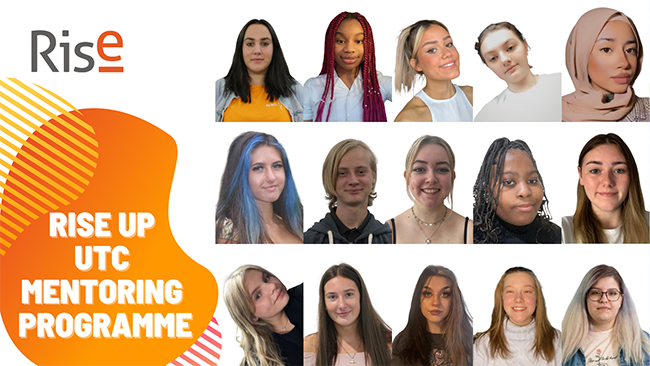 Funded and supported by BT Sport and ITV, the aim of the mentoring programme is to encourage these young women into the broadcast media technology sector, whether this is into related degrees, apprenticeships or straight into the industry.
Andy Beale, Head of Engineering and Innovation, BT Sport, said: "The drive toward greater diversity and inclusion in our industry is a fundamental objective of BT Sport and is a key pillar of BT Sport United, our bid to use our reach to be advocates for positive social change, in sport and in society. Today's announcement builds on the successful launch of the BT Sport-backed Rise Up schools programme last year and we are proud to be working with Rise to extend the reach of this programme to inspire and educate girls in key stage 5 about opportunities in the broadcast industry. Rise Up is one of a number of ongoing BT Sport United initiatives in this area, such as our BT Sport Takeover and School 21 work, both of which provide more opportunity to local youngsters."
Rob O'Brien, Senior Technical Manager, International & Labels, Technology and Platforms, ITV, said: "ITV is delighted to support the Rise Up UTC Mentoring Programme. The programme supports ITV's on-going commitment to gender equality and we want ITV to represent all aspects of modern society both on screen and across our workforce."  O'Brien added: "Inclusion is about working together to create an environment where everyone can thrive, where there are no barriers and everyone is valued for being their authentic, true and best self."
What makes this programme extra special is that the mentors will have all come from Rises' annual industry mentoring programme, which has now supported over 70 women from across the sector. All of these women are keen to give back, encourage and support the younger generation.
Carrie Wootten, Managing Director, Rise said: "We are excited to be partnering with University Technical Colleges as we embark on this new mentoring series, supporting young women as they take their next step towards building a career in the media technology sector."  Wootten added:  "I would like to thank BT Sport and ITV for their incredible support and generosity which has enabled us to launch this new UTC mentoring scheme this year."
For more information on Rise Up or if you are interested in supporting the programme in anyway, please contact Carrie Wootten on carrie@risewib.com or visit http://risewib.com/rise-up-utc-mentoring
**Activity will abide to all current Government advice on Covid-19
About Rise
Rise was formed in 2017 to support and promote women working in the non-craft part of the broadcast industry in operations, engineering, sales, marketing and business. Since its conception, Rise has grown to become a global network hosting events at Broadcast Asia, IBC and NAB. In Spring 2019, Rise won the National Women's Mentoring Award at the National Mentoring Awards.
Rise's six-month mentoring programme is designed to support women working in, or aspiring to work in, the UK's broadcast technology sector. Its mission is to raise the profile of women within the sector, to encourage younger women to join or feel that they can progress and break the glass ceiling, to work with manufacturers to highlight the issues and help them to promote a diverse workforce, as well as to work with industry associations to gain traction and give credence, and to become a platform for smaller groups or individuals wanting to promote female diversity and to support groups promoting other diversities.
Rise has also launched Rise Up, a programme of school workshops delivered throughout the UK to inspire children throughout their primary and secondary education. Crucially, it will enable industry to remain in contact with students and encourage them to consider a broadcast engineering apprenticeship or degree when they reach this level. With universities struggling to recruit both male and female talent in broadcast engineering related courses, the industry is increasingly facing recruitment shortfalls across the whole sector.
Rise has been working with universities and key industry partners to investigate and address the lack of new talent entering the broadcast technology sector, specifically engineering and technical operational roles.
Follow Rise on Twitter at @Rise_WIB
About Baker Dearing Educational Trust
Established in 2009 by Lord Baker and Lord Dearing to promote and develop UTCs, Baker Dearing Educational Trust created and owns the UTC brand and trademarks and licences their use to all UTCs. Over the past ten years, Baker Dearing has been the driving force behind new UTC openings and has provided 'top-down' direction to the programme, supporting new and existing UTCs to ensure the programme's continued improvement and to embed UTCs firmly within the English education system.
The charity sits at the centre of the UTC network and is uniquely placed to provide co-ordinated support to, and advocacy for, UTCs as well as communications within the network and to a broader audience. It is a very small charity, with fewer than 10 part time staff, under the direction of CEO, Simon Connell. Lord Baker remains a very active executive Chairman.
UTCs offer 14-19 year olds an opportunity to develop the technical skills and attributes needed for a successful career in radio, TV, digital, film, advertising and social media.
The UTC schools are located in the following regions across England:
UTC Ron Dearing – Hull
UTC Media City – Manchester
UTC Mulberry Schools Trust – East London
UTC Global Academy – West London
UTC Sheffield – Sheffield
Search For More Content