The new K88 option for R&S RTO and R&S RTP oscilloscopes from Rohde & Schwarz enables compliance testing on the next evolution of the automotive Ethernet standard. The new IEEE 802.3ch standard addresses the need for high speed networking and data transfers within the car. With the K88 software option, Rohde & Schwarz continues to lead the way as the test and measurement supplier for automotive Ethernet.
Most of the requirements for higher data rates stem from sensors like cameras around the car, 5G Telematic units (TCUs) and networking backbones for multiple domain controllers. MultiGBASE-T1 Ethernet standard meets these needs by including 2.5G, 5G and 10G speeds. Compared to 1000BASE-T1, MultiGBASE-T1 uses PAM4 (4 levels) modulation with symbol rates of 1.4, 2.8 and 5.6 GHz. The Open Alliance TC15 PMA compliance test specification addressing this standard is still in a draft state.
With the new K88 option, R&S RTO and R&S RTP oscilloscopes now offer a full transmitter compliance solution for MultiGBASE-T1 based on the IEEE802.3ch spec for the PHY layer (layer 1). The solution comes in a modern user interface and is easy to use offering guided tests and a very comprehensive report.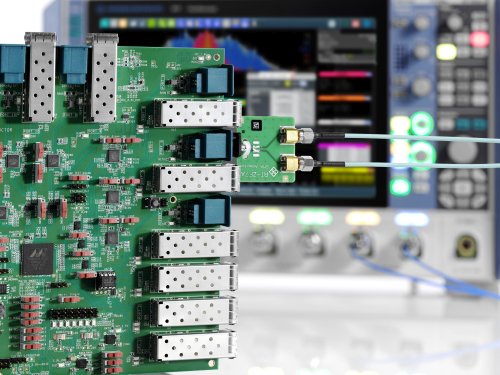 Rohde & Schwarz offers a complete automotive Ethernet compliance test solution including using a vector network analyzer such as the R&S ZND for MDI return loss measurements. Control of the measuring instruments, calculation of the results and documentation can be automated with the R&S ScopeSuite test software. A test wizard guides the user step by step through the test procedure with illustrated instructions. Automatic test sequences allow for a fast, reliable test execution and minimize the probability for user error. A configurable test report documents the test results. R&S ScopeSuite is a standalone application that can run on the oscilloscope or a separate PC.
The R&S RTO-K88 and RTP-K88 compliance test software options for MultiGBASE-T1 are now available from Rohde & Schwarz. For more information about Rohde & Schwarz automotive Ethernet solutions, visit https://www.rohde-schwarz.com/_231834.html
Rohde & Schwarz
Rohde & Schwarz is a leading supplier of solutions in the fields of test and measurement, broadcast and media, aerospace | defense | security and networks and cybersecurity. The technology group's innovative communications, information and security products help industry and government customers ensure a safer and connected world. On June 30, 2020, Rohde & Schwarz had about 12,300 employees worldwide. The independent group achieved a net revenue of EUR 2.58 billion in the 2019/2020 fiscal year (July to June). The company is headquartered in Munich, Germany, and has subsidiaries in more than 70 countries, with regional hubs in Asia and America.
R&S® is a registered trademark of Rohde & Schwarz GmbH & Co. KG.
Search For More Content