Having to wait for the deciding goal in the most exciting soccer match of the season is already a tense moment. If, on top of that, the TV pictures fail or your smartphone's data package suddenly needs to reload and freezes the picture, that can seriously dampen the mood. What might it look like with 5G broadcasting technology of the future? Could this predicament be solved thanks to intelligent machine learning algorithms? This is the challenge set by Rohde & Schwarz to students in computer science, and electrical and communications engineering. Using new 5G broadcasting technology, the students must ensure that data from media content providers flow to the users without any buffering time.
The Munich-based company is hosting the Engineering Competition for the 16th time already. The famous competition regularly attracts several hundred students and, over the last few years, it has successfully established itself as part of the international college and university landscape. More than 30 universities take part on a regular basis, taking the opportunity to test and develop their learning content in the working world of the future. Over 2000 students have asserted themselves in a variety of disciplines throughout the history of the competition: from 3G wireless technology through to air traffic control standards, to the demodulation of baseband signals or even realtime spectrum analysis.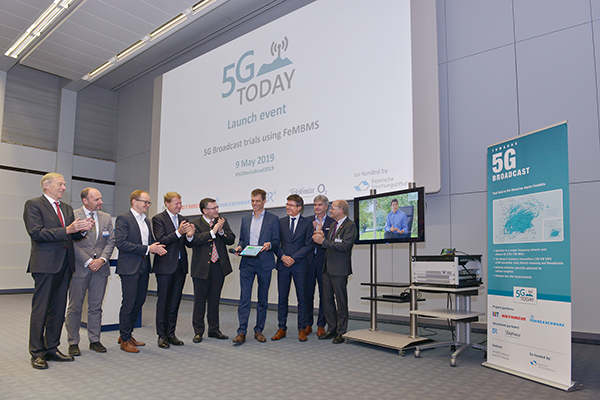 This year, teams and individuals can register for an online challenge. At the end of April, they received a data set that included simulated user data. Using machine learning algorithms, students must determine what content is distributed over the new 5G broadcasting channel. The aim is to significantly improve the quality of experience (QoS) for potential users: no more video loading time and so no more interruptions to live streaming. Ideally, this shouldn't use a single Mbyte of mobile data. The students who deliver the best results can look forward to an invitation to Munich for the big final, where another live challenge will await them. A prize of USD 3000 has been advertised.
Magdalena Poellmann, a spokesperson for University Relations and Engineering Competition organizer at Rohde & Schwarz, notes: "It is obviously a big challenge to present technical problems for a fiercely competitive and cross-sectional target group. But we still manage to make the students' eyes shine: our high-tech challenge gives them insight into a world of work that will have a direct influence on the lives of many people."
Rohde & Schwarz is strongly committed to young talents in the areas of computer science, and electrical and communications engineering. In addition to its own funding programs, the company's main concern is introducing the technological issues of the future as early as possible to the very target group that will go on to design and experience them – whether it is autonomous driving, smart cities or, as in this year's Engineering Competition, the mobile media and streaming business of the next few decades. This competition creates a unique combination of knowledge from electrical engineering and computer science that not only reflects the normal work of Rohde & Schwarz engineers, but also leads to conclusions about technological trends.
For more information about the competition: https://engineering-competition.com
For more information About 5G broadcasting: www.rohde-schwarz.com/5G-broadcast
Rohde & Schwarz
The Rohde & Schwarz technology group develops, produces and markets innovative communications, information and security products for professional users. The group's test and measurement, broadcast and media, aerospace | defense | security, networks and cybersecurity business fields address many different industry and government-sector market segments. On June 30, 2018, Rohde & Schwarz had approximately 11,500 employees. The independent group achieved a net revenue of approximately EUR 2 billion in the 2017/2018 fiscal year (July to June). The company has its headquarters in Munich, Germany. Internationally, it has subsidiaries in more than 70 countries, with regional hubs in Asia and America. R&S ® is a registered trademark of Rohde & Schwarz GmbH & Co. KG. All press releases, including photos for downloading, are available on the Internet at http://www.press.rohde-schwarz.com.
Search For More Content