Media server platform gains full support for 2SI
Munich, Germany, May 18, 2021 — Rohde & Schwarz, a global leader in broadcast media technologies, has extended the functionality of its R&S®VENICE platform for live studio production. In particular, it has moved to support 4k Ultra HD signals, using either 12G or 2SI formats.
VENICE is a high-performance, high-resilience media platform designed to manage complex signal processing and storage requirements, particularly in live studio production applications. It provides uninterrupted operations including scheduled recording, clip transforms and playouts, across a network of processors and both Rohde & Schwarz storage and third-party qualified storage sub-systems. It also bridges the SDI and IP environments. VENICE servers can now be configured for multiple HD and Ultra HD signals, and units can work together as a single resource from a single user interface.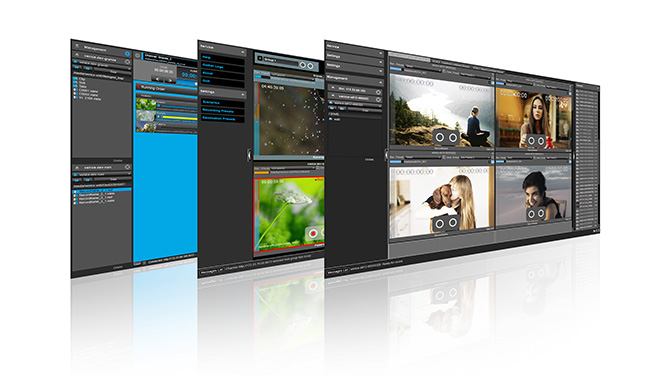 The high bandwidth of Ultra HD signal demands special handling, beyond the traditional 3G environment. Ultra HD infrastructures today are typically built around either 12G – a single, very high-bandwidth connection which has some technical limitations – or 2SI, which spreads the signal pixel-by-pixel across four conventional SDI cables. 2SI also provides a degree of resilience, as the loss of one channel simply means a drop in resolution, not a complete loss of all or part of the picture.
The Rohde & Schwarz VENICE media platform now supports both 12G and 2SI, enabling it to fit comfortably into any environment. Because each VENICE processor is software defined, a channel can easily switch between an Ultra HD signal and HD signals. With VENICE sharing resources across a network from a single management user interface, it means resources can be allocated for maximum efficiency and utilisation.
The ability to achieve performance by making efficient use of the available hardware is one of the chief benefits of the VENICE architecture. It allows resources to be shared, for instance through a method called Transform Channel Assignment, which allows a source to be recorded, viewed and processed – trimmed, merged or edited, for example – simultaneously, while making the optimum use of available resources. Using Record Scheduler, VENICE looks ahead to ensure there are sufficient channels for planned recordings while serving current requests for access.
"With VENICE, we set out to offer a platform for excellence in mission-critical broadcast applications like playout," commented Andreas Loges, Vice President Media Technologies at Rohde & Schwarz, "Central to that is the ability to be flexible, to meet the workflows our users demand, and to provide a seamless opportunity to handle Ultra HD signals as they are required."
Transform Channel Assignment and Record Scheduler are already available for all VENICE installations. Support for 12G and 2SI is available to order now.
Rohde & Schwarz
Rohde & Schwarz is a leading supplier of solutions in the fields of test and measurement, broadcast and media, aerospace | defense | security and networks and cybersecurity. The technology group's innovative communications, information and security products help industry and government customers ensure a safer and connected world. On June 30, 2019, Rohde & Schwarz had 12,100 employees. The independent group achieved a net revenue of EUR 2.14 billion in the 2018/2019 fiscal year (July to June). The company is headquartered in Munich, Germany, and has subsidiaries in more than 70 countries, with regional hubs in Asia and America.
Rohde & Schwarz Broadcast & Media
Rohde & Schwarz has been an innovator in broadcast and media for over 70 years. The Rohde & Schwarz product portfolio covers the entire signal processing chain for digital video and audio content – from ingest and playout to encoding and multiplexing, from contribution to satellite and IP networks to terrestrial transmission. It includes solutions for monitoring in the studio, as well as for monitoring streaming and broadcast services and entire broadcast networks. The T&M expert also offers a diverse range of instruments for testing end user equipment and infrastructure components in development, production, and quality assurance. Rohde & Schwarz invests in an IP and software-based future built with the blend of innovation, experience, and stability that the company can offer.
Search For More Content