For the first time in the US, Rohde & Schwarz presents its R&S PKU100 Ku-band satellite uplink amplifier in an outdoor version at Satellite 2019 show. It combines the best of two worlds in a single device: the unbeatable strengths of solid-state amplifiers and the compactness and low weight of tube amplifiers. The extremely robust and weatherproof model is perfectly suited for outdoor applications and features all the advantages of the indoor model. The R&S PKU100 can be used in ground stations and satellite news gathering (SNG) vehicles. The amplifier is to be found from May 6 to May 9 at booth 1943 during Satellite Show.
Munich, May 2, 2019 – Four models of the R&S PKU100 will be available, each in an indoor and an outdoor version. The R&S PKU100 is obtainable for the 12.75 GHz to 13.25 GHz and 13.75 GHz to 14.5 GHz bands with RF peak powers of 400 W and 750 W. The solid-state power amplifier is just as light, compact and energy-efficient as conventional tube amplifiers and therefore clearly superior to comparable solid-state products. The new outdoor models are particularly robust and weatherproof and comply with IP65 ingress protection specifications, plus they offer numerous features required for outdoor applications. The R&S PKU100 can be mounted very close to the transmit antenna, saving RF power and minimizing capital and operating expenses. Same as with the indoor model, the fans can be hot swapped in the event of a failure. If fitted with an optional redundant power supply, the R&S PKU100 will continue operating should one of the power supplies fail.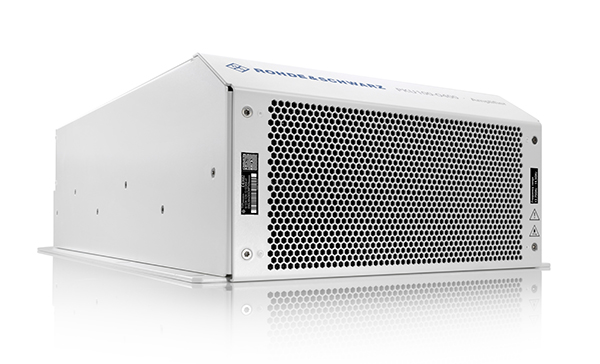 The R&S PKU100 uses solid-state output stages throughout and offers a genuine alternative to conventional tube technology. Should individual transistors fail, for example, the amplifier will continue operating at reduced power. The R&S PKU100 is the only instrument on the market to offer adaptive linearization. This improves signal quality, enabling network operators to transmit significantly more data over the same signal bandwidth. The amplifier offers excellent efficiency, reducing operating costs.
The R&S PKU100 can be fitted with a block upconverter (BUC), allowing low-frequency L band signals to be processed and converted to the Ku-band. The amplifier can be controlled remotely; it supports all common standards such as a web interface, SNMP, RS 232 and parallel I/O interfaces.
The R&S PKU100 will be showcased from May 6 to 9 at Satellite Show in Washington, booth 1943.
Rohde & Schwarz
The Rohde & Schwarz technology group develops, produces and markets innovative communications, information and security products for professional users. The group's test and measurement, broadcast and media, aerospace | defense | security, networks and cybersecurity business fields address many different industry and government-sector market segments. On June 30, 2018, Rohde & Schwarz had approximately 11,500 employees. The independent group achieved a net revenue of approximately EUR 2 billion in the 2017/2018 fiscal year (July to June). The company has its headquarters in Munich, Germany. Internationally, it has subsidiaries in more than 70 countries, with regional hubs in Asia and America.
Rohde & Schwarz Broadcast & Media
Rohde & Schwarz has been an innovator in broadcast and media for over 70 years. The Rohde & Schwarz product portfolio covers the entire signal processing chain for digital video and audio content – from ingest and playout to encoding and multiplexing, from contribution to satellite and IP networks to terrestrial transmission. It includes solutions for monitoring in the studio, as well as for monitoring streaming and broadcast services and entire broadcast networks. The T&M expert also offers a diverse range of instruments for testing end user equipment and infrastructure components in development, production and quality assurance. Rohde & Schwarz invests in an IP and software based future built with the blend of innovation, experience and stability that the company can offer.
Search For More Content