At CABSAT, the Egyptian National Media Authority (ENMA) has selected Rohde & Schwarz R&S THU9evo transmitters for a multi-million Dollar contract to support their DVB-T2 network.
Munich, April 18, 2019 — After extensive evaluation of DVB-T2 transmitters from all leading vendors, Egypt's ENMA has selected an advanced system solution from Rohde & Schwarz. To be installed at nine sites across the country to provide DVB-T2 coverage, the contract comes with strict timescales. All equipment will be installed and commissioned by mid-June 2019 so that DVB-T2 SD and HD broadcasts are on air before the start of the 2019 Africa Cup of Nations soccer tournament.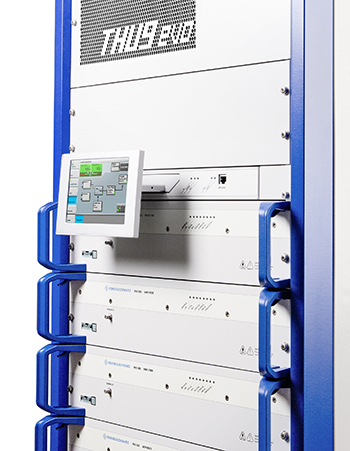 Throughout the contract negotiations and the project, Rohde & Schwarz is working closely with its local partner, Egypt-based Integrated Communication Systems (ICS).
One of its most advanced large-scale DVB-T2 transmitter systems, the project sees R&S THU9evo 2KW UHF transmitters installed at nine sites across Egypt. The R&S THU9evo UHF high-power transmitter family is designed to minimize operating costs for terrestrial broadcasters whilst maintaining performance and reliability. With overall efficiency values of up to 40 per cent for COFDM and 43 per cent for ATSC, this product family represents the market-leading DVB-T2 transmitter solution.
"ENMA is planning to cover Egypt with DVB-T2 transmission and the current project will cover part of our plan," commented Mrs. Mervat Hassan, Chairman of Broadcast Engineering Sector at ENMA. "This project is very important for us and we are looking forward to cooperating with Rohde & Schwarz to execute this project on the timeline as scheduled. ENMA is looking forward to Rohde & Schwarz support in the next two phases also."
An important consideration for ENMA was the measures that Rohde & Schwarz can employ to assure the Quality of Service (QoS) that the broadcaster can provide to its viewing audience. To this end, each transmitter site will employ R&S PRISMON base multiviewers, which are configured to monitor and analyze eight SD and one HD television channels. Also, the system will include five R&S ETL TV analyzers – a universal reference receiver which will be configured for DVB-T2 measurement together with power sensors.
In addition to transmitters, the project involves supply of UHF DVB-T2 antenna systems from Kathrein, RF feeders from RFS, combiner systems from Spinner and various auxiliary systems.
The project comes with a demanding 10-week delivery to Cairo timeline which is governed by the 2019 Africa Cup of Nations, scheduled to take place from 21st June to 19th July. An important element of Rohde & Schwarz's contract with ENMA covers the provision of professional services. Through its local team of engineers and product specialists, Rohde & Schwarz will provide factory acceptance testing as well as project management services. In addition, Rohde & Schwarz Middle East & Africa staff will provide local installation supervision, onsite configuration and commissioning.
"This is an ambitious project and will position ENMA as a leading broadcast service provider in the North Africa region," commented Rommer Balanon, Bid Manager at Rohde & Schwarz Middle East & Africa. "We are delighted that ENMA has selected Rohde & Schwarz as their technology partner and we look forward to a busy period ahead."
Rohde & Schwarz
The Rohde & Schwarz technology group develops, produces and markets innovative communications, information and security products for professional users. The group's test and measurement, broadcast and media, aerospace | defense | security, networks and cybersecurity business fields address many different industry and government-sector market segments. On June 30, 2018, Rohde & Schwarz had approximately 11,500 employees. The independent group achieved a net revenue of approximately EUR 2 billion in the 2017/2018 fiscal year (July to June). The company has its headquarters in Munich, Germany. Internationally, it has subsidiaries in more than 70 countries, with regional hubs in Asia and America.
Rohde & Schwarz Broadcast & Media
Rohde & Schwarz has been an innovator in broadcast and media for over 70 years. The Rohde & Schwarz product portfolio covers the entire signal processing chain for digital video and audio content – from ingest and playout to encoding and multiplexing, from contribution to satellite and IP networks to terrestrial transmission. It includes solutions for monitoring in the studio, as well as for monitoring streaming and broadcast services and entire broadcast networks. The T&M expert also offers a diverse range of instruments for testing end user equipment and infrastructure components in development, production and quality assurance. Rohde & Schwarz invests in an IP and software based future built with the blend of innovation, experience and stability that the company can offer.
R&S ® is a registered trademark of Rohde & Schwarz GmbH & Co. KG.
All press releases, including photos for downloading, are available on the Internet at http://www.press.rohde-schwarz.com.
Search For More Content