The classical music educational institution has deployed a massive 4K Ultra-HD video system.
MIAMI—The New World Symphony (NWS), a renowned educational institution training the next generation of orchestra and ensemble musicians, has deployed the Rohde & Schwarz (R&S) SpycerNode storage solution as part of a nearly $8.5 million upgrade to transition its video production, distribution and presentation technology to 4K Ultra-HD.
NWS has installed a 1.4 Petabyte (PB) R&S SpycerNode to record and archive 4K Ultra-HD program feeds and ISO camera shots of orchestral performances. The solution also stores productions of NWS rental clients.
"We started looking around the one Petabyte range, and we actually found a lot of storage systems were available," says Dan Slentz, NWS chief video engineer. "Some were very untested, and when it came down to it, Rohde & Schwarz had the most robust, tested system available."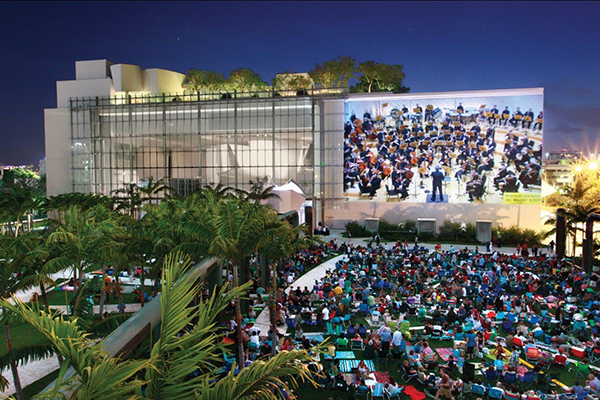 The R&S SpycerNode leverages a High-Performance Computing (HPC) file system for seamless workflow integration and HPC RAID technology for comprehensive redundancy.
The storage solution is fully scalable and can be adapted to capacity and bandwidth demands during operation. Multiple R&S SpycerNode devices with different configurations can be combined.
"I knew Rohde & Schwarz from their transmitters, and their transmitters are seriously top of the line," says Slentz. "And their test equipment is top-notch, too. So, knowing the reputation of the company added a big comfort level when we decided on the R&S SpycerNode."
The New World Symphony deployed its R&S SpycerNode in its IT server room. The unit takes up less than half of a 72-inch-high rack, which later can be populated with up to about 5 PB as future needs require, says Slentz.
Integrated with the R&S SpycerNode is R&S SpycerPAM production asset management software, which enables powerful searches, rights management and proxy generation.
NWS transports signals in the ProRes 4444 format via 12G SDI cables. Its new production setup boasts 30 12G SDI camera drops, 22 4K Ultra-HD cameras, including units from Hitachi, Panasonic and Io Industries, 12G production switcher, 144 x 144 routing switcher and a new Ravenna-based audio-over-IP network.
"We are extremely proud that our R&S SpycerNode is playing a critical role in the New World Symphony's upgrade to 4K Ultra-HD," said Rohde & Schwarz Erik Balladares, Head of Global Sales for Media Production Solutions. "The R&S SpycerNode delivers full redundancy thanks to complete hardware redundancy and data protection measures like erasure coding. The New World Symphony can be certain that its valuable 4K Ultra-HD concert footage is secure for the long haul."
The New World Symphony sees the R&S SpycerNode as a key technology in its media strategy. Slentz in particular values the role of Rohde & Schwarz in the project. "I can say this about Rohde & Schwarz. They have been very attentive to our needs and very helpful," continues Slentz further highlighting the excellent customer service that Rohde & Schwarz provides.
Rohde & Schwarz
Rohde & Schwarz is a leading supplier of solutions in the fields of test and measurement, broadcast and media, aerospace | defense | security and networks and cybersecurity. The technology group's innovative communications, information and security products help industry and government customers ensure a safer and connected world. On June 30, 2019, Rohde & Schwarz had 12,100 employees. The independent group achieved a net revenue of EUR 2.14 billion in the 2018/2019 fiscal year (July to June). The company is headquartered in Munich, Germany, and has subsidiaries in more than 70 countries, with regional hubs in Asia and America.
R&S ® is a registered trademark of Rohde & Schwarz GmbH & Co. KG.
All press releases, including photos for downloading, are available on the Internet at http://www.press.rohde-schwarz.com.
Search For More Content