The measurement and analysis tool provided an objective look at the performance of cloud-based alternatives to the existing PBS workflow.
The R&S®PRISMON audio/video monitoring and analysis solution for broadcast and streaming signals has played a central role in a PBS project to evaluate the viability of transitioning master control and playout to the cloud.
Working with Media Technology Consultant Peter Wharton, President of Washington, D.C.-based Happy Robotz, PBS launched the evaluation about two years ago and recently wrapped up its effort.
"The Rohde & Schwarz PRISMON was critical. It addressed a range of issues that one experiences with cloud playout and delivery systems that are new to our industry," said Wharton.
The R&S®PRISMON, a software-based solution for monitoring and analyzing audio and video content in real time, supports a wide variety of content transport standards and media formats, including those used in IP-based deployments and legacy signal environments.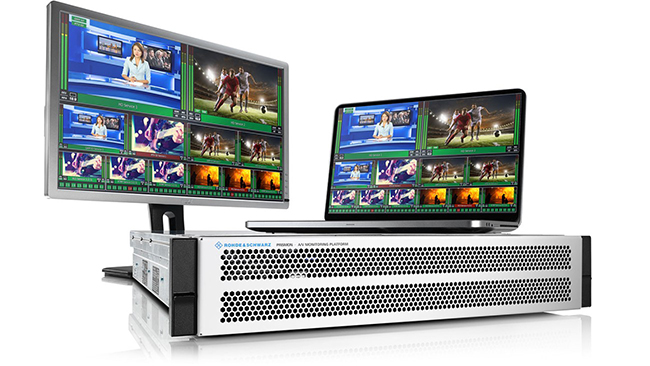 It offers broadcasters and media service providers a single platform for monitoring, analyzing and viewing multiple signals and provides support of compressed streams transmitted via IP multicast transport streams (SMPTE ST 2022-1 and -2) or OTT transmission standards like HLS, MSS, DASH. R&S PRISMON can also visualize, monitor and analyze uncompressed streams based on the new 2022-6 and 2110 standards, including SMPTE ST 2022-7 and SMPTE ST 2110-20, -30 and -40.
The solution offers a variety of basic and enhanced analysis functions for audio, video and rich metadata and provides a set of intelligent functions to analyze signals, including content compare, black & freeze image and live quality measurement.
"With the Rohde & Schwarz PRISMON we allow monitoring functionalities that we have developed over the last decades for compressed services, to be utilized in the new IP based uncompressed Studio and Playout world," said Rohde & Schwarz Head of Monitoring Development Bjoern Schmid.
"We recognize that the quality of a broadcaster's signal is of the utmost importance and developed the Rohde & Schwarz PRISMON to provide broadcasters with objective signal measurements so they can be confident in their end product regardless of whether it's coming from the cloud or on premise."
For the PBS project, Wharton used the R&S®PRISMON to measure the latencies associated with cloud-based encoding and transport and to synchronize numerous feeds of the same content from different signal processes running in the cloud for side-by-side visual comparisons and evaluations.
The R&S®PRISMON also provided objective measurement of the performance of various cloud-based encoding solutions, highlighting artifacts such as bad pixels and charting errors on a frame-by-frame basis when they occurred to enable data-driven comparisons with the performance of the actual hardware encoders used at PBS.
Taken together, these and other measurements provided by the R&S®PRISMON offered Wharton and PBS an empirical basis upon which to evaluate potentially using cloud workflows in place of on-premise, hardware-based playout and master control.
"It was really great to find all of the measurement and analysis capabilities we needed in one tool. In fact, I have not seen some of the capabilities of the Rohde & Schwarz PRISMON in any other system and certainly not at scale where I could do multiple comparisons and multiple channels simultaneously," said Wharton.
Rohde & Schwarz
Rohde & Schwarz is a leading supplier of solutions in the fields of test and measurement, broadcast and media, aerospace | defense | security and networks and cybersecurity. The technology group's innovative communications, information and security products help industry and government customers ensure a safer and connected world. On June 30, 2020, Rohde & Schwarz had about 12,300 employees worldwide. The independent group achieved a net revenue of EUR 2.58 billion in the 2019/2020 fiscal year (July to June). The company is headquartered in Munich, Germany, and has subsidiaries in more than 70 countries, with regional hubs in Asia and America.
Search For More Content