Media Broadcast Satellite GmbH (MBS) tested the Rohde & Schwarz R&S PKU100 satellite uplink amplifier for several months under real-world conditions in an outdoor environment. The reliability of the system fully convinced MBS. The amplifier operated stably throughout the test phase despite considerable external temperature fluctuations.
Munich, August 2, 2019 — MBS installed the amplifier outdoors in a real uplink system in order to test its mechanical and electrical integration. The Hessian service provider recorded and analyzed all operational parameters with its own management system, i.e. the R&S PKU100 was deployed under real-world broadcast conditions. The R&S PKU100 is a solid-state Ku-band power amplifier delivering 400 W of peak power and providing excellent efficiency in an extremely compact design.
MBS with headquarters in Usingen, near Frankfurt, Germany, is a global satellite and terrestrial communications provider delivering advanced network technologies and managed services to businesses, authorities and broadcasters, and offering hosting services via its teleport.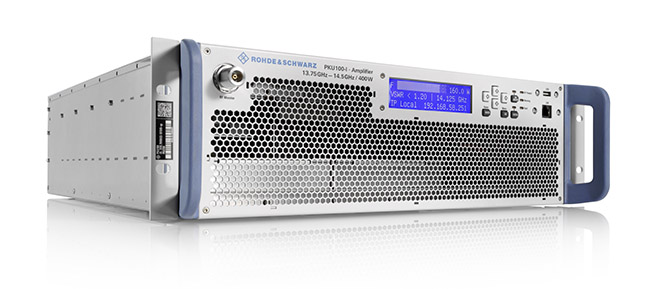 MBS, renowned for absolute reliability, tested the R&S PKU100 400 W class outdoor model from March 18 to May 15 and found all of its requirements perfectly met. A major focus was on thermal stability. The amplifier exhibited virtually constant gain despite strong fluctuations in ambient temperature.
The R&S PKU100 Ku-band amplifier offers excellent efficiency, even when compared to tube amplifiers. This saves energy and cost, doing away with the need for extra air conditioning, for example. Peak efficiency, i.e. the efficiency of the amplifier as a whole, is better than 20 %. It is expressed as the ratio of output power to input power.
"During the entire field testing period, switchover to backup was never needed," says Michael Hirschle, RF Engineering Expert at MBS. "Despite temperature fluctuations as large as 20°C, the gain of the R&S PKU100 remained nearly constant within a range of ±0.5 dB."
The amplifier ran continuously under full load throughout the test phase without any malfunction. The Rohde & Schwarz R&S PKU100 satellite uplink amplifier combines the best of two worlds in a single device: the unbeatable strengths of solid-state amplifiers and the compactness and low weight of tube amplifiers. Should individual transistors fail, the amplifier will continue operating at reduced power.
The R&S PKU100 is a world premiere, featuring optional adaptive linearization at the RF to deliver unparalleled spectral purity. Linearization is used to modify the input signal in order to optimally compensate amplifier nonlinearities, significantly improving signal quality in the satellite uplink within and outside the bandwidth of the wanted signal.
Adaptive linearization considerably improves signal quality, enabling network operators to transmit significantly more data over the same signal bandwidth – ideal even for transmitting 8K video.
Rohde & Schwarz
The Rohde & Schwarz technology group develops, produces and markets innovative communications, information and security products for professional users. The group's test and measurement, broadcast and media, aerospace | defense | security, networks and cybersecurity business fields address many different industry and government-sector market segments. On June 30, 2018, Rohde & Schwarz had approximately 11,500 employees. The independent group achieved a net revenue of approximately EUR 2 billion in the 2017/2018 fiscal year (July to June). The company has its headquarters in Munich, Germany. Internationally, it has subsidiaries in more than 70 countries, with regional hubs in Asia and America.
Rohde & Schwarz Broadcast & Media
Rohde & Schwarz has been an innovator in broadcast and media for over 70 years. The Rohde & Schwarz product portfolio covers the entire signal processing chain for digital video and audio content – from ingest and playout to encoding and multiplexing, from contribution to satellite and IP networks to terrestrial transmission. It includes solutions for monitoring in the studio, as well as for monitoring streaming and broadcast services and entire broadcast networks. The T&M expert also offers a diverse range of instruments for testing end user equipment and infrastructure components in development, production and quality assurance. Rohde & Schwarz invests in an IP and software based future built with the blend of innovation, experience and stability that the company can offer.
Media Broadcast Satellite GmbH (MBS)
As the operator of one of the world's largest teleports, Media Broadcast Satellite has been implementing and operating successful communications solutions for globally active customers since the 1970s. Through its own teleport in Usingen near Frankfurt, Media Broadcast Satellite offers tailor-made solutions for the areas of broadcast, data, teleport and data centres. Satellites between 76° East and 60° West can be reached through more than 135 antennas in the Ku-, Ka- and C-Band. To ensure a maximum of security and stability of our solutions, Media Broadcast Satellite operates a NOC manned 24 hours per day on 365 days of the year and a fully redundant RF, IT and power supply infrastructure. The high-quality standard of the services "Made in Usingen/Germany" is underlined by relevant certifications such as ISO 27001 IT & data security as well as our own engineering team supporting our customers in all stages of transmission, distribution and service management. Media Broadcast Satellite's range of services includes both standard communications services and complete managed service solutions for DTH platforms (SD/HD), data networks and teleport co-location/gateways.
Search For More Content