it increases scope, functionality, and capability of the network controller
Gent, Belgium _ 26 October 2021
In anticipation of its presence at IBC (Stand 10.F42), SDNsquare – a leading IP network orchestration provider – today announces release 1.9 of their flagship 'GRID' network controller: a Software Defined Network controller which guides data-stream paths and creates predictable, low latency flow to optimize network performance and management. The new release includes additional support and configuration for a range of switches, extended approaches to visualization and monitoring, improved performance for large networks and increased API-based interoperability.
GRID's core function is to facilitate predictable and optimal management of a network, providing for reliable, real-time production operations which are not disrupted by data transfer issues or blockage – using intelligent management to deliver predictable and reliable data flow. The new range of additions brought to version 1.9 increases the range of applications that GRID is suited to, grants users' greater control and insight over their networks, and facilitates integration of third-party solutions – including Broadcast controllers and monitoring/orchestration solutions. The net result is a greatly improved SDN functionality, which in turn drives significant cost and performance efficiencies for media companies.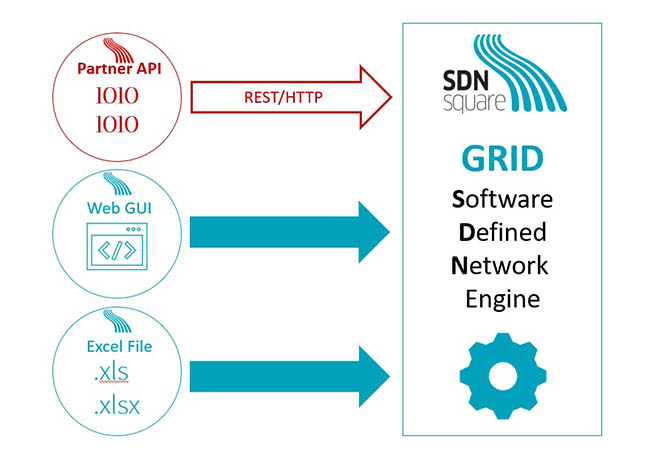 In addition, GRID facilitates quick, intuitive, and automated configuration of an IP infrastructure in a way that is both modular and scalable. In this way, it is ideal for broadcasters who deal with a wide range of media workflows on a fluctuating basis, who need to ensure scalability, predictability, and reliability to deliver the highest quality of service, and who need to deliver low latency network performance with no packet loss, even in bursty, high-impact traffic in many-to-many environments.
The latest expansions in version 1.9 further increase the capabilities and compatibilities of an already very powerful network management tool. As well as extending the switch support offered through GRID to a greater number of Arista Mellanox and Netgear switches, other switches which are not yet supported can still be configured within the system.
Ease-of-use is enhanced with an ability to backup and restore from pre-configured snapshots, as well as downloading them for off-site backup. Addition of a partner API allows for GRID to be used as a middleware engine integrated into user workflows, though the intuitive WYSIWYG (What You See Is What You Get) GUI that ships with the system means that many will be comfortable operating with the system as it ships, ready to plug-and-play.
In terms of improvements made in the field of reliability and monitoring, a new deterministic switch memory model has been added – enabling more extensive QoS settings, and alternative flow paths, flow overview and bandwidth usage have been visualised in order to facilitate improved debugging, along with the addition of a range of search and filter options. Finally, in terms of overall functionality and performance, the path cache calculation time for large networks consisting of more than 100 switches has been significantly improved.
SDNsquare will be demonstrating the capabilities of GRID 1.9 at IBC: Stand 10.F42.
Further information on SDNsquare and its products is available at www.sdnsquare.com
About SDNsquare
SDNsquare was launched in 2011 to leverage the combined expertise of Belgium's primary TV broadcaster VRT; high-tech research centre for the digital economy iMinds/imec; and the University of Ghent. The company was formed to solve the storage and networking challenges faced by media companies, with a view to making networks more reliable, more predictable and easier to manage. In 2019, Euro Media Group became a long term partner. SDNsquare's product range now includes the GRID software-defined network controller, which enables the automatic management and configuration of an IP media network, with guaranteed data or media flows; WARP, a software-defined storage cluster network; and the L-GRID network bandwidth optimiser. Among its numerous high profile customers are EBU, France24, IBM, United, Videohouse, CTV Outside Broadcast, Euro Media France, RTBF and VRT.
Search For More Content