The SDN controller supports IP growth in a modular way
Gent, Belgium_ March 3, 2021 – SDNsquare announce today that they will provide EMG company United with their patented GRID Software Defined Network control software to support the Dutch media production service provider with the IP transition of a number of OB trucks.
Having initiated their working relationship with SDNsquare two years ago, when GRID software solution for IP network orchestration was firstly installed at United's Operation Centre (RoC) in Hilversum, United wanted to extend this relationship into the purchase and IP extension of several OB vans. Though the events of 2020 placed an inevitable impediment on progress, as both companies look forward in 2021 with cautious optimism and as business projects for both parties begin to reinitiate, United are now in a position to finalise the contract for purchase. SDNsquare's GRID software solution will become the network controller for their entire IP-based fleet, as well as remaining compatible with their existing RoC.
SDNsquare's GRID represents a truly unique software-defined network controller designed specifically for the management of IP networks; it ensures smooth packet flow and thus reliable, high-level QoS, regardless of the workflow, network components, network architecture or scale of the operation. These elements are particularly key for United, whose reputation rests on the delivery of exceptional service, which itself requires the network to operate in a predictable, reliable and cost-efficient manner.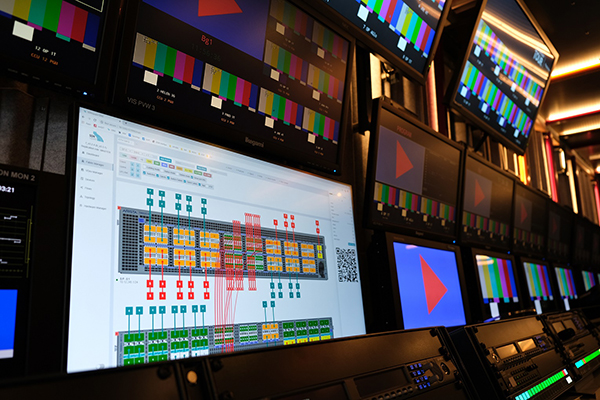 The IP-based nature of GRID is also key for United. The construction of United's fleet will be modular in nature, centering around several ToR switches and calculating the capacity needed for different applications. The use of GRID will ensure that the hardware United deploys can be located wherever needed, in accordance with their 'United Anywhere' concept, in which United are able to offer fully decentralised, remote production and video editing anywhere in the world, no matter where the event recording takes place. Finally, thanks to the use of GRID United will remain vendor agnostic and therefore free to pick and choose the most suitable components for their installation (as well as providing a future-proof, scalable network management system that can accommodate any future upgrades).
CTO of United, Paul van den Heuvel, said: "We have already had success with the deployment of GRID in our RoC back in 2019. It provided a level of reliability and flexibility in our network operations, and as such it will be key to the success of our OB rollout, even when we're producing from remote locations."
Speaking for SDNsquare, CEO Henry Alexander stated: "We believe hugely in the benefits that IP can bring to the field of production and broadcast." He continued: "But managing IP networks is a complicated undertaking; packet behavior is often complex, especially in convergent and scaled-up setups. We developed GRID in order to allow our customers to gain all of the benefits of IP, without fear of being impacted negatively by its complexities. We are pleased that United have found it so effective, and proud to be able to support their expansion in the field of remote production."
Further information on SDNsquare and its products is available at www.sdnsquare.com
About United
United is a service provider serving national and international customers in the TV and media production industry. With the latest generation of facilities, committed and service-minded professionals, we make content creation easier. We combine our years of experience with dedication, flexibility and creativity.
United has the entrepreneurial vision of a start-up, and strives for perfection and the professionalism of a major player with an impressive track record. Our staff is passionate about developing high-quality tailor-made solutions to help you create, manage and operate your video content worldwide.
About EMG
EMG is a leading global provider of broadcast services and media solutions for live sports, entertainment and events, active in 10 countries: France, Belgium, the Netherlands, Germany, United Kingdom, Switzerland, Italy, Luxembourg, the USA & Australia. Constantly proposing state-of-the-art technologies through highly experienced teams, EMG is a valued partner for major international events, including sport (Tour de France, Football World Cup and Formula One…) live events (Eurovision, Royal Weddings, Concerts…) and entertainment (The Voice, Masterchef, the X-Factor…).
About SDNsquare
SDNsquare was launched in 2011 to leverage the combined expertise of Belgium's primary TV broadcaster VRT; high-tech research centre for the digital economy iMinds/imec; and the University of Ghent. The company was formed to solve the storage and networking challenges faced by media companies, with a view to making networks more reliable, more predictable and easier to manage. In 2019, Euro Media Group became a long term partner. SDNsquare's product range now includes the GRID software-defined network controller, which enables the automatic management and configuration of an IP media network, with guaranteed data or media flows; WARP, a software-defined storage cluster network; and the L-GRID network bandwidth optimiser. Among its numerous high profile customers are EBU, France24, IBM, United, Videohouse, CTV Outside Broadcast, Euro Media France, RTBF and VRT.
Search For More Content