Full Support for RIST Certificate-Based Authentication and SRT incorporated into Encoder and Decoder families for enhanced security
Champaign, IL – Cobalt® Digital, designer and manufacturer of award-winning edge devices for live video production and master control, has announced that its implementation of the Reliable Internet Stream Transport (RIST) Main Profile now includes full support for certificate-based authentication. The enhanced functionality gives users of Cobalt's 9992 encoder/decoder family and 9990 decoder an added level of security by ensuring the identity of the remote site when transmitting content over the Internet with RIST. Cobalt is an original contributor to the RIST protocol and is also a founding partner in the openGear® initiative.
RIST, developed jointly by a group of experts from a variety of stakeholder companies, provides for a technically robust streaming solution in any application, use case, or environment. Support for RIST's certificate-based authentication enables Cobalt products to easily generate and manage security certificates, thereby assuring the validity of an incoming signal's source and destination.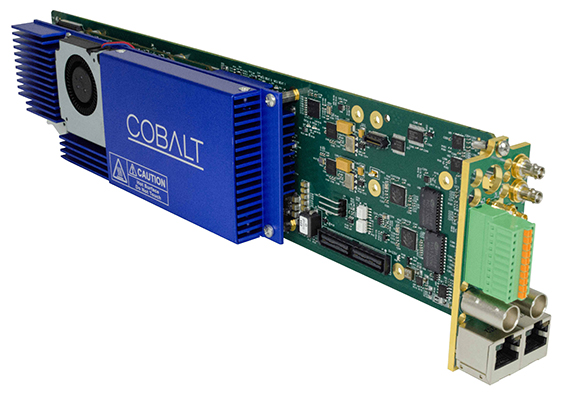 The enhancements are available for Cobalt's broadcast-grade 9992 encoder/decoder family of industry standard openGear® card modules that already provide professional-grade support for compressed audio and video resolution up to 4K, as well as the 9990-DEC-MPEG decoder. The 9992-ENC is a software-defined encoder expandable up to four channels. It's upgradable with HEVC video encoding for a dramatic compression efficiency improvement over previous video compression standards, while also supporting existing MPEG-2 and MPEG-4 AVC. Cobalt's 9992-DEC is a software-defined multi-standard decoder that supports MPEG-2, AVC (H.264) and HEVC (H.265) and offers a full complement of audio decoding capabilities.
Cobalt has also made full support for SRT (Secure Reliable Transport) available for the 9992 encoder/decoder family and 9990 decoders (future availability). SRT is a legacy protocol for low-latency, reliable transport over the Internet derived from the public domain UDP Data Transfer file transfer standard. The encoder/decoders are backward compatible with existing devices utilizing SRT.
"Security is an enormous concern today, especially with the dramatic increase in streaming due to the pandemic," explained Dr. Ciro Noronha, Executive Vice President of Engineering for Cobalt. "The RIST protocol enables greater choice and flexibility for broadcasters, allowing them to take advantage of the cost-effective internet for contribution feeds with top-of-the-line security, as well as the freedom to mix 'best of breed' products from different vendors. Cobalt is a strong supporter of open standards and is delighted to offer even greater security and reliability with full support of both RIST and SRT."
About Cobalt Digital
Cobalt Digital Inc. designs and manufactures award-winning edge devices that help live video production and master control clients transition to IP, 4K, HDR, the cloud, and beyond. As a founding partner in the openGear® initiative and proud member of SMPTE, Cobalt also offers a best-of-breed interoperability platform that simplifies technological adoption. Distributed through a worldwide network of dealers, system integrators, and other partners, Cobalt Digital products are backed with a five-year warranty. Learn more at www.cobaltdigital.com.
Search For More Content