LEXINGTON, MA – Signiant Inc, a market leader in intelligent file transfer, today announces it is extending its presence in Germany by partnering with Broadcast Solutions Produkte und Service, one of the region's leading suppliers for the development, planning and realisation of complex systems and products for broadcast and media.
Broadcast Solutions Produkte und Service will work closely with the Signiant EMEA team to strengthen Signiant's presence in the DACH region. Broadcast Solutions Produkte und Service bring with them significant expertise in workflows, innovative and sustainable solutions for integration in the broadcast community. Broadcast Solutions Produkte und Service have hands-on experience with Signiant products and integrating products including Signiant's Media Shuttle SaaS solution for person-initiated transfers; Manger+Agents, its enteprisee solution for automated, accelerated transport of large files between geographically dispersed locations; and Jet, Signiant's newest SaaS solution offering powerfully simple unattended transfers both within and between companies.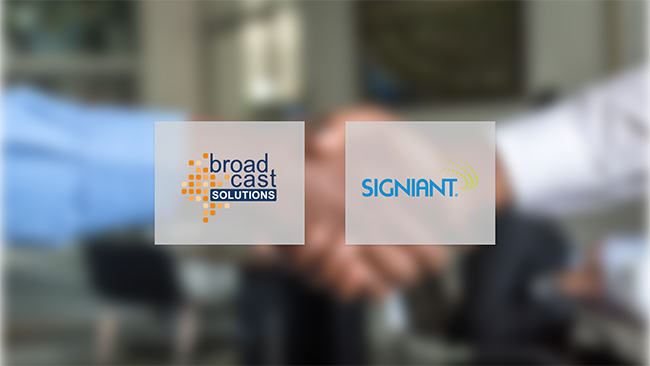 "Media is a global and time-sensitive business and with our customers in Germany now adopting new formats such as 4K and 8K, Signiant solutions are a must have," said Martin Schwöri, COO at Broadcast Solutions Produkte und Service. "We're excited to partner with Signiant to bring its portfolio of marketing leading products to the media companies in the region."
Greg Hoskin, Managing Director, EMEA and APAC at Signiant, said: "Germany is an important and expanding region for Signiant, and we're excited to be extending our reach in the region by partnering with Broadcast Solutions Produkte und Service. The team's knowledge of the industry, and close relationship with customers in the region will help elevate Signiant's presence in Germany."
About Signiant:
Signiant's intelligent file movement software helps the world's top content creators and distributors ensure fast, secure delivery of large files over public and private networks. Built on patented acceleration technology, the company's on-premises software and cloud-native SaaS solutions allow businesses of every size to optimize mission-critical file transfers between users, data centres, and the cloud. For more information, please visit http://www.signiant.com.
About Broadcast Solutions Produkte und Service:
Broadcast Solutions Produkte und Service offers innovative and sustainable solutions for the broadcast and media industry. We plan and implement projects and solutions that cover the entire value chain of the broadcast and media industry. Our tailormade services portfolio, with a focus on consultancy and design, support customers in the realisation of their projects to improve efficiency, workflow and sustainability. For more information, please visit https://broadcast-solutions.de/en/broadcast-technology/
Search For More Content