Skyline Communications wins the IABM BaM Awards® at NAB 2019!
Tue 16, 04 2019
Skyline Communications has been announced as award winner at the IABM BaM Awards® party last night in Las Vegas. A panel of no less than 40 independent expert judges acknowledged their renowned DataMiner platform as the global leading platform for orchestration and monitoring of SMPTE-2110 all-IP broadcast production, playout and distribution.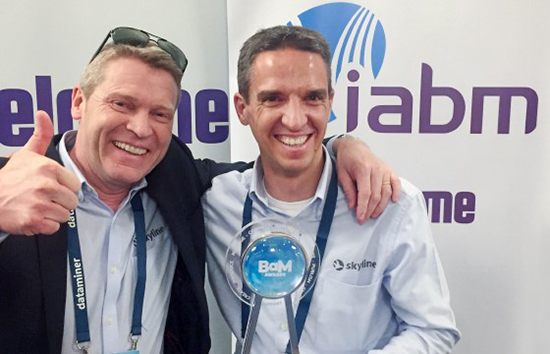 One of the hot topics at NAB 2019 is the new IP standards in broadcast SMPTE 2022-XX and SMPTE 2110-XX, which are now supported by many vendors and ready to go into production. The true potential of SMPTE 2110 lies in ensuring a robust operation and using the standards to create more productive workflows. In this light, it might not come as a surprise that Skyline is taking home the IABM BaM Award®, because their cutting-edge solution unlocks exactly that potential. DataMiner enables broadcasters and content producers to put SMPTE 2110 into action by giving a 360° visibility on all IP flows in the system. Furthermore, with the integration of PTP management, media operators have the right solution to successfully make the transition to all-IP and are able to adapt to future workflows that are still unknown. Equally important is the fact that Skyline's DataMiner truly provides full end-to-end orchestration of media flows across the network, and that applies to both IP and legacy SDI.
"Of course, we're stoked to receive this IABM BaM Award®," reacted Steven Soenens, VP Product Marketing at Skyline Communications. "DataMiner has already been recognized as the number one platform for orchestration and monitoring by the biggest broadcasters around the globe. That success has now also been affirmed by this leading and carefully selected jury. After evaluating the technologies, they concluded that our solution really stands out, even when it is lined up against the latest and greatest of some pretty big names in the industry. The fact that the IABM BaM Awards® are the only technology awards in the industry that are truly independent only makes this win an even bigger recognition. So yes, you can see a lot of happy faces here at our booth at NAB."
Related Content
Based on your recent activity and preferences we recommend the following pieces of content