Sonotechnique Represents Lawo Radio Products In Canada
Fri 27, 09 2019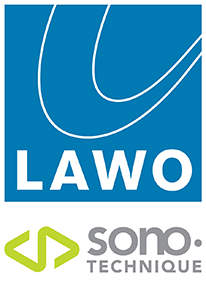 Sonotechnique, the respected broadcast equipment firm headquartered in Montreal, Quebec, has just been named the Canadian distributor for Lawo Radio products.
Sonotechnique President Patrice Delhaes says "Beginning an association with Lawo at this moment is particularly good timing. We have seen that many of radio's early AoIP adopters are now looking to begin their second round of networked-studio builds. Many stations with traditional studios are also preparing to network. All of them want standards-based networking, rather than proprietary protocols that limit their choices. Lawo, with their continuing technical innovation and commitment to open standards such as RAVENNA and AES67, is a perfect fit."
"Lawo is very pleased to be working with Sonotechnique," says Jochen Richter, Lawo Head of Sales, Radio. "30 years of personalized service has given them enviable experience and insight into the Canadian radio market, and their skill in helping broadcasters define and achieve their operational goals is second to none. It is a pleasure to welcome them as our partner in Canada."
With offices in Montreal, Toronto and Vancouver, Sonotechnique serves broadcasters with planning, integration and installation services. Sonotechnique will represent Lawo's entire line of radio equipment and solutions, including the popular ruby and crystal mixing consoles, high-density Power Core AES67 audio gateway, touchscreen-based crystalCLEAR mixer, and RƎLAY line of Virtual Radio software for PCs.
Clients can visit Sonotechnique at www.sonotechnique.ca , or by calling +1 (514) 332-6868.
For more information about the entire portfolio of Lawo radio products, please visit www.lawo.com .
About Lawo
Lawo designs and manufactures pioneering network, control, audio and video technology for broadcast and post production, as well as live performance and theatrical applications, developed in Germany and manufactured according to highest quality standards at the company's headquarters in the Rhine valley town of Rastatt, Germany. Lawo's line of physical and virtual radio solutions include ruby, sapphire, sapphire compact and crystal mixing surfaces, crystal CLEAR and RƎLAY Virtual Radio Mixers, and advanced VisTool GUI-builder software, all designed to provide more capability for less cost. For details, visit www.lawo.com.
About Sonotechnique
Sonotechnique listens and provides solutions to enhance craftsmanship in your Audio and Video production. With a vast experience of 30 years in the field, our pan-Canadian company has offices in Montreal, Toronto and Vancouver. We are very dedicated to finding the right products for our clients whether it be in the broadcast, sound recording, or new media worlds.
Related Content
Based on your recent activity and preferences we recommend the following pieces of content