New Zealand sports broadcaster will use M2A Media's cloud IP transport service to transport live video content from partners worldwide
London, 04 February 2020:  M2A Media, leading innovators in cloud-based video solutions, today announced that New Zealand premium live and on-demand sports streaming service, Spark Sport has licensed cloud IP transport service, M2A CONNECT, to transport sports content from its global rights partners.
M2A CONNECT affords Spark Sport with the very latest in cloud IP technology to ensure the smooth transport of its valuable live sports content.
Operating as a smart orchestration layer over AWS Elemental MediaConnect and AWS Elemental MediaLive, M2A CONNECT offers Spark Sport a single user-friendly web console.  The M2A CONNECT console displays sources, feed monitoring metrics and health status, along with proxy feeds, thus allowing operators to schedule and monitor live events.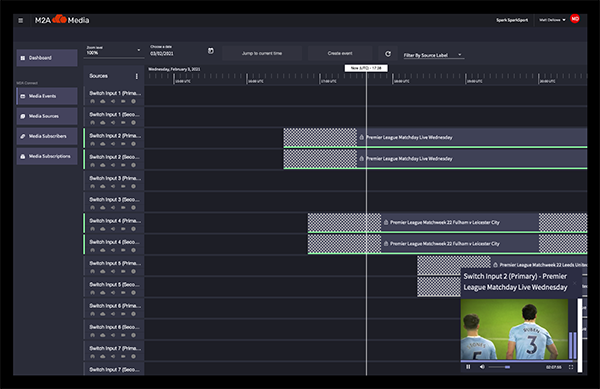 Spark Sport will benefit from M2A CONNECT management of Amazon Web Services (AWS) infrastructure based on the event schedule and ability to capture the live event video to Amazon Single Storage Service (Amazon S3) VOD files.
Andrew Martin, Operations Lead, Sports SVOD and TVOD at Spark Sport, commented, "When Spark Sport launched last year its aim was to revitalise sports delivery in New Zealand.  With M2A Media we have found the perfect partner and the perfect solution to do just that.  Transport of live video over cloud IP affords us incredible flexibility and efficiency.  As a smart orchestration layer on top of AWS Media Services, M2A CONNECT is helping us future proof our broadcast operations."
Marina Kalkanis, Founder and CEO, M2A Media, added, "It's exciting to be expanding our customer base further into the APAC region.  We have a strong track record of helping progressive OTT platforms achieve their ambitions of growth and reach and we are delighted that Spark Sport has chosen M2A CONNECT to power the transport of its live video content."
To learn more about M2A CONNECT visit www.m2amedia.tv/m2a-connect
About M2A Media
M2A Media is a cloud media services company with software engineering at its core. We help rights owners and broadcasters distribute their live and on-demand video. Our approach is to build innovative software tooling on top of AWS Elemental Media Services enabling efficient operational delivery.
We're all about embracing the power of the cloud for video distribution and cost-effective, flexible workflows. We have that rare mix of savvy software engineering and bullet-proof operational support. It is this combined expertise that places us at the forefront of innovation in cloud-based video delivery.  Our products; M2A CONNECT, M2A LIVE, M2A VOD and M2A CAPTURE are trusted by global broadcasters and sports rights owners including DAZN, BritBox, ITV and Channel 4.
Search For More Content