Plug for plug replacement for switcher, graphics and server in legacy infrastructures
Pixel Power, the global leader in playout, automation and graphics, has added StreamMaster PRIME to its range of graphics and playout products. Leveraging its renowned StreamMaster Media Processing technology platform, StreamMaster PRIME is a turnkey appliance with a flexible function set, designed primarily as a replacement for individual devices in a traditional architecture.
"Many of the broadcasters we talk to have told us that they are not yet in a position to move to an all new, software-defined playout architecture, but that individual items in their legacy systems need replacing," explained James Gilbert, CEO of Pixel Power. "StreamMaster PRIME gives them a single, cost-effective appliance, connecting over SDI, with all the usual automation interfaces, so it is a simple plug-in replacement for a life-expired master control switcher, video server or graphics inserter.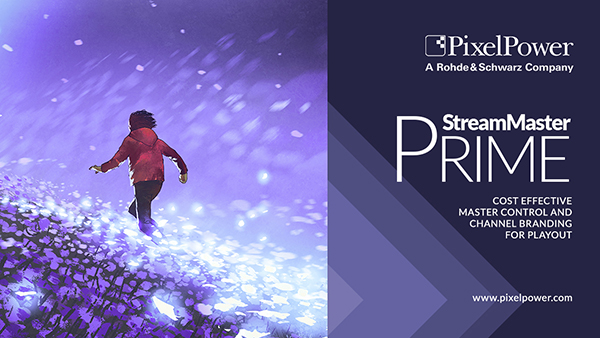 "Most importantly, the software licences for StreamMaster PRIME are transferable, so when the broadcaster begins to migrate towards a new architecture or deployment model, the existing functionality can be transferred at no additional cost," he added.
StreamMaster PRIME is a dedicated appliance, capable of supporting automated branding graphics, multi-layer static and animated logos, clocks, text crawls, tickers, DVE moves and more. Options include dual port video server, audio processing for multi-channel sound and master control functionality.
It is capable of autonomous operation, with hardware or software UI control panels also available. It is plug-and-play with all major automation systems.
"This is a direct response to a real need from the industry," said Gilbert. "It's a standard appliance with sufficient hardware power to run the software applications likely to be needed, tailored to the user's requirements. For those who need to keep a legacy broadcast chain running, or perhaps an outside broadcast truck needing motion graphics playback, it is a very welcome solution."
StreamMaster PRIME is available now.
About Pixel Power, a Rohde & Schwarz Company
Pixel Power develops software-defined, virtualizable, solutions for broadcast playout, automation, master control, graphics & branding used in linear television channels, OTT and VOD. Our award-winning branding and promotions systems, graphics-enabled master control switchers and sophisticated switchable graphics production systems allow producers to deliver dynamic live and pre-recorded content for any SD, HD, 4k, mobile, online or interactive application.
Pixel Power has 33 years' experience of engineering prowess and dedication to customer support that has made it the industry's first choice in playout, graphics and branding. With several thousand installations worldwide, customers include market-leading broadcasters such as BBC, Ericsson, ITV, SWR, WDR, TV2 Norway, Danmarks Radio, TV5 Monde, CBC, Disney, Discovery, ESPN, ViaSat and Sky.
Recently acquired by Rohde & Schwarz GmbH, Pixel Power corporate headquarters are in Cambridge UK with regional offices in Grass Valley California and Dubai UAE.
Pixel Power can be contacted online at www.pixelpower.com.
Search For More Content