Swiss broadcaster deploys monitoring and multiviewer solution from Rohde & Schwarz
Wed 09, 01 2019
Technology and production center switzerland ag (tpc) has opted for the purely software based R&S PRISMON monitoring solution from Rohde & Schwarz. In a new campus building for SRF, the Swiss broadcasting company serving the German-speaking region of Switzerland, tpc relies on IP in the standard SMPTE 2110 for the complete technology. R&S PRISMON is being deployed to monitor video input signals, mainly as a multiviewer. Rohde & Schwarz is cooperating with system integrator Jordi on this project.
Munich, January 9, 2018 — SRF/tpc/SRG are building a new All IP news and technology building in Zurich-Leutschenbach. The SRF news and sports desks, the national services of the Swiss public broadcasting organization SRG SSR, and tpc will be integrated in the new building in the next few years. tpc is setting up a completely new SMPTE 2110 compliant, IP-based system infrastructure for the various TV studios, post production, the new nationwide master control room (MCR), and a central ingest and playout center. The aim is to streamline operational procedures and simplify processes.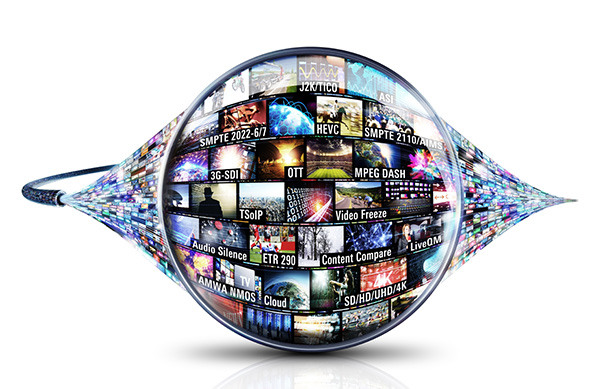 A variety of video input signals will be monitored at several places in the new building. R&S PRISMON will simultaneously monitor signals from broadcast management, ingest, the MCR, production, and the sports desk. For control purposes, they will be displayed on multiple monitors using the multiviewer function. The multiviewer output is also implemented in SMPTE 2110 and features extremely low latency despite the software based approach.
R&S PRISMON will perform various analyses, including input loss, freeze frame, black frame and audio silence. The solution detects dropouts and content errors and automatically generates realtime alerts. The source signals are already available in SMPTE 2110 format. R&S PRISMON is able to receive and monitor these signals, and output them as IP signals. The monitoring solution is very cost-effective since future new standards and media formats can be added at any time with a simple software upgrade.
System integrator Jordi will install R&S PRISMON in the IP system by early 2019. Andreas Lattmann, CTO at tcp: "We chose R&S PRISMON because it features leading-edge SMPTE 2110 technology and is extremely flexible. We are especially impressed by the software based approach and virtualization capabilities."
Hannes Strobel, Vice President Monitoring & Headend: "We are very pleased that we were able to convince the project management of the innovative strength and flexibility of our software based R&S PRISMON monitoring platform. In the general coordination meetings, it quickly became clear that both sides shared a very progressive view on the implementation of IP-based transmission in the studio area."
As a subsidiary of SRG SSR, tcp is responsible for the entire technology and production of the TV, radio and multimedia contributions of Swiss radio and television broadcaster SRF. The company implements projects for customers from various sectors in Switzerland and other countries.
Rohde & Schwarz
The Rohde & Schwarz technology group develops, produces and markets innovative communications, information and security products for professional users. The group's test and measurement, broadcast and media, aerospace | defense | security, networks and cybersecurity business fields address many different industry and government-sector market segments. On June 30, 2018, Rohde & Schwarz had approximately 11,500 employees. The independent group achieved a net revenue of approximately EUR 2 billion in the 2017/2018 fiscal year (July to June). The company has its headquarters in Munich, Germany. Internationally, it has subsidiaries in more than 70 countries, with regional hubs in Asia and America.
Rohde & Schwarz Broadcast & Media
Rohde & Schwarz has been an innovator in broadcast and media for over 70 years. The Rohde & Schwarz product portfolio covers the entire signal processing chain for digital video and audio content – from ingest and playout to encoding and multiplexing, from contribution to satellite and IP networks to terrestrial transmission. It includes solutions for monitoring in the studio, as well as for monitoring streaming and broadcast services and entire broadcast networks. The T&M expert also offers a diverse range of instruments for testing end user equipment and infrastructure components in development, production and quality assurance. Rohde & Schwarz invests in an IP and software based future built with the blend of innovation, experience and stability that the company can offer.
Related Content
Based on your recent activity and preferences we recommend the following pieces of content