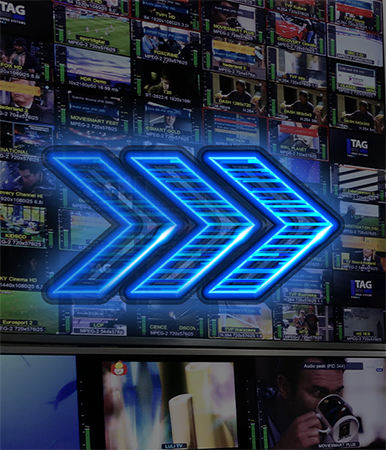 Adaptive Monitoring maximizes resources on-premises and in the cloud
Tel Aviv – September 10, 2020 — TAG, the world leader in 100% SW, 100% IP, 100% COTS/Cloud, Probing, Monitoring and Multiviewing solutions, has announced that its MCM-9000 all-IP, all-software platform has been enhanced with the addition of an Adaptive Monitoring feature. Adaptive Monitoring gives operators even greater agility in optimizing high-density probing and monitoring by enabling dynamic, automated, on-the-fly allocation of monitoring resources on a per-input-stream basis. The game-changing feature brings operators significant efficiency gains that in turn yield cost savings and more extensive monitoring capabilities.
TAG's MCM-9000 provides complete probing and monitoring for all transmission layers from the SMPTE ST 2110/2022-6 uncompressed to MPEG-TS compressed and OTT streams all the way down to the encoded video content and its quality. Offering more than 350 probing features and supporting all major industry standards, TAG software can monitor thousands of audio and video signals, performing automated analysis of video and data according to predefined templates, industry standards, and other technical parameters and thresholds set by the operator.
Until now, the MCM-9000 offered two distinct and separate modes of monitoring varying in visualization ability and resource consumption:
Full Monitoring Mode – the input source is fully decoded in real time for probe analyzation, alarming for errors and live video display on the Multiviewer mosaic output .
Light Mode – the input source is probe analyzed and alarmed, but only partially decoded and therefore not displayed. This monitoring mode requires significantly less resources.
The MCM-9000 now raises the bar by adding Adaptive Monitoring to the platform. Adaptive Monitoring allows the TAG solution to monitor in any of three operating modes—full, light, and the addition of extra-light monitoring—on a per-input-source basis and in an adaptive manner. Using thresholds set by the operator within the TAG software or triggered by an API command from external devices monitoring the overall ecosystem, the system will automatically adapt between the monitoring modes to ensure optimal monitoring of all streams at all times and full visualization of errors.
The only integrated probing, monitoring, and multiviewing solution to offer Adaptive Monitoring, the TAG solution gives operators the valuable ability to optimize CPU usage without sacrificing error detection.  It not only elevates monitoring capabilities when using on-premises hardware, but yields even greater benefits for cloud-based operations with the ability to dynamically change utilization of instances based on need at any given time. Moving away from physical hardware, operators no longer need to scale their equipment and infrastructure to support maximum channel capacity—or leave hardware unused during non-peak times. The combination of TAG software with Adaptive Monitoring, and cloud-based processing resources allows operators to move toward a more economical pay-per-use model in which they can scale instances to match their need.
Whether on-premises or in the cloud, Adaptive Monitoring ensures that if a problem is detected, the channel is automatically switched to full monitoring mode. The dynamic nature of this model makes TAG's software an ideal solution for efficient high-density probing and monitoring of OTT channels without compromise.
Adaptive Monitoring also allows operators to mix and match different TAG monitoring modes. Instead of dedicating 100% of CPU power for full monitoring at one point, they can opt for light or extra-light monitoring and use a fraction of the resources. With the freedom to implement different monitoring modes within a single deployment, operators can take advantage of automated and adaptive resource allocation to get the most out of their available server resources and be confident that errors will be visualized when they occur – regardless of the mode.
In essence, the new Adaptive Monitoring functionality enables the user to choose the monitoring mode per channel with the ability to change it dynamically. Benefits include: optimization of CPU Usage without sacrificing error detection; operational flexibility; simpler cloud operation with increased agility when monitoring a massive number of channels; and better utilization and management of Cloud instances and hardware resources potentially reducing OPEX and CAPEX.
Explains Tomer Schechter, TAG CTO, "The industry is evolving and in turn, so are our customers' needs. TAG software not only supports efficient monitoring across all channels, but also provides customers with a path forward for ongoing growth. With that in mind, we developed this feature to ensure that the number of channels and points to be monitored are never compromised for financial reasons.  Enhanced with Adaptive Monitoring, TAG's MCM-9000 probing, monitoring, and Multiviewing software has the functionality to be three to five times more efficient as it maximizes existing resources. And as with other updates and enhancements to TAG software, this feature is available at no additional cost to both new and existing TAG customers under support agreements."
About TAG Video Systems
TAG Video Systems is the world leader in 100% software based integrated IP Multiviewing, Probing and Monitoring solutions.  Introducing its first IP solution in 2008, today TAG supports over 50,000 channels across the four primary broadcasting applications – Live Production, Playout/Master Control, Distribution and OTT. TAG's Zer0 Friction philosophy allows Broadcasters and Content Distributors the greatest scalability, flexibility and asset utilization available in the market today. The 100% software platform supports both compressed and uncompressed formats, including MPEG TS, JPEG2000, SMPTE 2110, SMPTE 2022-6/7, MSS, MPEG-DASH, HLS and CMAF. TAG's solutions run on standard Commercial Off-The-Shelf hardware (COTS) and cloud, providing state-of-the-art IP monitoring and analysis tools combined with highest quality UHD Multiviewer available on standard and mobile device displays.
For more information: www.tagvs.com
Search For More Content