Scheduled for Thursday, August 13, this "must see" event details steps to improve an OTT platform and streamline business practices as technology evolves  
TAG Video Systems will continue its popular series of live webinars with the next timely topic "How to Get Control of Your OTT Service Delivery!" scheduled for Thursday, August 13, 2020 at 11:00 Eastern. TAG, the world leader in 100% SW, 100% IP, 100% COTS/Cloud, Probing, Monitoring and Multiviewing solutions, will host Skyline Communications, a global leader in end-to-end multi-vendor network management and OSS solutions, to deliver an insightful guide detailing how to utilize integrated tools, processes and solutions to achieve maximum results from an OTT Delivery Service.
Paul Briscoe, Chief Architect at TAG, and Thomas Gunkel, Market Director Broadcast at Skyline, will lead discussions focused on how TAG's probing, monitoring, and multiviewing software combines with Skyline's DataMiner AI-powered network management, orchestration, and OSS platform to give media companies an improved view of their system. The duo will also explain how to keep businesses running smoothly as their services and technologies evolve.
The presentation will culminate with a look at a real-world execution of this integrated solution that was successfully implemented into a large, recently launched OTT platform.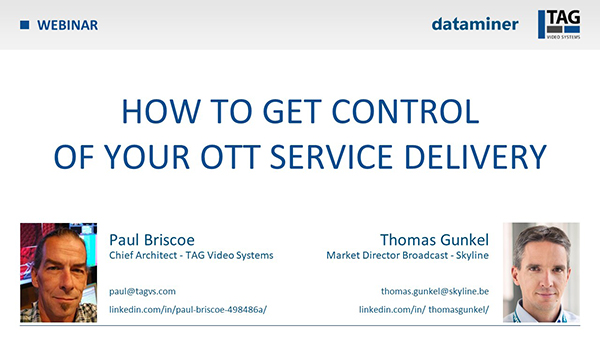 The "How to Get Control of Your OTT Delivery Service!" webinar will address how to:
Automate your service lineup
Ensure your probes and multiviewers are always in sync with your service
Implement efficient probe and asset usage
Improve service uptime
Consolidate monitoring and orchestration on a single pane of glass
"Imagine if you knew that there was a problem on a specific channel and could actually identify the exact facility, room, and rack where the issue was," explained Kevin Joyce, TAG's Zer0 Friction Officer. "When you can see that level of detail in your service chain, end-to-end, it's incredibly powerful. Together with Skyline, we'll explain how media companies can enhance visualization of monitoring and system health and improve orchestration across their entire OTT service delivery infrastructure."

The schedule for future TAG webinars follows. Click here for details and updates:

August 27th –              11AM EST –  Latency in Live Production Multiviewing

September 15th – 11AM EST –  Format Alphabet Soup: Pros and Cons of HLS, DASH, NDI, 2110 etc.

October 1st –              11AM EST –  How to Monitor Metadata

October 20th –          11AM EST –  Multiviewing for Interlaced Video Formats

November 5th –      11AM EST –  Selecting Monitors for your Multiviewing Application

November 17th –   11AM EST –  Avoiding Latency in IP Media Transport
December 10th –    11AM EST –  Monitoring and Alarming in IP Systems
About TAG Video Systems
TAG Video Systems is the world leader in 100% software based integrated IP Multiviewing, Probing and Monitoring solutions.  Introducing its first IP solution in 2008, today TAG supports over 50,000 channels across the four primary broadcasting applications – Live Production, Playout/Master Control, Distribution and OTT. TAG's Zer0 Friction philosophy allows Broadcasters and Content Distributors the greatest scalability, flexibility and asset utilization available in the market today. The 100% software platform supports both compressed and uncompressed formats, including MPEG TS, JPEG2000, SMPTE 2110, SMPTE 2022-6/7, MPEG-DASH and HLS. TAG's solutions run on standard Commercial Off-The-Shelf hardware (COTS) and cloud, providing state-of-the-art IP monitoring and analysis tools combined with highest quality UHD Multiviewer available on standard and mobile device displays.
For more information: www.tagvs.com
Search For More Content