100% IP Solution allows IP sources to be directly monitored eliminating need for IP to SDI conversion
Chuo, Tokyo – March 4, 2021  —  TAG Video Systems, the world leader in integrated software-based IP Probing, Monitoring and Multiviewer solutions, has provided Japan Cablecast Inc. with a 100% IP, 100% software system running on COTS hardware, to streamline and automate monitoring capabilities. Japan Cablecast, located in Chou, Tokyo, is a distributor of digital television broadcasts for cable stations.
Working with DIGIcas, TAG's Japanese partner and an international provider of the highest-quality hardware and software solutions available for the Broadcast and Media market, Japan Cablecast chose and implemented TAG's MCM-9000 in its Network Operations Center (NOC) to monitor 160 signals. All the streams, including MPEG-TS and OTT, are monitored 24/7/365; errors and problems are logged automatically and recorded by the system. Error reporting, as well as full control of the MCM-9000 by third party devices are achieved via the MCM-9000's elaborate API.
"Until now, we had to convert IP streams to SDI for monitoring on a Multiviewer, and that was a problem, explained Nishizawa, Chief Manager. "The TAG system allows us to bypass the IP to SDI conversion process and monitor the original MPEG-TS and OTT signals for video/audio compliance, as well as all other stream parameters, making the monitoring much more comprehensive and accurate while saving us time and increasing the efficiency of the staff."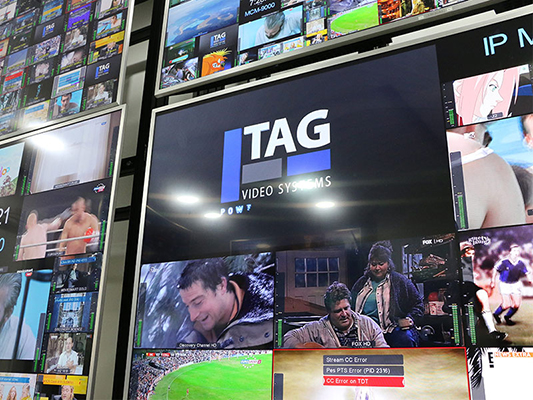 Nishizawa, who is responsible for evaluating next generation systems and implementing best-of-breed solutions for Japan Cablecast, added "It is a brilliant system! Before TAG we had to check all errors manually with operators physically watching the signals and using various additional test equipment. Now almost all errors are detected automatically. And because TAG is 100% IP, we can check the Multiviewer mosaic output from anywhere if we need to, which is a serious consideration today, and a huge benefit. Costs played another factor in our decision to go with TAG. The initial cost was very attractive and operating costs are extremely reasonable because all it involves is replacing a server about every 5-7 years."
According to Nishizawa, DIGIcas provided the Japan Cablecast team with training so they could manage the system settings independently, and use APIs to control and interact with third party solutions. He added, "DIGIcas  always provided information and assistance quickly, their support and maintenance  service is excellent, and since the TAG system is all software based, we can update, upgrade, and install new features on our own, any time they become available."
Added Adi Itzhaki, TAG VP Sales, "We were delighted to work with our great partner, DIGIcas, on this exciting project. Japan Cablecast is a prime example of how TAG can save customers valuable time as well as money. The system streamlines the monitoring workflow process, addresses upgrades with ease  and because it is all software, all IP, it offers JCC assurance that its investment is virtually future-proof."
About TAG Video Systems
TAG Video Systems is the world leader in 100% software based integrated IP Multiviewing, Probing and Monitoring solutions.  Introducing its first IP solution in 2008, today TAG supports over 50,000 channels across the four primary broadcasting applications – Live Production, Playout/Master Control, Distribution and OTT. TAG's Zer0 Friction philosophy allows Broadcasters and Content Distributors the greatest scalability, flexibility and asset utilization available in the market today. The 100% software platform supports both compressed and uncompressed formats, including MPEG TS, JPEG2000, SMPTE 2110, SMPTE 2022-6/7, MSS, MPEG-DASH, HLS and CMAF. TAG's solutions run on standard Commercial Off-The-Shelf hardware (COTS) and cloud, providing state-of-the-art IP monitoring and analysis tools combined with highest quality UHD Multiviewer available on standard and mobile device displays.
For more information: www.tagvs.com
Search For More Content