"Playout: New Cloud Multiviewing and Probing" is scheduled for Thursday, July 16.
TAG Video Systems, the world leader in 100% SW, 100% IP, 100% COTS/Cloud, Probing, Monitoring and Multiviewing solutions, has announced the topic for its next webinar. TAG is inviting those that need to learn more about the best way to implement effective monitoring and multiviewing in the cloud for playout to tune into "Playout: New Cloud Multiviewing and Probing" on July 16th at 11am Eastern US time. The webinar will examine the technical and business challenges encountered when migrating to cloud playout, share tips for getting the best ROI possible, and openly reveal lessons learned from specific experiences.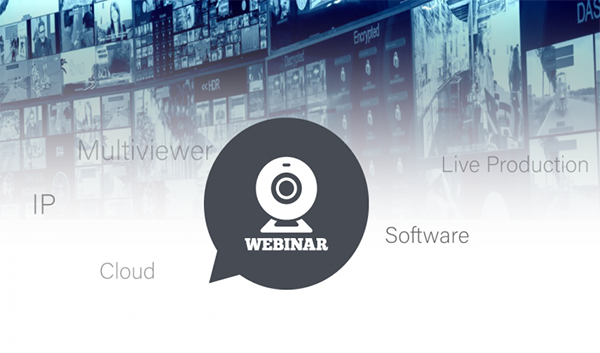 The session will be hosted by Paul Briscoe, TAG Chief Architect, and Peter Wharton, TAG Advisor. Both have helped customers of all sizes deploy cloud-based monitoring solutions, and will share their knowledge and expertise including technologies and workflows they established to tackle probing, monitoring, and multiviewing in the cloud, especially as it relates to playout.
Specific topics will include:
• Key business and technical considerations when migrating to cloud playout
• Tips to avoid investing in systems that become obsolete before they are paid for
• Measuring lost and out-of-order packet, jitter, and other transport parameters in the cloud
• How to scale monitoring and probing in the cloud – what we've learned from March Madness
Stay tuned for details regarding TAG's next webinar series
About TAG Video Systems
TAG Video Systems is the world leader in 100% software based integrated IP Multiviewing, Probing and Monitoring solutions. Introducing its first IP solution in 2008, today TAG supports over 50,000 channels across the four primary broadcasting applications – Live Production, Playout/Master Control, Distribution and OTT. TAG's Zer0 Friction philosophy allows Broadcasters and Content Distributors the greatest scalability, flexibility and asset utilization available in the market today. The 100% software platform supports both compressed and uncompressed formats, including MPEG TS, JPEG2000, SMPTE 2110, SMPTE 2022-6/7, MPEG-DASH and HLS. TAG's solutions run on standard Commercial Off-The-Shelf hardware (COTS) and cloud, providing state-of-the-art IP monitoring and analysis tools combined with highest quality UHD Multiviewer available on standard and mobile device displays.
For more information: www.tagvs.com
Search For More Content