"OTT: New Cloud Probing and Multiviewing" is scheduled for Tuesday June 16.
TAG Video Systems, the world leader in 100% SW, 100% IP, 100% COTS/Cloud, Probing, Monitoring and Multiviewing solutions, is tackling how to implement effective monitoring for OTT services with its next webinar scheduled for Tuesday, June 16th at 11am Eastern US time. The webinar will openly discuss the challenges of OTT and introduce the audience to new cloud probing and Multivewing models.
The session will be hosted by TAG's own CPO Gal Waldman and Ilan Torbaty, the company's VP Tech Ops, two top experts who have helped customers of all sizes deploy cloud-based monitoring solutions and developed technologies and workflows that specifically address probing and monitoring for OTT services.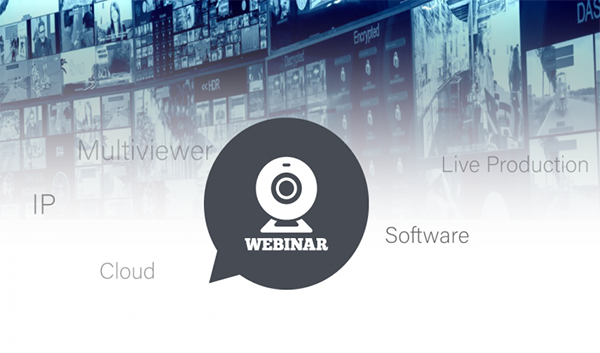 Specific topics will include:
• Types of monitoring challenges typically associated with OTT service delivery
• Why cloud-based probing and monitoring is being embraced for OTT applications
• What you need to know before implementing probing and Multiviewing in the cloud
Watch for details regarding TAG's next webinar:
Playout: New Cloud Multiviewing and Probing – July TBA
About TAG Video Systems
TAG Video Systems is the world leader in 100% software based integrated IP Multiviewing, Probing and Monitoring solutions. Introducing its first IP solution in 2008, today TAG supports over 50,000 channels across the four primary broadcasting applications – Live Production, Playout/Master Control, Distribution and OTT. TAG's Zer0 Friction philosophy allows Broadcasters and Content Distributors the greatest scalability, flexibility and asset utilization available in the market today. The 100% software platform supports both compressed and uncompressed formats, including MPEG TS, JPEG2000, SMPTE 2110, SMPTE 2022-6/7, and HLS. TAG's solutions run on standard Commercial Off-The-Shelf hardware (COTS) and cloud, providing state-of-the-art IP monitoring and analysis tools combined with highest quality UHD Multiviewer available on standard and mobile device displays. For more information: www.tagvs.com
Search For More Content