Mark your calendars, TAG's IP Academy 2021 is taking you to the Cloud
TAG Video Systems  is continuing its popular webinar series with a full lineup that addresses the hottest topics in the industry today. The world leader in 100% SW, 100% IP, 100% COTS/Cloud, Probing, Monitoring and Multiviewing solutions, for all four of the major broadcast applications (Live Production, Playout, Transport & Delivery, and OTT) has announced that its IP Academy's Winter and Spring webinar lineup will tackle a topic on top of every broadcaster's 'want to know' list. Five sessions have been scheduled, from February 16th to June 15th at 11 AM Eastern, focusing on the Cloud; a technology that is hotly debated as the world hurtles toward remote operation at breakneck speed.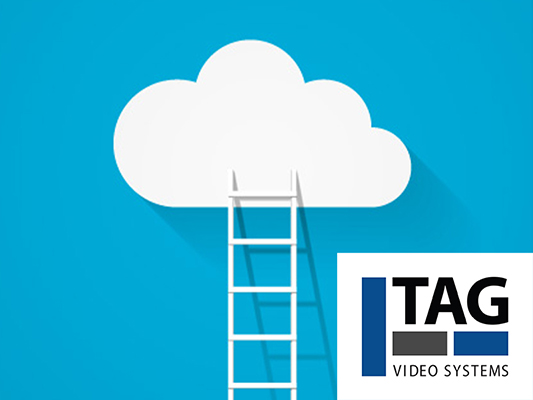 "This webinar series, and other webinars to come, are defined by the needs of our clients and prospects," says Danna Mann, marketing director at TAG Video Systems, "TAG's goal is to compile a repository of useful information that answers our most frequently asked questions, addresses common concerns, and allows us to share our experiences with the challenges our industry is facing. There is no better host for this series than Peter Wharton, a true visionary when it comes to cloud. Peter has been a pioneer, leading the charge to develop this revolutionary technology from the outset and personally responsible for the implementation of all types of cloud installations. This series will serve as a valuable vehicle for attendees to benefit from his in-depth knowledge."
Following is a description of the series and schedule of the sessions. Additional information and registration are available by clicking on the live links.
Building Media Systems in the Cloud: Cloud 101 webinar series
Hosted by Peter Wharton, Director Corporate Strategy and cloud maven
This series is a five-part journey that takes attendees on a tour of everything it takes to make an informed, up to date decision about building a media system in the cloud. Peter Wharton, TAG Director of Corporate Strategy and all-around cloud maven, leads a step-by-step discussion beginning with the basics and ending with examples of the best (and worst) real-life, use cases. Along the way attendees will learn how an evolving landscape led to the emergence of cloud technology, its benefits, costs, challenges, and best migration practices so they can decide if, or when, they are ready to make the  move.
February 16th
11 AM Eastern
Business vs. technical decisions
March 16th
11 AM Eastern
Is Cloud Technology There Yet?
Current cloud capabilities vs. current and future industry requirements

Live production
Reliability
Latency
Workflows
April 13th
11 AM Eastern
All the pieces in the playground

Customer
Supplier
Orchestration
APIs
Do they play well with others?
May 13th
11 AM Eastern
The Recipe to a Successful Cloud Migration
Don't bring it with you. Start at the end.

Test Drive – POC
Economics
Vendors
Leveraging native cloud capabilities
Reimagining the entire process
June 15th
11 AM Eastern
What worked? What 'not so much'?

Playout
OTT
Live Production
Esport
About TAG Video Systems
TAG Video Systems is the world leader in 100% software based integrated IP Multiviewing, Probing and Monitoring solutions.  Introducing its first IP solution in 2008, today TAG supports over 50,000 channels across the four primary broadcasting applications – Live Production, Playout/Master Control, Distribution and OTT. TAG's Zer0 Friction philosophy allows Broadcasters and Content Distributors the greatest scalability, flexibility and asset utilization available in the market today. The 100% software platform supports both compressed and uncompressed formats, including MPEG TS, JPEG2000, SMPTE 2110, SMPTE 2022-6/7, MPEG-DASH and HLS. TAG's solutions run on standard Commercial Off-The-Shelf hardware (COTS) and cloud, providing state-of-the-art IP monitoring and analysis tools combined with highest quality UHD Multiviewer available on standard and mobile device displays.
For more information: www.tagvs.com
Search For More Content