New webinar features interviews with Omnia VOLT users who are using this powerhouse to address their unique broadcasting needs.
Telos Alliance®—trusted global leader in broadcast audio for more than three decades—is excited to host a new webinar, "Behind the Sound: Secrets of the Best-Selling Omnia VOLT Audio Processing Powerhouse," on July 29, 2021, at 1 PM EST.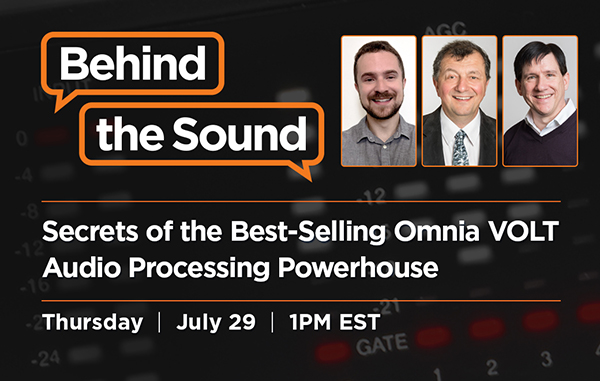 Description:
Telos Alliance's new Behind the Sound video series, hosted by Justin Gelske, is going live with a closer look at the Omnia VOLT. Justin will speak with processing expert and preset developer for Volt v2.0, Jim Kuzman, and interview users who are using VOLT to achieve amazing sound for their AM and FM stations.
As an added bonus, hosts will talk with one broadcaster about his experience with Omnia MPX Nodes and how they replaced his STL.
Special guest, Omnia Founder Frank Foti, will share his views on why this processing powerhouse is one of the best-selling broadcast audio processors of all time.
Join Telos Alliance for this special episode of the company's new Behind the Sound video series to get a deep dive into the Omnia VOLT experience, processing insights, prizes, and more!
Those interested in attending the webinar can sign up here.
For those who are unable to attend, Telos Alliance recommends signing up anyway and will send a recording of the webinar via email.
About Telos Alliance
Telos Alliance is a global leader in audio, trusted by the biggest names in the media landscape. Telos Alliance's focus is to deliver innovative, intuitive solutions that inspire the creation of the most exciting and engaging audio experiences imaginable. No audio challenge is too big; no technology is beyond reach; no solution, large or small, is unobtainable. The Telos Alliance portfolio of brands includes Axia® Audio, Linear Acoustic®, Minnetonka Audio®, Omnia® Audio, Telos Alliance®, Telos Infinity®, Telos® Systems, 25-Seven® Systems, and Jünger Audio. Headquartered in Cleveland, Ohio, USA, with additional offices and dealers around the world, the Telos Alliance supports the diverse needs of audio professionals around the world with best-in-class support 24/7.
Search For More Content