Barcelona, SPAIN — 26 September 2019
For the growth and business development of the company in the region, VSN has opted for Sergey Astakhov and Alexander Kosushkin to join the VSN team as the new EMEA Sales Manager and the new Pre-Sales & Solutions Architect. Now with these incorporations, VSN expects to open new business opportunities in EMEA and maintain the valued relationships of VSN customers in that region.
This 2019 VSN has won several premium projects in the EMEA region, such as Videohouse in Belgium, FORTA in Spain and the TV channel Ukraine. Thus, to carry on with the company's international expansion strategy and intensify its presence in this region, the VSN team has bet on improving its EMEA dedicated team with a new incorporation: Sergey Astakhov. Native of Moscú, Russia, and with an Engineer's degree in Radio & TV Broadcasting Technology from Moscow Technical University of Communications and Informatics along with a Marketing diploma and business development studies, Sergey will be a highly valuable asset for VSN. He counts with extensive sales, marketing and system integration work experience in multinational companies with a focus on professional audio, video and IT solutions B2B markets.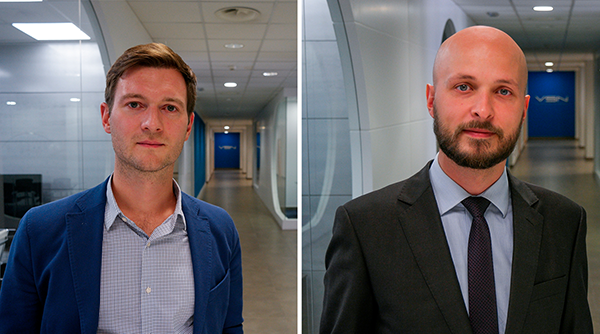 "I believe VSN counts with a great sales team prepared to continue its expansion as well as further strengthening its successful presence and its good brand image in the EMEA region. I hope that my knowledge and experience in sales, leadership and business development management can contribute to achieving this goal and that along with the rest of the VSN team, we will be able to take the company's international expansion in the EMEA region to the next level," says Sergey Astakhov.
Furthermore, Alexander Kosushkin is also joining VSN as its Pre-Sales & Solutions Architect in order to reinforce its presence and commitment to its international expansion. Also native from Russia and with an IT education, Alexander states that VSN gives him a great background for every single aspect of modern technologies, including AI, automation, file workflows and IT systems of modern TV station. Alexander has worked in broadcasting for 10 years. He started as NLE operator and system administrator at TV station and rapidly grew to CTO through all workflow roles which allowed him to not only touch base on all facets of TV production and gain hands-on experience with NLE, camera work, workflows organisation and automation, but also to obtain a very deep understanding on what are the actual needs of broadcasters, being able to speak the same technical language as them. Moreover, he has experience in system integration, design and implementation of numerous broadcasting systems in APAC, LATAM and EMEA, having extensive involvement in local work rules and traditions.
"It is my pleasure to join VSN as I can safely say that the company has a great combination of cutting-edge technologies, established and highly professional workflows and hundreds of satisfied customers. When I initially arrived at the Headquarters, as well as when I was at IBC, the members of the company were highly welcoming and the atmosphere was friendly and positive," says Alexander Kosushkin.
If you would like to learn more about VSN's solutions and about the VSN team you can visit the company's website www.vsn-tv.es or likewise, you can book a meeting with VSN either at Golden Eye Georgia this upcoming October and/or at NATExpo Moscow in November.
About VSN
VSN is a global technology company that delivers advanced, end-to-end solutions to the broadcast and media industries. Its modular, scalable and customized software optimizes business processes in the areas of media asset management, master control room (MCR) automation and news production. VSN delivers innovation and media solutions to more than 1000 global clients, including TV channels, content distributors, news agencies, public institutions, service operators and others. Headquartered in Barcelona, VSN has offices in Alicante, Dubai, Hong Kong, Miami, Montevideo and Santiago de Chile, and provides a highly rated 24/7, global technical support service.
For more information, visit www.vsn-tv.com.
Search For More Content