Friend MTS Strengthens Global Media Product Strategy Team with Appointment of James Caselton as Head of Product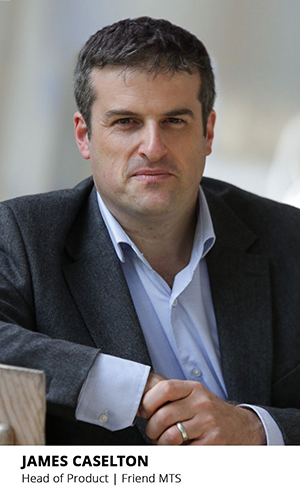 LONDON, UK & PHILADELPHIA, PA – January 25, 2022 – Friend MTS, a market leader in content protection technology solutions for sports, media and entertainment, today announced the appointment of James Caselton as Head of Product. Caselton is responsible for the company's product strategy and managing an extensive product team, expanding Friend MTS's portfolio of class-leading video fingerprinting, watermarking, and monitoring solutions that are trusted by operators, rights holders, and broadcasters around the world. Caselton is based in London, U.K.
"We are extremely pleased to add James to our talented product team. James's extensive industry expertise in engineering, sales, marketing, and product management make him the perfect fit to lead the development and delivery of our highly effective anti-piracy products and services," said Jonathan Friend, Chief Product Officer, Friend MTS. "James and the team will enhance our class-leading feature set and user experience, maintaining and enhancing Friend MTS as the foremost solution in the continuing fight against content piracy."
With 20 years of experience in mixed channel marketing, product management and sales and business development on a global scale, Caselton has worked for and with many of the world's leading technology companies. Caselton has served as Marketing Director, EMEA, Dolby Laboratories, where he executed marketing campaigns with leading international partners. Previously, as International Sales & Marketing Manager for Phillips, Caselton managed the full product roadmap for all PC optical storage products for the business line worldwide.
About Friend MTS:
Friend MTS is a leading global provider of innovative proprietary content protection technology solutions developed to advance a complex and ever-evolving media industry in collaboration with content owners, broadcasters, and operators. With a comprehensive suite of advanced services and solutions ranging from fingerprint augmented content monitoring and legal enforcement to forensic watermarking, Friend MTS offers a highly effective approach to disrupt real-world piracy and safeguard a worldwide entertainment and media market into the future. Playing an important role in social responsibility, Friend MTS has gifted organizations like the U.S. Department of Homeland Security and the International Center for Missing and Exploited Children (ICMEC) with its award-winning technology to help combat online child abuse. Founded in 2000, Friend MTS is privately held and headquartered in Birmingham, U.K. and Philadelphia, Pennsylvania, with operations throughout Europe, Asia, the Middle East, Africa, Latin America, and North America.
//php echo do_shortcode('[tag_groups_cloud append= ({count}) collapsible=1 groups_post_id=0 tags_post_id=0 hide_empty_tabs=1 hide_empty=1 separator= | link_target="_blank" show_not_assigned=1 not_assigned_name=Tags div_class="custom-tagGroups-for-post-page"]'); ?>
Search For More Content
//php echo do_shortcode('[contextly_main_module]'); ?>