Indonesia's state TV station, TVRI renews its confidence in Etere to tap on the best of technology and to address evolving challenges in the industry. Etere empowers TVRI to be ready for the future of broadcast with unlimited software updates and upgrades!
Adaptability and future scalability are important considerations when it comes to choosing a system for your business needs. Indonesia's state-owned TV station, Televisi Republik Indonesia (TVRI) upgrades to Etere 30.3 to tap on the latest innovations and to optimise the performance of their broadcast system. The station has been on-air with Etere since 2005. Etere empowers TVRI with a system driven by fully-customisable workflows, enabling their system to be perfectly in tune with their business and operational needs. As part of its customer support contract, Etere provides unlimited software upgrades and updates to meet evolving industry challenges. With a quick and easy software download, you can ensure your system is always ready to run with the latest features.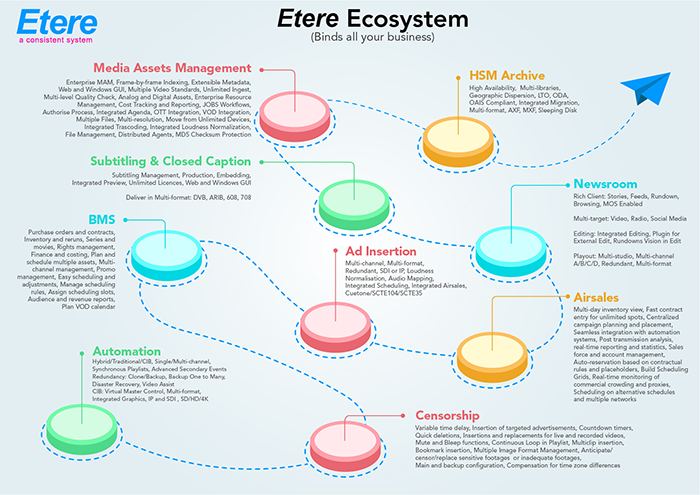 TVRI's broadcast production workflows, including media asset management, archive, playout automation, airsales and traffic management, are based on the flexible and scalable Etere Ecosystem which seamlessly integrates and connects all internal and external activities of a media company. Etere Ecosystem features a flexible framework that manages and tracks the complete workflow, embracing: financial management, supply chain and CRM, deal and contract management, work orders, production, dubbing, ingest, editing, indexing, subtitling, resource allocation, operational costs, air sales, user permissions, digital rights, multi-format and multi-platform content delivery, licensing, domestic and international sales, distribution and billing. With its precise controls, fault-resilient performance, advanced automation tools, real-time inter-connectivity and customisable workflows, Etere Ecosystem enhances operational efficiency and provides a smarter way to get things done for less.
Highlights of Etere 30.3 include
■ Modern new GUI for Etere Studio Player with enhanced features such as asset search panel and saved playlist panel
■ Preview of media files from the relationship tab in the media library
■ View prompter text and layout of story in asset metadata form in Etere Media Asset Management
■ Search by asset's physical start in media library
■ Edit flexi-metadata on new asset form
■ Put a news story on hold in rundown with a single button
■ Generate Service Access Log report in EtereWeb
■ New audio-mapping feature in Etere Executive Scheduling to insert breaks display with group spots, insert counter on break or insert display of cue events in addition to on-air event
■ Insert the language of .mov files as metadata in the asset form for tracks mapping and many more
"The upgrade showcases Etere's commitment to providing the best of innovation and outstanding professional services with its 24/7 support and unlimited software updates," said Fabio Gattari, Director of Etere. "Etere provides TVRI with an future-proof, reliable and flexible system to manage its end-to-end broadcasting workflows for many years to come."
Want to know how to gear up for the future and enhance your adaptability with a system that is ready to move with your company's evolving needs? Get in touch with us at info@etere.com
Search For More Content