Veritone aiWARE Now Produces IAB Tech Lab Content Taxonomy-Compliant Metadata Output
COSTA MESA, Calif. — March 10, 2020 — Veritone Inc. (Nasdaq: VERI), the creator of the world's first operating system for artificial intelligence, aiWARE™, today announced the expansion of its content classification capabilities to support IAB Tech Lab Content Taxonomy-compliant metadata output via aiWARE APIs. The new offering will enable podcast distribution platforms to programmatically transcribe and tag audio streams with topical, descriptive, and time-correlated keyword metadata prior to publishing, allowing for advanced contextual ad targeting at scale. Further, greater insight into the subject matter of the podcast helps advertisers maintain brand safety by avoiding association with content that is not in alignment with their brand values.
Over 30 million podcast episodes are available today (versus 18.5 million in 2018), and consumer demand continues to increase. At the same time, consumer privacy laws are changing and severely curtailing the tracking of audience data. As a result, the ability to tag content with descriptive metadata is critical to enabling an alternative, contextual ad-targeting approach. Until now, tagging of media such as podcasts with contextual metadata has been a labor-intensive and time-consuming manual process, and it has largely been limited to program descriptions at the show and episode level, limiting a publisher's or advertiser's ability to find specific types of content for advertisement placement consideration. This manual process is not scalable to handle the ever-increasing amount of new content being produced daily and cannot support programmatic contextual ad targeting.
Veritone aiWARE's new content classification capability removes these hurdles through comprehensive and automated topic analysis, extraction, and time-coded tagging of the podcast with the applicable content category codes from the IAB Tech Lab Content Taxonomy. Podcast publishers can easily integrate the solution into their existing infrastructure and workflows.
How it works: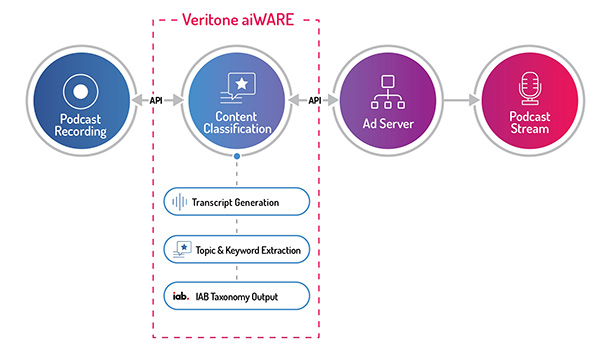 "Every brand wants to reach its target audiences as efficiently and cost-effectively as possible. Our newest offering is game-changing for content publishers, producers, and advertisers as it delivers richer intelligence about what topics are discussed at specific times within an audio stream, allowing insertion of more targeted ads while also providing advertisers with a more efficient way to ensure brand safety," said Ryan Steelberg, president and co-founder, Veritone. "In addition to the benefits of this new capability to content creators, distributors, and advertisers, consumers also benefit, as they get served ads that are relevant to the topics they are interested in."
"At Native, we rely on the ability to extract insights about the content of the podcasts where we place our ads. This allows us to target ads contextually, which is a critical success factor in helping maximize our advertising ROI. Previously we've lacked tools for doing it quickly and efficiently," said Meng Li, vice president of marketing at Native. "Veritone gives us a powerful new way to target the right message in the right type of content, and to ensure that the content is appropriate for our brand."
More information about Veritone's products and services is available at www.veritone.com.
About Veritone
Veritone (Nasdaq: VERI) is a leading provider of artificial intelligence (AI) technology and solutions. The company's proprietary operating system, aiWARE™, orchestrates an expanding ecosystem of machine learning models to transform audio, video, and other data sources into actionable intelligence. aiWARE can be deployed in a number of environments and configurations to meet customers' needs. Its open architecture enables customers in the media and entertainment, government, and legal and compliance sectors to easily deploy applications that leverage the power of AI to dramatically improve operational efficiency and effectiveness. Veritone is headquartered in Costa Mesa, California, and has offices in Denver, London, New York, San Diego, and Seattle. To learn more, visit Veritone.com.
Search For More Content