The aiWARE-Powered Application Provides Industry-Leading Search Capabilities and Now Offers a Comprehensive, Customizable Analytics Suite for Audio and Video Data
COSTA MESA, Calif. -Veritone, Inc. (Nasdaq: VERI), the creator of the world's first operating system for artificial intelligence, aiWARE™, today announced a significant new release of its media search and analysis application, Veritone Discovery. The aiWARE-powered application now offers a completely retooled user experience that includes a robust new analytics suite, allowing for advanced customization and data visualization. Featuring a highly intuitive user interface design, the already industry-leading media search capability in Discovery now enables even greater accuracy specifically for brand spotting and mentions.
The new analytics suite in Veritone Discovery makes it easy for users to generate customizable and shareable dashboards and reports specific to their needs. For example, broadcasters can visualize impressions and reach of their media audience through graphs and charts broken out by date, day of the week, program, media type, age demographic, and gender demographic. Likewise, they can visualize the volume of brand mentions by date, day of the week, program, and media type.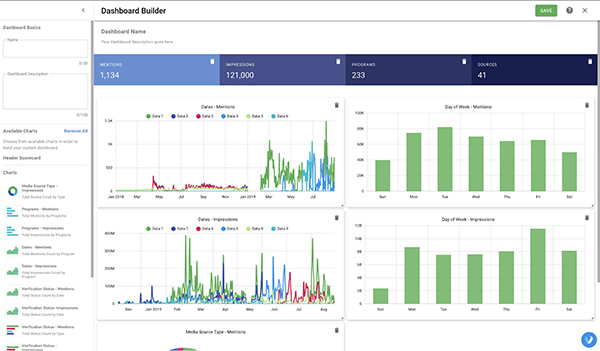 Broadcasters leverage Discovery to gain in-depth visibility into advertising and content performance and as a result can provide valuable insights to their advertising and distribution partners. They can easily create reports using the company's logo and branding, and then export the data as a PDF or CSV file to share with teams and clients. They can also set up automatic delivery of reports through scheduled emails for all watchlist data, accelerating workflows as well as enhancing internal and customer collaboration.
"Having the ability to access audio data quickly and provide insights extremely efficiently is critical," said David DiRenzo, account executive of Entercom Philadelphia. "This type of powerful service through Veritone Discovery keeps, protects, and fortifies new sales and renewals which, of course, is the life-blood of growth in any business."
In addition, Veritone Discovery now features advanced keyword detection technology for greatly enhanced accuracy in brand spotting and mentions. Through programmatic correlation and custom/dynamic dictionaries, the new capability enables the location of "out-of-vocabulary" advertiser and brand names that could otherwise be missed by a standard NLP/transcription engine. This feature can be enabled by integrating Discovery with leading ad management or trafficking platforms utilized by the broadcaster.
"Every day, hundreds of television and radio broadcasters large and small rely on Veritone Discovery to search and analyze video and audio data in near real-time to uncover important insights. Our new release enables even greater data intelligence and visibility into advertising campaigns, trending topics, event coverage, and any other broadcast or digital content," said Ryan Steelberg, president and co-founder of Veritone. "We've added powerful new features to make media discovery easier, faster and more accurate than ever. With our latest enhancements to Veritone Discovery, broadcasters have comprehensive analytics at their fingertips that provide both internal teams as well as advertising customers with valuable content and performance insights to inform business decisions."
All new features in Veritone Discovery have been deployed and are available to existing customers.
More information about Veritone's products and services is available at www.veritone.com.
About Veritone
Veritone (NASDAQ: VERI) is a leading provider of artificial intelligence (AI) technology and solutions. The company's proprietary operating system, aiWARE™ powers a diverse set of AI applications and intelligent process automation solutions that are transforming both commercial and government organizations. aiWARE orchestrates an expanding ecosystem of machine learning models to transform audio, video, and other data sources into actionable intelligence. The company's AI developer tools enable its customers and partners to easily develop and deploy custom applications that leverage the power of AI to dramatically improve operational efficiency and unlock untapped opportunities. Veritone is headquartered in Costa Mesa, California, and has offices in Denver, London, New York, San Diego, and Seattle. To learn more, visit Veritone.com.
Search For More Content