Etere empowers one of Vietnam's largest pay-TV players, VTVCab, to deliver targeted commercials with SCTE-35 signals as an effective way to reach consumers across different markets and to increase content monetisation revenue.
VTVCab, one of Vietnam's largest pay-TV players has selected Etere to drive its smart advertising and remote ad insertion opportunities with SCTE-35. VTVcab is a long-time customer of Etere and it continues to renew its vote of confidence in Etere with its latest upgrade. Etere empowers VTVCab to deliver targeted commercials as an effective way to reach consumers across different markets and to increase its content monetisation revenue.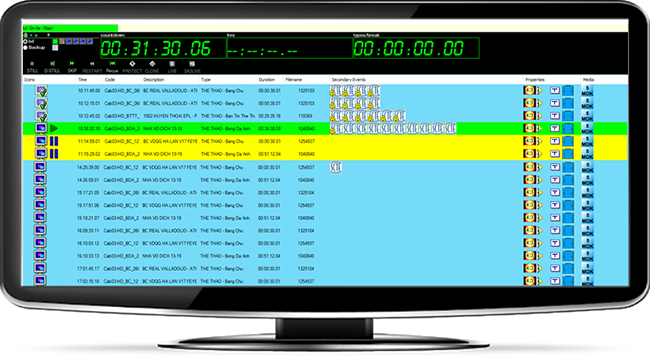 Game-changer that adds value to your content monetisation
Content monetisation is one of the key drivers of business revenue and Etere SCTE-35 driver provides the technology to leverage this growth opportunity. SCTE-35 are timed metadata that are inserted by the driver to signal an ad insertion opportunity in the transport streams. It pre-defines exactly when an advertisement can be inserted in the stream and how long the duration should be. This metadata that marks the start and end of a pre-produced advertisement is embedded in the transport stream.
Subsequently, the video content and targeted commercials are stitched into a single stream to produce a seamless experience for the viewer. The system automatically detects the final data in SCTE-35 and matches it with the playlist data to ensure that the broadcast content is always in sync with that of the playlist. Etere gives you the flexibility to replace ads without re-authoring and re-encoding the media files.
With Etere SCTE-35 driver, you are able to deliver SCTE-35 signals that drive multiple advertisement deliveries with the same program but without the additional costs. Extending beyond traditional advertising, Etere empowers you with the software tools to deliver customised commercials driven by data analytics and advanced metadata. With advanced metadata, the commercial delivery can be targeted on multiple levels including geo-localisation, demographics, device type and media consumption preferences. The future-ready solution delivers SCTE-35 signals that send personalised ads to each viewer. This means that it is possible to deliver advertising content based on the unique viewer profile and each group of viewers can see a different commercial. This in turns increases the CPM rates for broadcasters and allows you to maximise revenue for content monetisation. Etere opens up new media monetisation opportunities to drive remote ad insertions and to tap on advertising opportunities in different markets.
Above all, Etere expands media monetisation opportunities, elevates the viewer experience and enhances the control VTVCab has over its content monetisation strategy.
Do you have questions on Etere solutions and the monetisation possibilities it can generate for your business? Talk to us at info@etere.com about your plans and we will make it happen.
Search For More Content