Virtualized solution provides plug-for-plug replacement for real-time on-air graphics
Cambridge, UK, 19 April, 2021: Pixel Power, the global leader in graphics production and master control playout automation, has delivered a configurable StreamMaster PRIME system to WFMJ, the NBC and CW affiliate in Youngstown, Ohio. The new StreamMaster PRIME is a direct replacement for an existing Pixel Power LogoVision graphics generator.
StreamMaster PRIME is a turnkey appliance, implemented in software running on COTS hardware, with a flexible function set. It is designed specifically to provide a replacement for individual devices in a traditional master control and playout architecture, and supports SDI I/O for easy integration with existing infrastructure. WFMJ had been using a Pixel Power LogoVision system for many years, but the hardware operating system was no longer supported by Microsoft so a replacement was needed.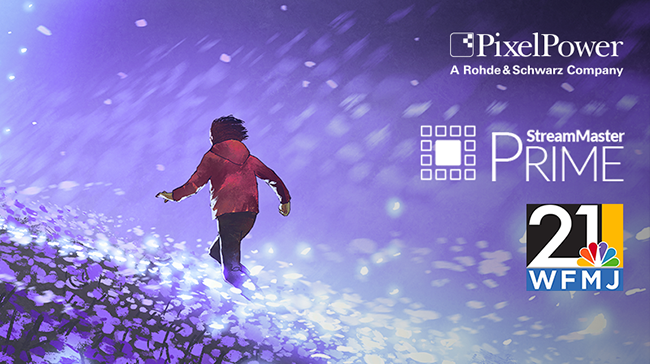 In the WFMJ application, StreamMaster PRIME is largely automated, taking data from the station's BTi system and displaying news tickers, Lotto results, school closure information and election data. Control and template design uses StreamMaster Control Toolbox, a software application included with the technology. The system underlines the station's branding and graphic identity, and operates completely automatically under normal circumstances.
"StreamMaster PRIME is precisely what we needed," said Bob Flis, chief engineer at WFMJ. "We could unplug the old system, plug in the new and it carried on working perfectly. We were used to the high-quality graphics from our old Pixel Power system, and this keeps up the great look. StreamMaster is software defined so it is future proof, we can add new functions as our needs evolve."
James Gilbert, CEO of Pixel Power added "This is exactly what StreamMaster PRIME was designed for. WFMJ is not yet ready to upgrade its complete playout system, but needs to replace one existing piece of legacy equipment. With StreamMaster PRIME in place they can build on the functionality it has, and it can form part of a fully virtualized, IP connected playout system in the future when WFMJ is ready."
The installation at WFMJ was negotiated by Heartland Video Systems. The StreamMaster PRIME was delivered in December 2020 and is now on air.
About Pixel Power 
Pixel Power develops software-defined, virtualizable, solutions for broadcast playout, automation, master control, graphics & branding used in linear television channels, OTT and VOD. Our award-winning branding and promotions systems, graphics-enabled master control switchers and sophisticated switchable graphics production systems allow producers to deliver dynamic live and pre-recorded content for any SD, HD, 4k, mobile, online or interactive application.
Pixel Power has 33 years' experience of engineering prowess and dedication to customer support that has made it the industry's first choice in playout, graphics and branding. With several thousand installations worldwide, customers include market-leading broadcasters such as BBC, Red Bee, ITV, SWR, WDR, TV2 Norway, Danmarks Radio, TV5 Monde, CBC, Discovery, ViaSat and Sky.
Pixel Power, a Rohde & Schwarz company has corporate headquarters in Cambridge UK with regional offices in Grass Valley California and Dubai UAE.
Pixel Power can be contacted online at www.pixelpower.com.
Search For More Content