x-dream-distribution bring new software partners to Broadcast Asia 2019
Wed 05, 06 2019
Following the successful Broadcast Asia 2018, x-dream-distribution GmbH decided to bring their innovative products and services to Singapore once again. Join x-dream-distribution GmbH from 18-20 June 2019 at Broadcast Asia in the German Pavilion (4F10 – 4F20).
x-dream-distribution GmbH present innovative ingest, social ingest and outgest solutions by Woody Technologies, transcoding and live broadcasting software by Capella Systems, MAM and PAM systems by Flow Works, playout and ingest solutions by Libero Systems, microservices toolkit for the broadcast industry by Squared Paper, artificial intelligence software by Metaliquid and a CDN solution by ModernTV. All the latest features that have been recently presented at NAB2019 will be available to all our visitors at Broadcast Asia in Singapore.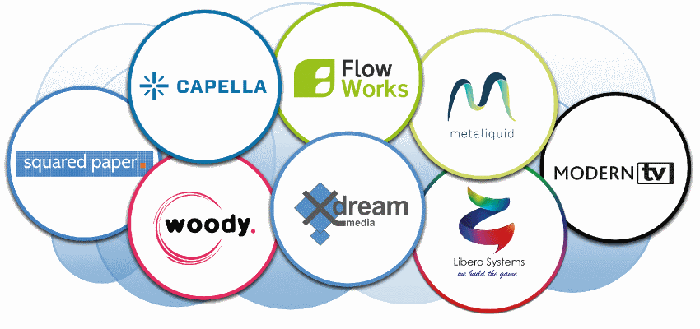 Capella Systems – transcoding and live broadcasting
Cambria FTC // Cambria Cluster
Already in 4th generation, the Cambria FTC and Cambria Cluster are an innovative transcoding product… Most resent standard features:
SD / HD / UHD and up to 8K
xAVC, ProRes, DNxHD, JPEG2000
H.264 & H.265
HDR support
DASH, HLS, MSS
Dolby E & Dolby Vision
S3 read & write
Cambria Live // Cambria Broadcast Manager // Live Edit
Cambria Live Series is a software-based production suite for professional live streaming broadcast production. This all-in-one system handles live switching, production functions, encoding, and distribution.
Flow Works – MAM // PAM // PMS
Flow Works offers software-based tools for media processing and distribution environment.
FlowCenter – highly integrated, complete workflow and asset management solution.
New Flow Ant – micro media management appliance with GPU acceleration.
All-new Flow Archive GUI (Editorial GUI)
Flow Wins Porsche. Media production and collaboration, pool management, publishing to multiple playouts will be handled by Flow.
Libero Systems – playout and ingest
Libero Playout is a software-based playout automation system which provides powerful, flexible and user-friendly broadcasting solutions via a client-server architecture.
Libero Ingest is a flexible multi-channel ingest, transcoding and encoding software with powerful and user-friendly features.
Metaliquid – AI video analysis solution
Customized on-premises and cloud state of the art AI recognition and classification services to meet specific industry needs. The API based solution enables processing of large quantities of video contents delivering timecoded descriptive metadata.
Face recognition
Shot and setting recognition
Sensitive content detection
Opening and closing credits detection
Sport actions classification
Content type classification
Audio and language classification
ModernTV – IPTV/OTT service
Standalone IPTV / OTT end-to-end solution, allowing operators and content owners of various forms and sizes to take advantage of the purely in-house built original technology, that reliably transcodes, stores and distributes video and audio content to their clients through the wide range of devices.
Squared Paper – Enterprise Service Bus & microservices toolkit
The Busby Enterprise Service Bus & microservices toolkit is specially designed for the broadcast industry:
monitoring hardware and software systems and applications
workflow orchestration from small to large and complex
event recording for SLA reporting and later analysis
controlling external devices and services, etc.
Learn more about Squared Paper products.
Woody Technologies – ingest and outgest
Woody Technologies offers the smartest ingest solutions for your media processing workflows.
New Woody in2it Server, a unique client-server ingest tool for all media formats, with web-based intuitive UX and strong workflow control features, streamlining local and remote ingest workflows.
Woody in2it Server, Woody Ingest, Woody Outgest and Woody Social can now be deployed in a scalable architecture containing multiple nodes. This brings two major improvements – redundancy and load balancing – for large Woody deployments.
x-dream-media – software integrator
Signiant Managers + Agents and XDM WFM – workflow manager with integrations to many 3rd parties file processing and publishing software
OneGUI – job, workflow and farm monitoring & reporting, search & filtering, multi-tenant, various 3rd parties (e.g. Harmonic, Telestream, Capella, MOG, Interra)
Ingest Browser – media browsing, previewing, trimming and workflow start, watch folder, storage indexing, file search
MFP – multi format player with frame accurate positioning, side-by-side view, audio leveling, SDI output and playlist support
SERVUS node – software-only video server, recorder and IP streamer
About x-dream-distribution GmbH
x-dream-distribution GmbH is an international operating company selling software products to the broadcast industry. We work closely with trusted vendor partners from all over the world and Europe-based channel partners. The mission of x-dream-distribution is to bring interesting, innovative and well-developed products to the market and built up strong sales channels for those vendors. We also offer the best solution for our customer's needs. Our vision is to cover all relevant building blocks of the broadcast industry´s end-to-end file and stream-based workflows.
Related Content
Based on your recent activity and preferences we recommend the following pieces of content