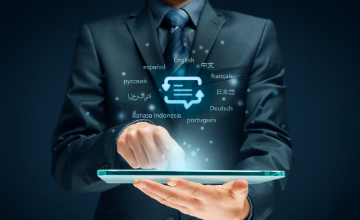 Digitization has affirmed the importance of having real-time information. Content consumption has seen exponential growth in the last few years as consumers obtained easy access to a large quantity of information, 24/7. Financial services and news and sports broadcasting are the two industries where real-time information accessibility and accurate presentation is a major success criterion.
Financial services are reliant on time-sensitive and accurate information as 24/7 global financial markets and must react to global events instantly. Professionals working in this industry, thus emphasize keeping a tab on the information. However, devoting more time to follow what's happening around the world is a tough ask for these professionals. Keeping track of the financial details of the thousands of publicly traded companies is a walloping task for analysts.
Digital Nirvana, with its well-trained and qualified financial analysts with deep industry knowledge, offers financial transcripts that empower analysts to review financial information and provide opinions and estimates. Our transcript team, which includes best-in-class editors, has made us one of the most sought-after vendors in the field of transcription.
Another field where Digital Nirvana has successfully established itself as a preferred service provider is news and sports broadcasting. Over the past few decades, news and sports broadcasting have evolved rapidly, and the challenge to meet and comply with FCC regulations that evolved in 2017, has been ever-growing. Under the new mandate, they faced the new challenge of inserting highly accurate captions into assets within 12 hours from the time of actual broadcast.
In the light of FCC's increased focus on enforcement, Digital Nirvana helped one of the largest US TV networks dealing in news and sports, to be compliant with all the necessary requirements, which includes the returning of captions in a shorter time frame in spite of the increase in volume. Digital Nirvana's Platform-as-a-Provider (PaaS) enabled closed captioning services are part of its media services offering. After implementing our captioning services, the client could scale up the production at short notice, keep control over the budget, and access API integration with ease.
Digital Nirvana assisted the client with asset retrieval closed caption generation and provision for timely and quality output. We leveraged artificial intelligence (AI) to automate the process thus provisioning benefits to our clients in terms of cost, time, and resources.
The ability to understand our client requirements, recommend solutions, and work with clients through the process made Digital Nirvana a preferred solution provider. Our finely-tuned operations and thorough process management, combined with 24/7 customer service, ensure the highest degree of transparency and accuracy.
Constant refining and fine-tuning have always ensured that we are in line with market expectations and developments. The parallel functioning of the operations and tech teams has enabled us to make our process more efficient, technically abreast, and flexible to client requirements and expectations.
Search For More Content