This blog was written by the Prime Focus Technologies Blog team and the original can be viewed here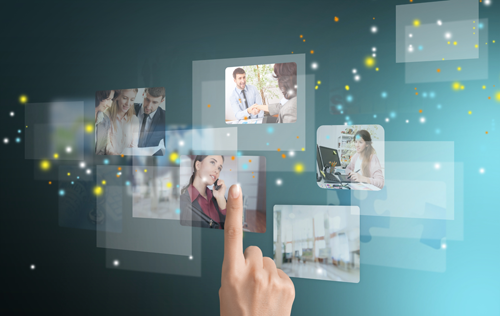 Gone are the days when television was the centrepiece of every living room, with family members fighting for their turn with the remote control. Today's consumers are growing up with a host of viewing platforms to choose from, including digital television, internet, tablets and smartphones. They are more technologically savvy than ever before, constantly adapting their lives to keep pace with digital advances. Video apps from traditional distributors, pioneering services like Hulu and Netflix, and standalone apps from networks like CBS and HBO offer an unprecedented selection of content.
Revolutionary app-powered devices like Roku, Apple TV, and cloud DVRs (digital video recorders) let fans watch their favourite shows across a variety of screens. Every major television manufacturer now offers 'smart' television sets, with integrated internet features that provide direct access to a host of on-demand streaming media. OTT has not only arrived, it is here to stay, and the advent of 4G and improved bandwidth speeds have only reinforced this. This surging popularity of OTT platforms has challenged the exclusivity that linear television enjoyed till quite recently.
Broadcasters have begun to witness the market trend of 'cord cutting', with a sizeable segment of viewers tuning out from cable subscription and completely switching over to OTT platforms. An entire generation of 'cord-nevers'" has also emerged, which has grown up watching shows online, and will possibly never subscribe to paid television services at all.
*Netflix CEO, Reed Hastings, equates linear TV to the fax machine! He says, "In the '80s and '90s, the fax machine was amazing. But then you started attaching files on documents and the fax machine was not so amazing. And linear TV, it completely transformed society. But now there's something better: Internet TV."
*Source: http://www.digitaltrends.com/home-theater/netflix-ceo-reed-hastings-predicts-future-of-tv/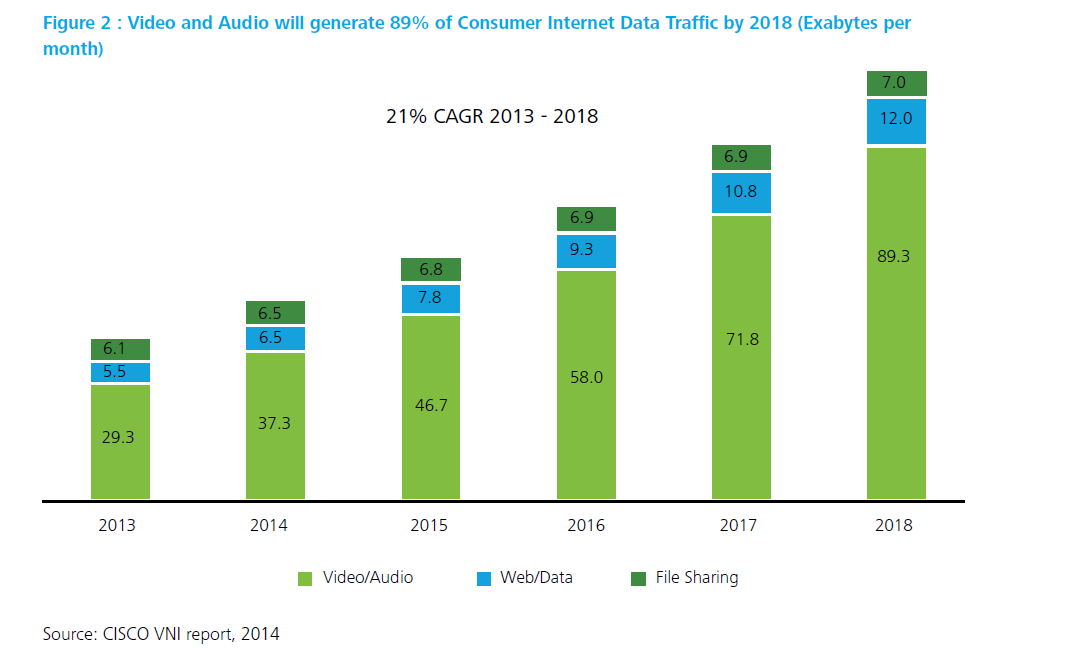 A glimpse of how audio-video content is expected to generate 89% of Consumer Internet Data Traffic by 2018 (Exabytes per month): Source: CISCO VNI report 2014
So what exactly does the future hold for television? 
A Shift from Cable Subscription Models 
TV is undeniably trundling forward towards a future that relies less on boxes and more on apps and cloud-based services. In many cases, viewers can already access their entire subscription TV package over digital apps without needing a set-top box at all – a trend that will only accelerate. Services like HBO Now, allow people to access pay channels directly – on any device – without a cable subscription. This enables consumers to access programs of their choice, while HBO gets to keep all the subscription revenues, a win-win formula for the broadcaster as well as viewers. It however, comes as a massive blow for cable operators, who lose out on a sizeable chunk of their subscriber base.
A Change in Advertising Mechanisms
Traditional subscription models are not the only ones at risk from the emerging Digital Next trends. Advertising will also have to accommodate the steady shift to digital content and the shift towards OTT content, together with the fact that more and more content is being viewed holistically, with digital entertainment experiences encompassing TV, film, web video, gaming and apps. The future will see broadcasters gearing up to deliver 'DVR-proof' value to advertisers, ensuring that the consumer is not able to completely tune out commercials. Advertising will also need to evolve into a highly personalized system, tracking consumer viewing histories and program contexts to create customized messages for specific viewers.
The Emergence of Ubiquitous Screens 
The number of screens on which people can view television content are increasing dramatically. While screens have already found their way to public places and vehicles, experts predict that TV screens will soon appear on many new types of devices such as home appliances, mirrors and wallpaper. Viewers will literally be able to choose to follow their favourite content wherever they go (phenomena which is also called place shifting). Place shifting is already catching on through the use of devices such as Slingbox, which allow users to remotely view and control their cable, satellite or digital video recorder (DVR) system at home from a PC, smartphone or tablet.
More Immersive Experiences 
The television viewing experience is also expected to become much more immersive in the future. Technological advances are already underway to provide viewers with experiences that involve senses such as smell, taste and touch. Virtual reality is also set to take the television world by storm, providing users with an exciting 360-degree view of content. For genres like fantasy, science-fiction, and even live sports, virtual reality can take content narratives to a completely different level.
The Increasingly Important Role of 'Prosumers'
The term 'prosumer' is being used for a generation of talented amateurs who use sophisticated but affordable technology to produce quality content such as news reports or short videos. OTT platforms have given rise to an explosive growth in user-generated content, and the capabilities of prosumers are developing quickly. The cutting edge content produced by them stands testimony to the fact that they may soon pose serious competition for some genres of professionally produced content, particularly news footage.
The future of television has implications for literally everyone who is part of the M&E (Media & Entertainment) supply chain. And to prepare themselves for the future, M&E industry players need to embrace digital transformation and implement solutions that drive creative enablement, enhance operational efficiencies and boost monetization. Needless to say, this journey of operational change needs to start TODAY!
Related Content
Based on your recent activity and preferences we recommend the following pieces of content