This article has been taken from the IABM Journal Issue 108. To see the full Journal click here.
One of the many highlights of the IABM Annual International Business Conference in December 2018 was the Dragons' Den session. Three start-ups – Codices Interactive with Quiz Kit, Metaliquid with AI-powered metadata extraction, and Sceenic with Watch Together – had ten minutes each to pitch their new idea to a panel of three Dragons and a very engaged audience.
After each presentation, the Dragons – Sinead Greenaway of UKTV, David Berlin of DAZN, and Anna Lockwood of Telstra Broadcast Services – grilled the presenters with searching questions to test the viability and applications of the innovations, and the audience was then invited to vote for the winner.
All the Dragons were impressed with all the pitches, but all picked Sceenic as their top choice. As Sinead Greenaway said in her summing up, "For Sceenic it's the user experience. It looks amazing – I think they could rule the world". The audience clearly agreed –voting for Sceenic as this year's Dragons' Den winner.
We asked Paul Bojarski, Sceenic CEO, to talk us through Watch Together and give his reaction to winning.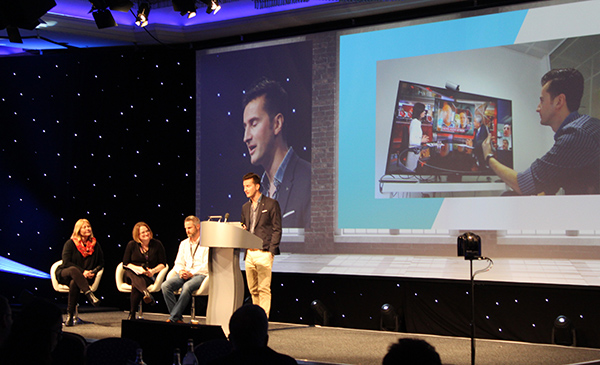 How did the idea for Watch Together come about?
When I was living at home, I used to watch volleyball with my dad but of course couldn't do this after I moved away. So now when the matches are on live TV, we watch from our respective homes and have Skype open, so we can comment on every point and open beers together!
I quickly discovered I'm not unique in doing this. In fact, recent research shows that 43% of people watching live TV are talking with their friends about what they are watching via text, Twitter, WhatsApp, Facetime, Skype etc. – they're already doing these workarounds. One of the problems with Facetime etc. is the need to mute one microphone so you don't get an audio infinite loop –and of course you're having to switch your attention away from the live action to communicate via a second screen.
This gave me the idea for Watch Together – enabling you to spend time with your friends and family when you can't be together. Watch Together is a simple API & SDK software solution to enable media corporates to quickly launch co-viewing and watch party experiences on the same screen as you're watching the live action –so not needing a second screen. With the Watch Together API/SDK added into a client's platform, a group of friends can chat using a USB video camera in real-time, or if they're watching on mobiles (as with our BT Sport application), then participants simply switch to the 'selfie' camera in the device. Each participant's camera feed is shown in a tile to the side of the live action on the main screen, so you can see and hear their reactions almost as if you were watching together in the same room.
Is the extra bandwidth required for Watch Together a problem?
Watch Together adds a very light extra streaming load –typically a half to one Mbit per second extra upload requirement. Most homes' Wi-Fi and 4G networks today are good enough for it. We also do some background analysis on each connection and if speeds are really low, might prioritize voice over video chat, for example.
How do your clients deploy Watch Together – is it a big technical deal?
Because it's software-based, implementing the Watch Together API & SDK is fairly straightforward. The Watch Together SDK / API sits on top of the client's existing video platform. We also deliver a back-end reporting platform so the client can see how much engagement is being driven.
Tell us a bit about your first customers
We are currently rolling Watch Together out with a major UK cable platform but we're under strict NDAs so I am not able to reveal the name of this customer quite yet. We are also working with BT Sport and EE for mobile watching together on smaller devices; With 5G coming this is a great use case.
We're also in eSports working with companies such as WeLoveGaming, enabling a Watch Together experience on their Twitch streamings. In other use cases, we're finding that 2-3 people typically engage with Watch Together but in eSports the average is up to six friends watching together in the same 'room'.
In addition to increasing engagement, does Watch Together have further monetization potential?
Watch Together has considerable potential for eCommerce – for instance, using one of the online food delivery services to deliver pizza at the same time to everyone who's watching, or offering sports fans the opportunity to purchase replica kit and suchlike. It will be interesting to see where our customers take us on this – the increased engagement that Watch Together delivers could be leveraged in all sorts of ways.
Sentiment analysis is another potential extension. We need to be very careful which is why the video is end-to-end encrypted, and think carefully about how data applications could be implemented without raising privacy concerns.
You did a live demo of Watch Together in your pitch – how confident were you in pulling it off?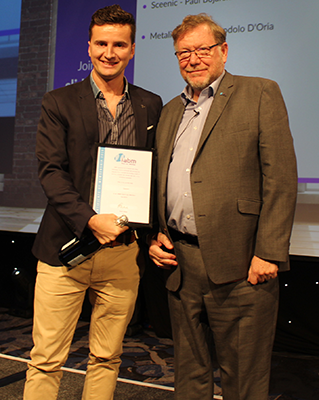 As I walked up on stage of the IABM 2018 Dragons' Den, one thing was going through my mind: "Only 300 media execs connected to the hotel Wi-Fi – a live demo should be a walk in the park!". It went without a glitch. I'm very confident that our video chat API & SDK works in all sorts of conditions including congested hotel Wi-Fi networks, so I was pretty confident about it.
I'm extremely proud to have won as it's a vote by all the members and a recognition of our innovative solution. The whole conference was a 5* event with amazing speakers from DAZN, Avid, COPA90 and others with quality, high calibre info and case studies. Can't wait for next year!
Watch the each of the Dragons' Den presentations, including Sceenic's, on demand here.
//php echo do_shortcode('[tag_groups_cloud append= ({count}) collapsible=1 groups_post_id=0 tags_post_id=0 hide_empty_tabs=1 hide_empty=1 separator= | link_target="_blank" show_not_assigned=1 not_assigned_name=Tags div_class="custom-tagGroups-for-post-page"]'); ?>
Search For More Content
//php echo do_shortcode('[contextly_main_module]'); ?>