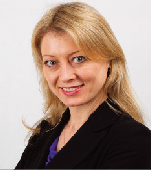 Joanna Burton, VP European Strategy SpotX
In 2018, SpotX will merge with smartclip to provide clients with both connected TV and addressable TV options within one platform
SpotX seems to have identified the opportunity in online video advertising very early – what inspired the founders to move into what was then largely uncharted territory?
Mike Shehan and Steve Swoboda founded Booyah Networks, an internet startup that was an ad-supported search engine based on pay-per-click, in 2001. The concept was that operators should only earn money when users actually clicked on the ad. When it became clear that Google had taken the lead in search engine market share, Booyah adapted and began to earn its money by helping advertisers improve ad placements on results pages.
In 2006, Booyah was the 23rd fastest growing company in the US. Continuing their tradition of development and innovation, Mike and Steve targeted online video advertising and formed a new company, SpotXchange, using the proven Booyah technology and capital to build the first fully automated exchange for video advertising.
Since then, as audience behavior has developed and market needs have evolved, so has SpotX – and dropped the 'change' in 2015 to signify that its capabilities now extend far beyond those of an ad exchange. Now the company offers a holistic video ad serving platform and works with premium broadcasters and publishers to monetize their video content and help grow their businesses.
Tell us about SpotX's range of services and how they've grown and developed over the last 10 years.
SpotX's product offering is constantly evolving depending on the needs and concerns of our partners and clients. We have an extensive engineering team whose main focus is to build products that will solve strategic problems for our clients. Our main mission with all of our products is to help media owners monetize their video inventory.
The company bun video advertising exchange and is now a modern video ad serving platform which supports the monetization of adverts across digital video, OTT and linear broadcast environments. with SpotX's early business, there was a gradual increase and decrease of impressions throughout the day. Now this increase happens during the weekends and prime time, because SpotX is monetizing live OTT.
The way people consume TV is rapidly evolving. Audiences are watching more TV than ever and now Connected TV advertising is showing rapid growth globally. There is a strong demand from advertisers and agencies that want to reach consumers viewing content through devices such as a Google Chromecast, Amazon Fire, Roku, Xbox or Apple TV.
Agencies and advertisers can now buy connected TV inventory in the same way they buy other video inventory in the SpotX platform. We see strong demand for this in the US and now in Europe where the market is developing across the different regions. For more information on this topic you can read our research whitepaper 'The Connected TV Advertising Opportunity in Europe' commissioned by SpotX from MTM.
How has SpotX managed to stay ahead of other tech companies in the online space despite some of them having very deep pockets?
We have a dedicated engineering and product team that is building new technology constantly to help our clients and partners solve problems and help better monetize their video content. For example, as audiences fragment across different devices, we ensure that advertisers we work with are able to follow consumers across these devices and source valuable data.
Equally, publishers who want to maximize their revenue from advertising but don't have large amounts of inventory are able to use content syndication through SpotX. For content owners, this solution provides multi-channel distribution strategy across owned properties, third-party sites and reach platforms from a central syndication management hub.
SpotX was acquired by European media giant RTL Group in 2014. What was RTL's strategy in acquiring SpotX, what are the synergies between the two organizations and how does a young, entrepreneurial company fit in with a large corporate – and what are the benefits?
When RTL Group acquired 65% of SpotX in 2014 they had the strategy to become a leading player in all segments of online video and online video advertising. In fact, RTL Group was the first major broadcaster to invest in programmatic technology.
At the time of the investment, Anke Schäferkordt and Guillaume de Posch, the Co-CEOs of RTL Group at the time, commented: "The logical next step in our strategy is a structural move into the area of digital monetization – improving our skills by adding innovative data- and technology-based competencies. SpotX is the perfect fit for RTL Group for such a move. With its impressive growth story and strong positioning in the United States, SpotX also represents a unique opportunity to enhance RTL Group's presence in the world's biggest and most advanced media market."
In October 2017, RTL Group fully acquired SpotX by buying the remaining 36.4% of the company. Mike Shehan commented on the investment saying, "SpotX is emerging as the premier expert in digital monetization of OTT content delivery, and uniquely positioned to assist broadcasters and other modern TV players with maximizing their profitability in the new delivery ecosystem," Shehan said. "RTL Group's investment will help extend our footprint in TV as we bring together the TV and digital video worlds."
RTL Group pursues an ambitious growth plan for its ad-tech businesses with the main goal to create a global and independent monetization platform for broadcasters, video-on-demand services and publishers. To accelerate the execution of this plan, RTL Group has decided to combine SpotX and Smartclip into one integrated ad-tech company by the end of 2018, to roll out the platform across the Group's operations and to scale it up with further acquisitions and partnerships.
Is ad blocking a problem for SpotX? How do you deal with this? In the longer term, will ad blocking limit opportunities for online monetization?
SpotX works with premium publishers and broadcasters who often have anti ad blocking technology enabled on their site. Audiences will therefore not be able to watch the desired content without disabling their ad blocker.
In our experience we have found audiences are very willing to watch ads in order to access the content they want to watch for free.
You are currently recruiting for nearly 50 posts, a significant number of which are developers. Do you struggle to fill these posts or is there a ready pool of talent to recruit from? (I ask this question because many media tech companies say they find it hard to recruit engineers with the right skills)
Engineers are a crucial resource for technology companies and as we keep growing our business we keep hiring more. We are lucky that our headquarters is located near three major technical universities. We also have an engineering team in Belfast. SpotX is committed to supporting women in technology and invests in programs and working groups to find and retain female engineers in our industry.
What's next for SpotX?
Connected TV is an important theme for SpotX. We love TV and continue to see audiences grow. The world of TV is changing as audiences expect to be able to watch video content anywhere, anytime, which means it remains a powerful medium for media owners and advertisers. It is no surprise then that global Connected TV stats are growing steadily.
It has become clear that broadcasters need to invest in technology in order to find their dispersed audiences. On SpotX's inventory management platform, publishers across the world, are monetizing their content on an array of new OTT-enabled devices, including Amazon Fire, Apple TV, Roku, Google TV, Xbox, PlayStation, Blu-ray players, connected pay TV set-top boxes and other smart TV devices.
In 2018, SpotX will merge with smartclip to provide clients with both connected TV and addressable TV options within one platform. The combined entity will focus on ad-serving, connected television and addressable television, bringing dynamic ad-insertion capabilities in house and close collaboration with the Group's minority shareholdings, VideoAmp and Clypd
– making the company an innovation leader in advertising technology for the TV industry.
What are the IABM member benefits that are most valuable to you, and why?
We love the events and all the training!
Search For More Content