Summer at the Opera: Megahertz training the next generation of broadcasters
Wed 13, 11 2019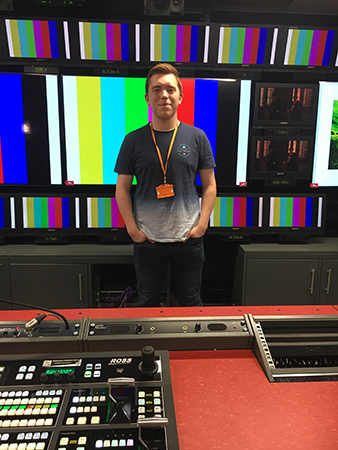 Students from Solent University were offered a unique experience this year. They were invited to apply for work experience with UK systems integrator, Megahertz, as the company raced to complete a UHD/4K re-build of the media suites at the world-famous Royal Opera House (ROH) in London during the Summer season break.
Working to a tight schedule between opera and ballet seasons, Megahertz had less than 10 weeks to complete installation in time for the live relay of the ROH's production of Mozart's opera Don Pasquale on 8th October. The opera house summer break is not negotiable or extendable, so the system had to be up and running, tested, commissioned, handed over and accepted in record time. Luke Tresidder, a student of TV production technology at Solent University witnessed and contributed to this process first hand.
"It's our way of giving back and of shaping the future of tomorrow's broadcast professionals," said Jon Flay, managing director, of Megahertz. "We thought this project would be not only interesting but spectacular and a good way to introduce the idea of systems integration to students who may not get much true hands on industry experience."
It was an exciting place of work for the young student, who was not only impressed by the technology he was involved in deploying, but by the sheer history and beauty of the building. The ROH has been streaming live ballet and opera performances to cinema audiences around the world since 2008 and this move to ultra-high definition (UHD), initially for recordings and ultimately for live relays, is one that cements the ROH's reputation as a leader in top quality 'live to cinema' performance.
"The greatest highlight this summer, aside from working with an amazing team at Megahertz and learning lots from them, had to be coming into the opera house every day and also touring the building," said Luke. "The work we have completed there is going to last a long time and it's cool that something that I've helped install will be seen by a lot of people from here on in."
Luke acquired practical skills during his summer at the Opera House with Megahertz and got to see 4K systems up close. "We have done a lot of theoretical stuff at university, but seeing how a system diagram becomes a real system is actually very gratifying. I also got the opportunity to help with the wiring, putting up monitors, the power and so on. One of the main take-aways for me is that all it takes much longer than I thought, you have to get all the cables cut to length etc. But it's so exciting to see everything going into the racks and then turning it on!"
Intended as a stepping stone for students into the world of broadcast technology, this experience has opened Luke's eyes to systems integration: "When you're at uni, you don't tend to think about SI at all, it's more focused on outside broadcast (OB), so this work experience has definitely opened the door to new career opportunities for me."
The ROH in London's Covent Garden is the third theatre on the site, following fires in 1808 and 1856. The façade, foyer, and auditorium date from 1858, but almost every other element of the present complex dates from an extensive reconstruction in the 1990s. The newly fitted £800k Media Suite replaces one that had been installed in 2004 with a tapeless workflow, intelligent network control system, improved recording and playout facilities, 4K monitor wall, state-of-the-art vision mixer, bespoke production desks and enhanced camera talkback system.
Related Content
Based on your recent activity and preferences we recommend the following pieces of content