IABM Outstanding Woman in Broadcast Award
This award honors the women working in the industry to highlight their achievements and act as a role model. Nominations can come from manufacturers, service companies and customers in any of the following job roles – engineering, sales, operations, marketing, business. The judges will be looking for a woman who has made a difference in either the company or the industry that she works in – one that has excelled in her position and role.
This award is presented at our Annual International Business Conference & Awards in December. Nominations will open in October 2019.
2018 Winner – in association with Rise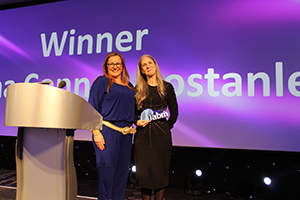 Glodina Connan-Lostanlen
Dr Glodina Connan-Lostanlen, PhD, MBA, began her career in the broadcast industry in 2001 with Harris Corporation, rising through sales and business development roles to become Director of Product Marketing in 2012. In 2015, Glodina was appointed Chief Marketing Officer of Imagine Communications, and in April this year, became SVP & GM Americas Sales & Services.
Sadie Groom, Managing Director of Bubble Agency and founder of Rise, said, "One of our main goals with Rise is to promote industry role models. Glodina is a brilliant example to other women and richly deserves recognition in the industry where she has had so much influence. As an engineer, evangelist, product marketer, business leader and technical pioneer she thoroughly deserves the Outstanding Woman in Broadcast Award and we know that younger women in the sector will see her as an inspiration."
Highly commended:
Aubrey Russell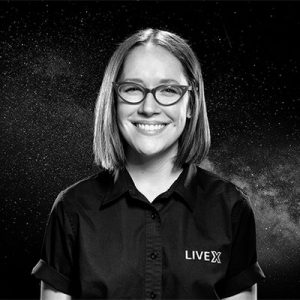 Aubrey Russell has designed and built streaming workflows and master control rooms for clients such as Warner Music Group and Classpass Live. Her launch team for Classpass Live was fully female; Director, Technical Director, and Audio Engineer. At Live X, Aubrey manages a team of nine producers who are shaping the future of the broadcast and streaming industries every day. She is proud to have strong women on her team. The best way to prepare the next generation of engineers, men and women, is to give them role models. Aubrey has built a team that is worthy of that.
"Being under 30 and managing one of the most promising teams in live production makes Aubrey very notable. As one of the few females in her field, let alone in a leadership role, Aubrey strives to encourage and promote the women on her team and continue to normalize the idea of women in tech," said Nick Micozzi, VP of Engagement at Live X.