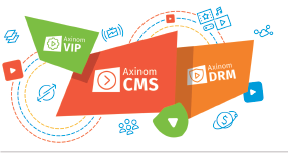 We spoke to Johannes Jauch, co-founder and CTO of Axinom, about the company's success in helping media companies transform their content supply chains to meet the fast-changing demands of today's consumer-driven media industry.
Please give us a bit of background on Axinom
Axinom was founded at the brink of a technological revolution where portable devices started taking the reign from computers; it was the year 2001. Companies with digital communication, outreach, or product strategy soon realized the upcoming challenges of a fragmented device ecosystem. They needed a management solution that would allow them to manage, deliver content to their users. Axinom capitalized on this opportunity and introduced a CMS system that soon became immensely popular with major companies across Europe.
Over the years with advancing technology, Axinom has been working in the same direction. We still solve the evolving challenges of digital content, services, and data in the media, entertainment, and aerospace industry. And, with our efforts, Axinom has grown immensely in the last 19 years, from one office in Germany with three people to five offices around the world with a 160 strong workforce.
Give us an overview of Axinom's offerings for the media industry today. What is your ideal customer profile?
Axinom products are designed and targeted at various stages of the digital media supply chain. From ingestion and transcoding to security and integrations, our products aim for more efficient workflows for all stakeholders involved. The media products on offer are:
1. Axinom VIP (Video Ingestion and Processing) is a cloud-native system that takes care of encoding, transcoding, and encryption of video assets into multiple formats for streaming.
2. Axinom CMS (Content Management System) is a modular content management system that allows you to manage and edit content, catalogs, collections, business models, regions, subscribers, integrations with advertisement providers, payment gateways, and more. The modularity of the system allows our customers to choose the services they need and customize them further to fit bespoke workflows.
3. Axinom DRM (Digital Rights Management) is a highly scalable multi-DRM service running in the cloud or on-premise. The service supports the latest industry standards and technologies, including FairPlay, Widevine, and PlayReady.
The inherent flexibility and scalability of our products have allowed us to work with companies of all sizes and differing ambitions. That's why our products can be found in a global streaming service with several million users or a niche service targeting a few hundred thousand viewers with specific content.
Tell us about a few customer installations to illustrate how your products help your customers do better business.
Axinom CMS is powering a massive streaming platform in the Indian sub-continent that provides regional content to the Indian viewer domestically or abroad. The platform reaches over 190 countries and 76 million users in over 15 languages. With our CMS, the stakeholders can ingest and manage hundreds of thousands of hours of content, localize it for any region or language, integrate with ad engines, payment gateways, and create different business models.
Our products are also enabling an aspiring Dutch media company to build niche streaming platforms for genre-specific viewers. Axinom VIP, CMS, and DRM products are integrated with their MAM for automatic ingestion and transcoding of assets, creation of catalogs, translations, and much more. The customer has achieved a lead time of as low as two months to deploy an entirely new platform and one month to launch into a new region.
What are the challenges of transitioning from legacy content handling to a unified, global system – and how does Axinom help its customers through this process?
As with any significant organizational transition, the biggest challenge is posed by the established infrastructure. People in organizations get used to the existing workflows; they are sometimes so deep-rooted that no other possibilities are taken into consideration. Consequently, while starting our roll-out, we dedicate time to listen to all stakeholder apprehensions and provide them with documentation, training, and workshops so that they can reach their goals.
What is Axinom's 'secret sauce' – why do your customers choose you over competitors?
Axinom's secret sauce is a unique blend of technology, innovation, and experience. When you are in this business for many years, you gain expert insight into issues and challenges faced by professionals, and also know how to best approach such matters. We have also learned that finishing a project is not the end of it; our customers should be able to scale, customize, and expand the infrastructure as they grow. They should have all the tools and documentation needed to do that. Hence, we strive to provide bespoke yet expandable solutions to our customers. It means that while we are attached to the particular challenge, our solutions can still be expanded further to meet future needs.
There is a growing demand for live on OTT channels to be delivered alongside VOD content to multiple screens – what are the challenges and how is Axinom addressing these?
The delivery of live content has its benefits and challenges when compared to VOD. On a high level –with live, there aren't different content types to deal with, but on the other hand, risks and expectations increase exponentially. Also, while serving live streams, you know that your viewers want the same chunks of video. Hence, the caching complexities are less as the fragments are of known size. However, at the same time, you know that you compete here for speed, latency and that you work with small-size chunks and small buffers.
In Axinom, we engage and follow edge trends in low latency streaming to provide the best of breed approaches to live streaming in OTT. Moreover, we have invested in R&D and provide live streaming solutions using proven technologies such as multicast streaming.
As content rights become ever more costly –especially with premium 4K-HDR content – how is Axinom protecting its customers' investments? 4K-HDR is right now the most premium quality format used by streaming platforms, and thus, content owners and distributors are using the highest level of DRM protection to secure it. This level of security involves hardware, meaning that all content processing, cryptography, and control is performed within the Trusted Execution Environment (TEE) on the playback device's processor. This level of protection also depends on the DRM service used. Axinom DRM supports hardware DRM and the technologies (Widevine, PlayReady, FairPlay) that are required to facilitate it.
What are the most valuable IABM member benefits to Axinom?
Access to industry analysis and insights that IABM produces is the most beneficial aspect of being a member. Besides the knowledge, the participation in industry events, ability to network and form partnerships are other much-needed addons.
//php echo do_shortcode('[tag_groups_cloud append= ({count}) collapsible=1 groups_post_id=0 tags_post_id=0 hide_empty_tabs=1 hide_empty=1 separator= | link_target="_blank" show_not_assigned=1 not_assigned_name=Tags div_class="custom-tagGroups-for-post-page"]'); ?>
Search For More Content
//php echo do_shortcode('[contextly_main_module]'); ?>