MediaTech Radar is a bi-weekly newsletter put together by IABM's Head of Knowledge Lorenzo Zanni. It focuses on a spotlight topic in MediaTech and reflects on a series of past, present, and future business developments in the industry. In this edition, our spotlight topic is NAB Show 2022 Trends.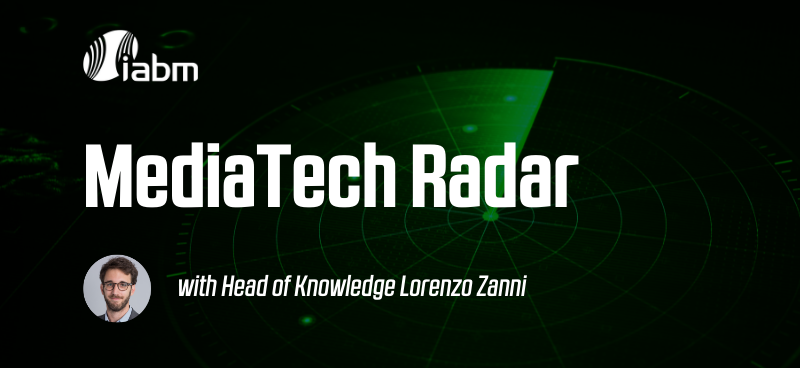 MediaTech Spotlight: NAB Show 2022 Trends
A spotlight topic in MediaTech.
In this newsletter, I thought that it would be good to structure some of the trends I am looking forward to seeing and discussing at NAB Show 2022. I have selected three below:
Convergence: In the last two years, we have seen several media businesses launching offerings that borrow elements from other sectors, including gaming and betting, for example. We have often referred to this trend as media convergence and highlighted that it represents a major change for the media sector. In its Q3 2021 Letter to Shareholders, Netflix defined its competition as follows: "We compete with a staggeringly large set of activities for consumers' time and attention like watching linear TV, reading a book, browsing TikTok, or playing Fortnite, to name just a . As one example of this dynamic, on October 4, when Facebook experienced a global outage for several hours, our engagement saw a 14% increase during this time." quote illustrates a rather broad and increasingly relevant definition of the media and entertainment ecosystem. In this Briefing, we discussed the origins and endgame of media convergence. While an increasing demand for interactivity by consumers was singled out as the principal origin of this trend, augmenting existing revenues and creating new commercial opportunities through data were highlighted as the main business objectives. Will this be a major trend at NAB Show 2022? I certainly expect it to be, particularly for technology solutions in the Monetize and Consume parts of the content supply chain, though I expect most segments to be affected by the macro trend of convergence. We may see more headsets on the show floor as a result as well.
Scarcity: We aren't likely to see the effects of scarcity on the show floor though we may hear a lot more about it in meetings and conferences we attend. The origin of this trend was the impact of the pandemic, which drove increasing demand for some resources (components, talent, energy etc.) while disrupting supply. EVS CEO Serge Van Herck described this well in the company's H2 2021 earnings call (a longer quote is included on the image below): "In 2021, one of the main risks that we had was linked to the scarcity of electronic components… Another risk is of course linked to inflation, which, of course, will have an impact on salaries for colleagues wherever they are in the world… We are not fully clear how that inflation will evolve over the next weeks and months and especially with the facts that we've seen today of Russia invading Ukraine, and that's giving additional unclarity about the future." IABM reassessed the impact of the shortage of hardware components on the media tech industry in February 2022, reporting that this had worsened. I have included some examples of talent scarcity (and its effects) for media and tech businesses in the MediaTech Watchlist When it comes to the energy crisis caused by the conflict in Ukraine, will this have an impact on cloud computing and/or other segments in the industry? It was interesting to find out that, in 2021, big technology companies were among the largest buyers of renewable energy. While the linked article imputes this to sustainability motives, in hindsight, this could be also a move to become more resilient to energy shocks like the one we are living through right now. In fact, resilience is likely to be the major upshot of scarcity for businesses. The decentralization of resources caused by the pandemic has arguably been another factor driving the importance of resilience for businesses in the industry. As highlighted last year, I expect more media and tech businesses to focus on their resilience and I will be paying attention to booths at NAB Show 2022 to look for some signs of this.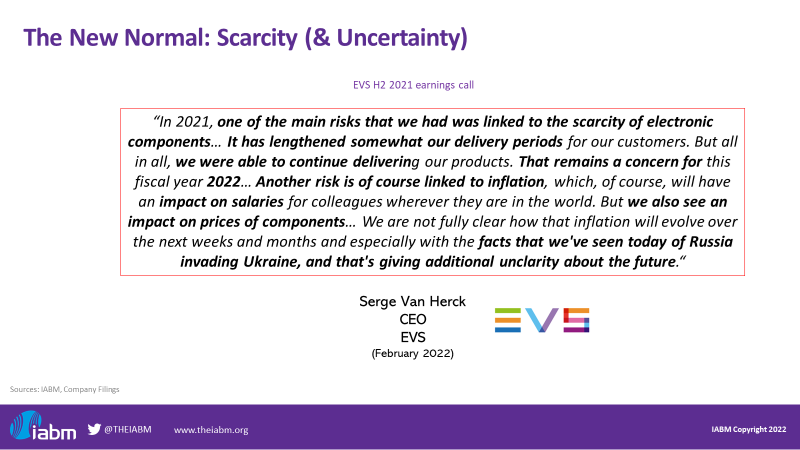 Transformation: I mentioned decentralization above, and this has been a major driver of transformation for media businesses. Decentralization has been pushing media businesses to invest more in technologies such as cloud, AI/ML, and remote production, for example. The adoption of these technologies has been driving even more transformation. How will these priorities and spending patterns adapt to a post-pandemic view of the world? There's no doubt that there is not going to be a return to a pre-pandemic media tech world though I suspect that many media businesses may have already swung back to a long-term strategic view of technology investment which is at odds with the short-term decisions driven by necessity during the pandemic. I see this as an evolution of the innovation that happened during the pandemic, building on the rapid changes it drove and tackling the challenges and complexities it has created. For example, in remote production, I expect a lot more focus on connectivity, consistent with the challenges experienced during the pandemic as well as the role that this topic has played at the recent MWC22, and resilience, as highlighted above. In cloud and AI/ML, I expect to see a lot less buzz and a lot more substance than usual as these technologies have further matured over the last two years. For example, AI/ML's capacity to drive efficiency and ROI may be more carefully audited by buyers as they have gained more experience with the technology. On the show floor, these trends should sanction a more clear-cut dominance of software over hardware, consistent with media tech suppliers' move to SaaS and the impact that this has had on hardware as well.
These topics will be examined in our State of the Industry session at NAB Show 2022 so make sure you sign up for it (either to attend in-person or virtually).
MediaTech Watchlist: fuboTV, Aferian, RTÉ and more…
A watchlist of selected past, present and future business developments in MediaTech.
fuboTV acquired Molotov at the end of 2021. Commenting on the acquisition during the company's Q3 2021 earnings call, CEO David Gandler said: "As it relates to Molotov, I think there are 2 very important reasons why we did this deal. One is, as you know, there's some significant headwinds here in the US with respect to the labor situation. It's very difficult to hire engineers. Molotov has a very, very strong team of 100 plus, which if you think about it, our businesses are very similar in many respects." Gandler said that the other reason motivating the acquisition was international expansion, though he argued that taking over ready-to-use streaming technology talent was a more important driver. fuboTV paid about $190m for Molotov. Even if 50% of that price was attributable to the talent it acquired through the deal (with the other 50% being attributable to Molotov's subscriber/user base), this would translate into almost $1m spent per engineer – that is almost 10 times more the median compensation of a software engineer in the US according to Linkedin Salary. That underscores the importance of technology talent in the media technology industry, and particularly in the development of successful streaming products.
Remaining on the topic of talent and its scarcity as of late, Aferian, the owner of media tech businesses such as Amino and 24/i, published its 2021 annual report in February 2022. In the report, the company said: "The Group's spend on core engineering activities has increased by $2.8min the year to $11.9m (2020: $9.1m). This includes $0.9m in relation to the Nordija acquisition in May 2021. The remaining increase of $1.9m reflects a combination of an increased workforce and salary inflation, the latter being driven by competitive labor market conditions in which the Group operates." The burden of salary inflation is added to that of components inflation as reported above in the MediaTech Spotlight. We shall monitor the development of resource inflation in the coming months.
In a previous newsletter, we talked about Disney's prioritization of direct-to-consumer (DTC) in its investment strategy. In February 2022, Irish public broadcaster RTÉ said in a letter to the Irish Public Accounts Committee that its streaming service RTÉ Player will require "several million Euro" of investment and "additional specialist skills which will require increased operating expenditure" to keep up with competitive streaming offerings. The letter also said: "On-demand and live streaming technology requires extensive investment and infrastructure to deliver parity of service with linear broadcast services, which have been in operation for many decades, with continued investment of significant capital funding to the level of tens of millions." The linked article from TVBEurope quotes the Irish Examiner, according to which RTÉ Player has been increasingly criticized for its performance, particularly when streaming live events. As often reported by IABM research, the pivot to streaming requires significant investment by media companies, thus this should not come as a surprise. Many media businesses such as Disney, NBC and Paramount have cut costs in their legacy divisions and/or resorted to consolidation to allow for a smoother transition to DTC. Public broadcasters may have less room for manoeuvre due to the nature of their business as well as regulatory scrutiny. Interestingly, the letter also mentioned "specialist skills," consistent with the points made above about scarcity. This should be also read in conjunction with the performance of streaming in major sporting events such as the most recent Super Bowl. Streaming performance during the flagship event worsened compared to 2021 as more people watched online and bet on the game.
Avid announced its Q4 2021 results on 1 March 2022. The results highlighted the continued growth in its SaaS offering, with 28.2% year-on-year growth in cloud-enabled software subscriptions and 38.8% growth in subscription revenues. This, along with the rising volumes of integrated solutions, had a positive impact on general gross margin, which grew by about three percentage points to 66.2% between 2020 and 2021.
Vitec reported its FY2021 results on 1 March 2022. Revenues were up compared to their pre-pandemic levels in 2019 while operating profits were slightly down – operating margins were down by about two percentage points. Rising revenues are consistent with other hardware businesses bouncing back post-pandemic – we discussed Atomos in the previous newsletter. As previously highlighted by IABM research, hardware businesses are also being increasingly affected by the uptake in software solutions in media. Stephen Bird, Vitec CEO, said in August 2021: "We protected our R&D investment during the pandemic and focused our resources investment on the fastest-growing segments of the market, and increasingly, software-enabled technology."
ITV has unveiled plans to launch new hybrid streaming service ITVX. Carolyn McCall, ITV CEO, said: "We are supercharging our streaming business, fundamentally shifting our focus to think digital first, as well as optimising our broadcast channels, by continuing to attract unrivalled mass audiences. In doing so we are responding to changing viewing habits, but also the evolving needs from our advertisers. This will enable ITV to continue to be both commercial viewers' and advertisers' first choice." Yet another prioritization of DTC, and another offering blending ads with subscriptions.
Thank you for reading this newsletter. If there are topics you would like me to cover, or have information/ideas you'd like to share, please get in touch with me.
Lorenzo Zanni
Head of Knowledge
IABM
Search For More Content