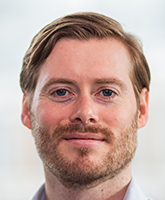 Anders Hässel Nenda, CEO and Founder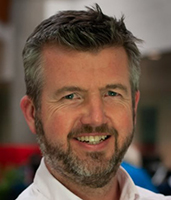 Steve Russell, Head of Red Bee Media's OTT and Media Management Services
One of the strengths of collaboration lies in allowing broadcast-oriented companies to explore new spheres as Red Bee Media discovered working with Swedish streaming specialist Nenda.
Red Bee Media, one of the industry's leading managed services providers, has entered into an interesting partnership with Swedish streaming innovator Nenda, which it is hoped will help boost the latter's attempts to disrupt the global B2B Television market. As a result of the deal, Nenda utilises Red Bee Media's Managed OTT and Distribution services as the back-end to its own platform that provides the hospitality industry with a next generation television experience in hotel rooms worldwide.
The service offers hotel chains a cost efficient, content rich and highly customizable streaming service integrated with booking systems and loyalty programs. Guests will, for example, be offered personalised channels and content based on the country from which they are visiting, as well their individual preferences, which are stored on the system and can be loaded whenever and wherever they log in.
It's a powerful proposition which, as Nenda CEO and Founder, Anders Hässel, explains significantly updates an industry whose media entertainment systems seem to be rooted in fairly ancient technology. "Even in the most modern hotels the TV offering is often the same as in the 90s, where the guest has to flip through dissatisfying content in a foreign language, which leads to frustration rather than an entertaining experience," he says. "We want to change this."
The challenges involved in the project were both business-oriented and technological. Historically there have been a few strong operators in each geographical location who have been able to build large customer bases over a long period without any new competition due to high entry barriers relating to capital intensive infrastructure investment.
As many broadcasters are very aware, streaming disrupts this model by allowing market entry with much lower set-up costs. However, Nenda also faced the challenge of launching its service from a standing start, initially blocking the route to any economies of scale. Addressing that needed some creative thinking.
"Red Bee and Nenda worked together closely to enable a mutually beneficial partnership model which enables Nenda to have access to state-of-the-art technology from the beginning with a scalable cost structure," explains Hässel.
As Steve Russell, Head of Red Bee Media's OTT and Media Management Services says: "We've been talking to Nenda for quite a few months. They were looking for a partner that 'got' their business plan and had a solution that was flexible – both technically and commercially. As a startup with growth ambitions they needed to know that their partner could scale as demand grows."
"The Red Bee offering includes a full suite of back-end technology offered to Nenda as a flexible and scalable service, enabling us to have a lean technology operation reducing capex and operational complexity," explains Hässel. "Red Bee also has the advantage of providing an extensive channel store and transcoding capabilities with global reach and presence, which is a perfect fit for Nenda's global ambitions within the B2B industry."
Red Bee essentially provides all the back-end services to deliver video to screen. Nenda leverages the company's Managed OTT platform, which is multi-tenanted and carries linear, live, and on-demand services, as well as the capabilities to manage 'product' packages such as day-passes to access content. It also takes advantage of what Russell refers to as Red Bee's 'Channel Store', which routes linear TV channels around the world. "That enables us to carry the linear TV sources to the Nenda platform –and these can grow and extend over time," explains Russell.
"The Nenda front-end application utilises the Red Bee SDK to create a secure connection to the Red Bee back-end platform," he continues. "That takes care of authentication of the user, checks whether the user is entitled to watch the desired content, and creates an encrypted secure stream of the content to screen over a CDN. Our OTT platform was designed to work across many different use cases so in many ways this is business as usual for us."
The technology challenges were equally important to address and highlighted the fact that such a specialised streaming service is different to the standard B2C streaming implementations. Happily, the Red Bee platform is micro-services based which means that it is very straightforward to extend and add new components to such as, in this instance, set-top boxes. "It's always evolving," says Russell.
"If reliability and quality of service is important in B2C, it is even more important in B2B," says Hässel. "Just imagine the lost customer lifetime value for a hotel chain if a customer changed to a competing hotel chain due to TV down time, or the cost of compensation for an unhappy guest. Also, data models and information flow between different systems are different and integrations towards hotel systems are necessary to enable a smooth customer experience and journey throughout the stay."
Nenda has ambitious goals, stating that the hospitality industry is only the beginning of its plans. Sports bars, care and welfare facilities, medical establishments and more are all on its radar, and the collaboration with Red Bee means that it has the resource and the back-end to go after them.
"The front-end of course needs to be localised in terms of language, payment solutions etc, but also needs to be easy to navigate and preferably an interface that all geographical markets recognise and feel comfortable with. From a back-end perspective, the global scale of the service needs to be managed. Just imagine all the content for different regions, customers, localisation and so on."
For Red Bee, Russell is sanguine about the prospect –so wherever Nenda wants to go, we feel we can be right behind them. "We're a global operator which helps. That's the beauty of the partnership."
Search For More Content