IABM Dragons Den 2018
The Dragons are back, hearing pitches from some of the most innovative media technology startups in the world. See some of the most exciting new tech as our live audience helps pick the winner.
This years contestants were: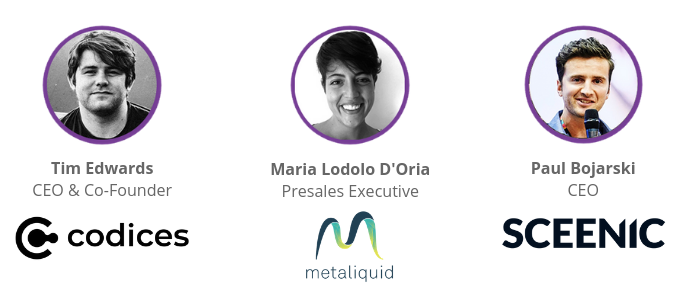 About Codices:
Codices Interactive is a new start-up developing the next generation of live interactive shows. Codices have launched their first product Quiz Kit which allows broadcasters on Twitch to make, manage and monetise live interactive gameshows with their audiences as contestants. Currently, they are developing new live interactive shows and formats.
Tim's presentation:
About Metaliquid:
Metaliquid technology responds to this need delivering metadata which gives broadcasters and media companies the opportunity to increase their content business value by knowing and understanding what happens in video and thus empowering asset management and internal workflows and designing engaging and interactive user experiences to be offered to viewers.
Maria's presentation:
About Sceenic:
Sceenic provides solutions to power interactive viewing experiences. Through its "Watch Together"​ technology, media companies create watch together experiences for their audiences, offering friends and family a deeper, more engaging and interactive group viewing experience.
Paul's presentation:
Judges Comments and Winner Announced:
This year's Dragons were Sinead Greenaway (UKTV), David Berlin (DAZN) and Anna Lockwood (Telstra Broadcast Services) who asked tricky questions and gave feedback on each contestant. The winner was then chosen by our audience: