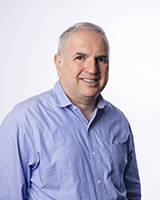 David Lasry
CEO, Dalet
Dalet acquires Ooyala Flex Media Platform business to solidify market position in designing and deploying the industry's most sophisticated media workflows, explains CEO David Lasry.
One of the most eye-catching mergers and acquisitions this year is Dalet's scoop of the Flex Media Platform business and personnel of Ooyala. The French-based, global provider of media asset management solutions and services to broadcast and content professionals is highly selective in its acquisitions and intends the deal to strengthen both iconic industry brands.

"Adding the Ooyala Flex Media platform to the Dalet product line-up strengthens our ability to answer the needs of our existing customers who are looking to expand their multi-platform distribution and OTT workflows," explains David Lasry, chief executive officer, Dalet. "Equally as important, the Ooyala Flex Media platform opens doors for Dalet into new business verticals such as corporate brands and telcos, and additional tiers like smaller leagues and sports teams. Brands like Audi or National Rugby League, who are not traditional media companies, yet require media management tools like Ooyala Flex Media platform to better monetize assets. Today, every company is a media business."
The asset deal includes Flex, as well as Ooyala personnel across sales, marketing, engineering, professional services, and support. Ooyala's Customer Success, Technical Support and Environment Management teams will be integrated into the existing Dalet 24/7, worldwide support organization. This larger team, which features a well-established local presence, will be able to deliver even better and more responsive customer service for Ooyala Flex Media clients and the workflows it powers.
"The rationale behind the acquisition is to solidify Dalet's leadership position in managing the content supply chain from production to distribution for a much wider range of media management needs and a much broader market," Lasry underlines.
The acquisition strategy
"Dalet is one of the most established players in the MAM and media logistics space. I think it is testimony of our commitment to lead that we have largely given preference to organic growth over acquisitions. Whenever we have made an acquisition, it is done for very specific reasons; to add a piece that was missing in our end-to-end solution and to better serve our customers.
"For example, when Dalet acquired the Brio I/O platform and AmberFin media processing assets, we not only embraced the team with the expertise to develop the product but integrated the IP with a very clear strategy into our existing technologies. In addition, we recognized the cachet that these brands had in the marketplace and retained it. Each one of those have become fundamental blocks of the global Dalet offering."
Lasry continues, "That's why we are excited about the acquisition with Ooyala. It was made with a similar purpose in mind both in terms of what it brings in product, how that unique product is complementary to our own, and how our joint customer base can benefit from the integration and new service opportunities. Ooyala is a very strong and respected brand that is associated with a singular technical vision and we intend to leverage that in new offerings we bring to market, in particular tied to subscription and cloud."
Dalet shares Ooyala's core values and vision around enabling clients to maximize the value of media assets and provide solutions and services to better create, manage and distribute their content. By joining forces with Dalet, the Ooyala Flex Media Platform will continue to expand alongside Dalet Galaxy five and offer customers flexible and modern technology solutions.
Agile response to dynamic market
To elaborate on that, Lasry explains that broadcasters are having to move faster than ever to evolve business models, particularly in response to overwhelming customer demands for delivery on-demand, to migrate technology stacks to the cloud and to anticipate not just react to changing business and technology developments.
"That was our starting point in talks with Ooyala. We felt that we shared a common view on a vision to drive complexity out of the process for customers and to make media management simpler. Obviously, each company also has its own sweet spot areas of expertise which made the union complementary.
"Dalet is known for its capabilities in handling extremely sophisticated, production-intensive workflows and enterprise-type MAM solutions (such as with Interoperable Master Format). Ooyala is renowned for delivering solutions for OTT distribution that can be deployed very rapidly in the cloud and in hybrid on-premise / data center environments.
"More specifically, the Ooyala Flex Media Platform, which is primarily sold as a subscription/SaaS offering, is an ideal solution for servicing OTT and digital media distribution workflows and is a perfect companion to the Dalet Galaxy five offering in our traditional markets."
Lasry expands, "The combined state-of-the-art metadata management and orchestration capabilities of Dalet Galaxy five and the Ooyala Flex Media Platform will enable media organizations to lower total cost of ownership, improve agility and reduce time to market at a more accelerated pace than they ever been able to achieve before.
"One such possibility is to put Flex seamlessly at the end of a Dalet Galaxy production workflow. In this scenario, content would be produced in Galaxy and then published and distributed with Flex to social, OTT, OVP and other online channels. Another example is Dalet Media Cortex, our recently introduced AI SaaS platform that enables consumption of cognitive services on demand in a pay-as-you-go model, could very well be leveraged by the Ooyala Flex Media Platform.
"There are a whole range of possibilities to expand and enrich the Dalet-Ooyala offering ranging from remote editing to media processing and elastic transcoding on the Cloud and on-premise/cloud platform monitoring."
World-class workflows, industry-standard ROI
"Fortunately, while the Dalet offering is very comprehensive, it is also very modular," Lasry says. "At the same time, Ooyala's tools and approach have a proven ROI, based on real world case studies. Its experienced team has tremendous expertise in high-level consulting. Together we will be in an even better position to deliver world-class workflows, DevOps and ROI for our customers.
"In addition to the sales, marketing, technical and engineering team, we are keeping the main Ooyala office in London. In the United States and across Asia Pacific, in Singapore and Australia, the Ooyala teams, have joined the existing Dalet offices.
"Ooyala has a very strong presence in Asia Pacific, in particular, and is also a major technology partner underpinning the OTT service of sports teams and leagues. Those strengths go very much hand-in-glove with Dalet's market leading position in broadcast and production.
"The technology path we have outlined is supported by world-class professional services and customer success teams that can provide the know-how and expert guidance on scaling media operations to preserve and optimize the value of our premium customer's investment globally.
"We welcome the chance to talk with you about the challenges and the opportunities that lie ahead and how Dalet can help," Lasry concludes.
//php echo do_shortcode('[tag_groups_cloud append= ({count}) collapsible=1 groups_post_id=0 tags_post_id=0 hide_empty_tabs=1 hide_empty=1 separator= | link_target="_blank" show_not_assigned=1 not_assigned_name=Tags div_class="custom-tagGroups-for-post-page"]'); ?>
Search For More Content
//php echo do_shortcode('[contextly_main_module]'); ?>