We spoke to Erik Otto, CEO at Mediaproxy, about the company's growth into a leading international player in monitoring, compliance and analysis, the new challenges opened up by the explosion of OTT and what's coming next.
Tell us a bit about Mediaproxy's background – what problems were you looking to solve, and what opportunities did you see ahead?
The company was created in 2001 by broadcast engineers when we saw an opportunity to innovate in the space of regulatory compliance logging. Traditionally this was done using VHS tape recording in log-play mode and was cumbersome to work with for all the obvious reasons. It took broadcasters hours if not days to turn around a request from regulators. We designed one of the industry's first computer-based recording systems that took an analogue baseband feed and encoded it as Windows Media, storing it on disk for months. This was complemented by a Windows-only based client user interface that enabled clips to be reviewed and extracted virtually instantly. Over the years the product quickly evolved to support SDI as well as provide a richer user experience through integration of embedded metadata and as playout logs
Tell us about Mediaproxy today
Almost 20 years on and the technology has evolved into a comprehensive suite of tools that supports virtually all input types including TSoIP, OTT, SMPTE 2022-6 and 2110 and provides features across compliance, analysis and monitoring for on-premise, virtualized and cloud-based installations. Being HTML5 browser-based these days, our reach spans across various departments within broadcasters including engineering, sales, marketing, compliance and executives. We have an installed base of over 15,000 channels in over 60 countries, offices in the US and UK and a network of global partners across all continents.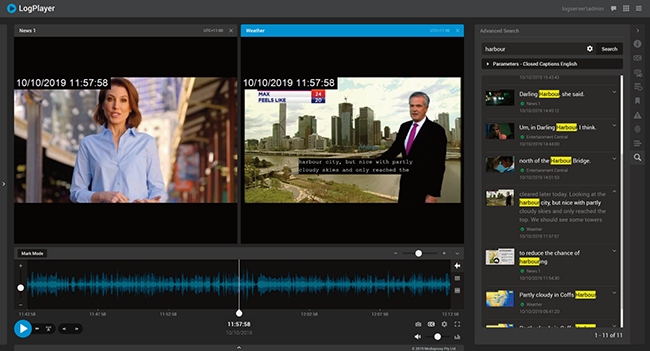 Give us a summary of the Mediaproxy product range today
Our core technology is a software-based product called LogServer, which includes different license options to suit customer requirements for various logging, monitoring and analysis requirements. This includes tools for compliance, transcoding, multi-viewers, transport stream analysis, publishing to social
media, etc.
What business advantages do your products bring to your customers?
Powerful HTML5-based interfaces that are easily available across the entire organization and offer easy access to all content for review and even direct publishing to social media (news, sports, etc). Business intelligence is available instantly through recording competitors and integration of viewer ratings data. And a comprehensive suite of tools that cover extensive feature sets for engineers to monitor transmission paths as well as SCTE-104/35 detection and reconciliation.
What's your 'special sauce' – why do your customers choose Mediaproxy over your competitors?
Mediaproxy is an engineering driven company with a roadmap, not an exit strategy. In the niche discipline of broadcast that is compliance, we have constantly led the way to innovate new solutions, tools and enhance our products to have the most reliable and flexible technology in the market. We were first to market with many innovations over the years, which now extend to support for SMPTE 2110. As part of the AIMS alliance, Mediaproxy was there from day one, based on a software-only solution, not hardware (PCIe/FPGA) based.
We are the only compliance vendor that not only has active deployments in the field, but also supports VM installations around 2022-6 and 2110.
What new challenges does the rise and rise of OTT and multiple devices bring to compliance, monitoring and analysis – and how is Mediaproxy addressing these?
The biggest challenge in the new OTT and multiple device distribution world – and the most significant change from conventional linear broadcast – is that a lot can happen to a programme or video item once it leaves the playout system. There are now options open to both operators and viewers for targeted ad insertion, language selection, closed captions and event-based transmission, which means the content undergoes multiple changes as it passes along the distribution chain. Because of this the master control room (MCR) at the playout centre is no longer the final point for quality control. Ideally monitoring should take place at all points but in the OTT world, once material is in the hands of the big service providers all control has been forfeited. Mediaproxy has gone beyond established detection methods such as time and date searches and predefined metadata and developed techniques such as exception-based monitoring, which uses IP penalty boxes that allow broadcasters and MSOs (multiple system operators) working at scale to deal with QC and compliance more efficiently.
What's next for Mediaproxy?
Having a solid roadmap, we are in the process of extending our core engine to provide more exception-based monitoring tools in addition to the ones we already offer. Broadcasters need to be able to scale up and deal with the rising number of representations of their content whilst reducing the operational cost. Also with SDI slowly being replaced by IP-based workflows, customers need to rely on companies who have in-depth understanding of both traditional broadcast and IT. This is our forte at Mediaproxy and something our customers have come to appreciate over the years.
Finally, what are the most valuable IABM member services to Mediaproxy?
The support given by the IABM is a great help to a company like Mediaproxy. Discounts at exhibitions and being able to promote our products through IABM events, with the potential of meeting new contacts through networking opportunities, all help get our brand and what we do further out into a competitive and growing marketplace.
Search For More Content