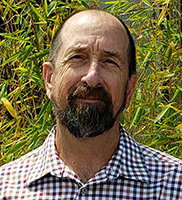 Peter Rosenfeld
Sales Manager, Rip-Tie
We spoke to Peter Rosenfeld, Sales Manager at new member company Rip-Tie, about the company's rise to pre-eminence in cable management solutions and how it continues to lead the field worldwide 30+ years on from its inception.
How, when, why and by whom did Rip-Tie get started?
As a manager of a film and broadcast video equipment rental facility, Michael Paul Fennell wanted his products to be the most professionally prepared for this intense, fast paced industry. Frustrated with messy cables and annoying plastic ties, and unable to find any useful options on the market, Fennell set out to solve the problem on his own and came up with the first cable organizer using VELCRO® brand hook and loop fasteners.
He worked on perfecting his invention, testing it on rental equipment and with his colleagues, until he knew he had it right. Little did he know that this handy device would become so popular. We started in a garage in 1985, received our first patent in 1987. We moved into a warehouse/manufacturing facility in San Francisco in 1990. In 2001, we bought a building in San Leandro. Since 1985, it has been a process of continually adding new products, markets and customers for 34 years.
How has the company stayed ahead over the last 30 years – what are the secrets to your continued success?
We believe there are several different things that make for a successful company – all of them important.
Continually improving existing products, solving problems that customers brought to us and turning those solutions into new products. Remaining dedicated to a 'best quality available' attitude in both manufacturing and customer service. Not being content to be a one-product company, we try to be leaders and innovators NOT just re-packagers who buy something cheaply made from Asia and putting it in a bag.
Keeping our manufacturing here in the USA instead of going overseas. Everyone else who came along to compete did it by being cheaper. We were alone in being crazy enough to say we are going to use the best quality hook and loop made here in the US with proven durability and consistency. That is what 'building a brand' was about – giving professionals a product that gave them more than what they paid for.
At the same time, as we entered markets like datacomm, who didn't have a need for best quality we were flexible enough to offer products at a lower price and the appropriate quality for what that application needed. Our strength in that situation was that we stocked everything – all the widths, all the colors, all the lengths, we made up package quantities to suit anyone's needs, the Fire Retardant material, the odd sizes – we kept it all in stock because we knew it wasn't just about pricing. It was about being able to ship what that customer needed that day. That's how you keep relationships with customers – they need reliability and service.
Last but not least… living up to our mission statement… 'everyone who deals with us should have a positive experience'.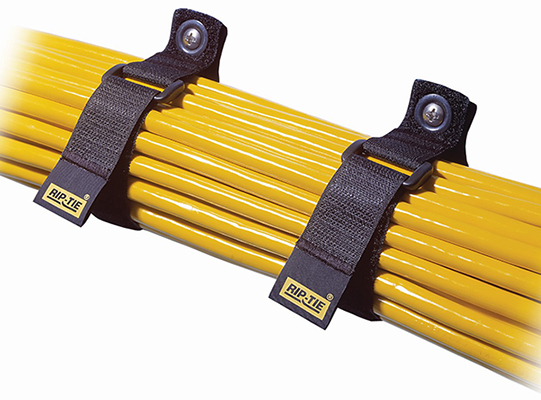 Much of your business is through distributors. What are the keys to building successful, lasting distributor relationships?
We started the transition to building distribution in 1995-97. We had a few distributors before that point but didn't really start doing the things you need to do to build distribution until then. First, you have to start referring customers to distributors and not taking every $20 sale that calls you. Which is hard to do when that's how we started the company and can use the cash. You have to realize that you can't compete with distribution if you want them to promote, stock and sell your product.
Secondly, we started developing programs so that the decision to add Rip-Tie was easy. Just take #1 or #2, etc. We had enough history at that point to know which products were likely to sell better into different markets. Lighting, Music, Industrial etc. We started trying to do things to support store merchandising like signs, POP racks, and catalogs. When the internet came along as a real market factor we had to start supplying digital picture files and text and other kinds of support like linking from our web site. You have to be responsive so that they can get questions answered about lead times, drop shipping with no extra fees, and confirming orders quickly. They have to know that you are 'distributor friendly' and that any problems that come up are quickly resolved. We want every distributor we work with to think…"Rip-Tie – great people, love dealing with them".
Of course – you have to offer margins that make it worthwhile for the distributors to invest their time and effort into bringing your products into stock and promoting them to their customers.
Tell us about the Rip-Tie product range today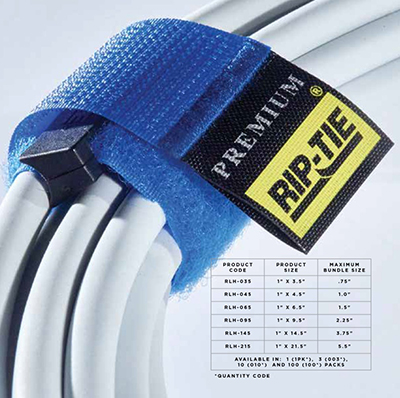 We break it down into 5 groups, or product families, mostly based on cycle life. The original line has the Rip-Tie pull tab label and is our best quality product line. Everything is available in multiple widths, sizes and 14 colors. We know they will last for 10,000 cycles. There are different versions of the CableWrap as well as 6 other products for different applications. Another popular product in the broadcast industry is the CinchStrap-EG which is useful for cable management on component racks, and in tools rooms, mobile carts, vehicles etc. Additionally, we have a very exciting new addition to this line where we are adding RFID chips into the wraps that will lock onto the cables with our patented Rip-Lock attachment. This will bring a 4-part inventory management solution to a customer with thousands of cables. First, cable management with a Rip-Tie CableWrap that is permanently locked onto the cable. Second, a human readable and bar code label with a unique 9-digit number. Third, an RFID chip embedded into the wrap that has a 24-digit number that includes the bar code number. Fourth, they can also choose to have a custom printed pull tab with their company name and logo.
The second group is the EconoSeries which is budget priced versions of the original line for those customers who don't need the best quality. They are good for 3000-5000 cycles and are available in a more limited range of sizes and colors. Whenever anyone comes to us with a competing product that is lower cost, an EconoSeries product will usually be competitive while still being made in the USA.
The Rip-Tie Lite, WrapStrap, Mini and PLUS products are the double-sided hook and loop material. The Lite is a die cut strap that will attach to a cable and then wrap around the bundle. Systems installers prefer WrapStrap, which is a tape that can be cut to match bundle size. WrapStrap is the right material to use instead of nylon ties, on any kind of digital signal (DSP) cabling like fiber. It is a popular product with a low price point, good for 200-300 cycles.
We sell large volumes of WrapStrap because of the growth in computer networks. Almost everyone has a network now …hospitals, college campuses, office buildings, new home construction, TV stations, restaurants, airports, sports facilities…everything has digital cabling of one kind or another. None of these installations should have a single use nylon tie on them so the signal isn't impeded by over crimping. WrapStrap adds the benefit of reusability. We have a tough time keeping it in stock.
We also offer RipWrap which is our low-cost alternative to Gaffer tape and can be used with any kind of strapping application. RipWrap saves users hours of labor time removing adhesive residue from cables after a show. It is also environmentally friendly because 20 times less tape waste is dumped into the landfill.
Lastly, due to our long standing relationship with Velcro USA we are the only preferred converter on the West Coast so we do a lot of things like cut and mated pairs of Velcro Brand Hook and Loop as well as selling rolls of hook and loop to people who want Velcro.
How have cable management needs changed over those 30 years – are the challenges any different today?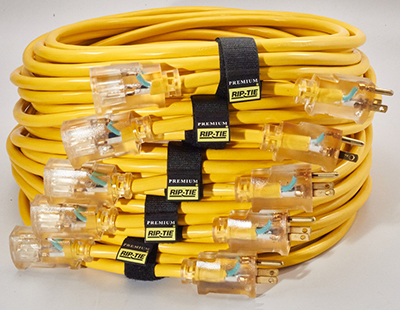 The growth of digital cabling is the main thing that is different from when the company started.
When we started, people didn't even think of having a reusable wrap on their cables, they used string, rope or tape, or nothing. Now there is a wide variety of different products available – just go to your local hardware store. Mine has at least a dozen different products from a dozen different suppliers. There is a wide variety of choices available.
Rip-Tie has become in large part a B2B operation. Our customer was always a professional who bought our products because they represented a value to the way they made their living. The costs could be valued against the gains in efficiency, taking proper care of the cables and making sure the cables came back to the warehouse.
My own personal opinion is that the core of the business is perfectionists, technicians, engineers and the like who want everything to be neat, organized and efficient because that is the way they are. The real professionals know that spending money on quality is always the best way to go. We just have to reach more of them, particularly Internationally.
With such a strong and unique idea – but apparently relatively simple to copy, you must have faced competition over the years. How have you managed to remain top dog?
There certainly is a lot of competition out there and some are doing a great job with their own specific products and they all have their own strengths.
We have new designs and new patents. What we have tried to do is remain committed to having a wide range of HIGH QUALITY products and we can offer customized straps and printing, do all the after sale service that some companies require. We continue to innovate and offer patented products that are unique to us.
You've recently joined IABM. Besides exhibition space discounts, what member benefits are most useful to you?
We are still discovering that! We'll see if this article has any impact. Clearly, we have to do more work to take advantage of this opportunity to communicate with an elite group of top-notch manufacturers.
We are looking forward to meeting more people in the IABM community and learning from them.
Search For More Content