This article has been taken from IABM Journal Issue 109.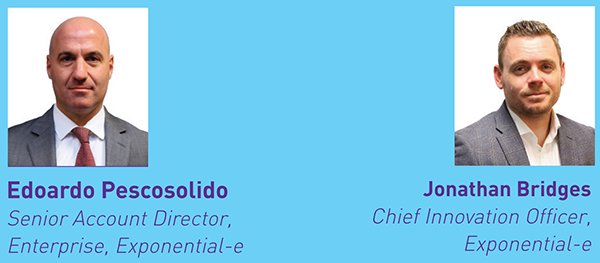 With Industry 4.0 in full swing, changing market dynamics driven by the digital revolution are fundamentally rewriting the business operations for broadcast and media organisations, affecting their technology choices and working practices forever. Tech-savvy viewers continually struggle to sate their appetite for data-intensive HD and UHD content. From Killing Eve to Game of Thrones, royal weddings to Wimbledon, football matches to Taylor Swift's Stadium Tour on Netflix, people are consuming content online, on the move, live and on-demand at unprecedented rates.
Traditional broadcasters, such as Channel 4 and the BBC, are all too aware of the competition they face from Over-the-Top (OTT) operators such as Netflix, Now TV, Amazon Prime and DAZN – not to mention traditional telecoms operators like BT, all of which are vying to get their hands on a slice of the content cake. The BBC, for instance, recently confirmed collaboration with ITV to establish BritBox, a new and exciting streaming service. Many new entrants have been successful because they understand how users and viewers have been the driving force for change. Subsequently, they have embraced virtual/cloud-based technology allowing them much greater agility and speed to market than the industry incumbents they have been disrupting.
The key lesson is that, as well as compelling content, the future of broadcast and media is the platform. To succeed today, then, media and broadcast businesses needs to think and act differently across every aspect of what they do. With the arrival of 5G networks, the abundance of data will only increase, as will the popularity of technologies like augmented reality (AR). Already, Sky has used AR in marketing campaigns, as seen last year at London's Waterloo Station, where people could have their photos taken on a sofa with a computer-generated SpongeBob SquarePants or Spiderman.
The industry as a whole has been slower than others in adopting new technologies. Whilst broadcasters require special solutions, there is less need for dedicated hardware as infrastructure is increasingly complemented by cloud and SaaS platforms. The impact of new models and challengers has heightened the need to move beyond traditional thinking. For broadcasters to keep up, moving to Software-as-a-Service (SaaS) business models – spurred on by cloud computing – is key to business transformation.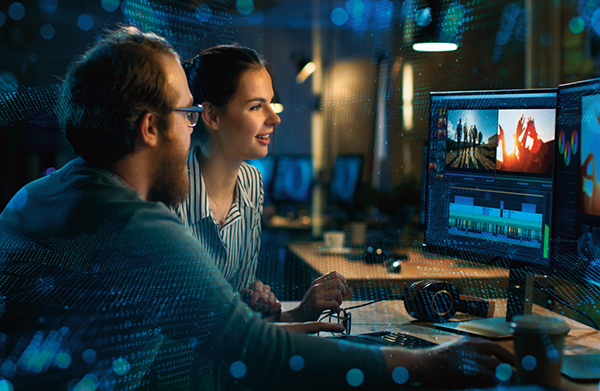 Nonetheless, it's important to note that, although OTT players like Netflix are cloud-native, the same can't be said for many late adopters. Consequently, it can be much more expensive to deliver streamed content for these operators – which is why most broadcasters are now moving away from traditional legacy technology. This includes the traditional format of Serial Digital Interface (SDI), which carried the industry through the transition from analogue to all-digital operations, and then onto High Definition (HD) with HD-SDI.
Now the shift is towards Internet Protocol (IP)-based networks, it's increasingly beginning to replace SDI as standard for all types of communications, thanks to the ubiquity of IP networks. Further benefits of IP include the ability to react more deftly when a change in resources is required, managing large data assets and media content systems with more flexibility, thereby improving the overall viewing experience.
Across the broadcast and media industry, amid this explosion of data, the business case needs to be made for a complete service-focused shift, powered by cloud computing. Not only have leading disruptors been adopting more SaaS services, they have also been delivering their content on a SaaS model to their viewers! Consumers need to be able to access data at any time, all over the globe; in turn, broadcasters need to provide this access in a cost- effective way, which means moving away from on-premise hosting and towards a more flexible commercial model. A distinctive characteristic of SaaS models is their recurring, Opex-based, asset-light profile.
Just as the future of broadcast is the platform, so is the future of the infrastructure that powers it. To this end, embracing SaaS requires a new landscape of multiple cloud-based environments, encompassing not only SaaS but also private data centres and public clouds. All of this needs to be powered by a scalable high-performance network with embedded security, centralised policies, and agile deployment.
This forms the integrated platform to underpin the broadcast and media industry's ongoing digital transformation, comprised not only of cloud but edge computing, which – in short – is computing carried out close to the source of the data in question, instead of relying on one cloud in a data centre to do all the work. To maximise efficiency, both the centralisation of cloud computing and geographic distribution of edge computing must be bolstered by a robust, reliable and smart network that allows data to flow freely yet securely between multiple clouds. These components form an intelligent, agile, safe, and cost-effective digital transformation stack for all modern broadcasters.
Ultimately, laying the right technology foundations is crucial for broadcast and media businesses. For example, a media asset management platform might be at a company's core, but transcoding services might also be required, which is where specialist organisations that create 4K video can help. To make this a success, however, the appropriate controls need to be built first. To this end, the sector should enlist the collaborative expertise of engineers and solution providers, who can guide businesses to create the digital platform that is right for them. By doing so, it becomes possible to be competitive in a noisy and demanding marketplace; to re-engineer their future success.
Search For More Content